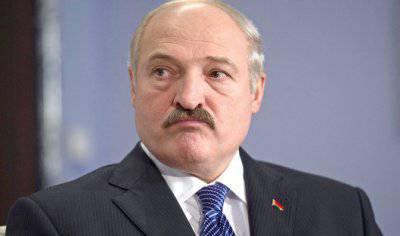 October 11 Belarusian President Alexander Lukashenko held a large-scale press conference for the Russian regional media. The event lasted five and a half hours, during which time the head of Belarus answered more than 30 questions.
The fact of holding such press conferences suggests that Lukashenko considers it necessary to build communication directly with the Russian regions - that is, with real Russia. It should be noted that the actual communication with the head of the republic was completed by the press tour of Russian journalists in Belarus, most of which was held this year in the Grodno region. The president emphasized that no one retouched reality for the journalists to come and they were not taken to exemplary agro-towns or enterprises, and thus the guests saw "the real picture - how Belarus lives every day."
"Nabro" about the withdrawal of Belarus from the Union
The press conference had not finished yet, as some media have already presented a "sensation" to the public: Belarus may withdraw from the Customs Union, if Russia does not abolish duties on oil products. Particularly distinguished in this regard, the Ukrainian media - which is not surprising. Although they came across (or deliberately worked in this context), and the Russians. For the sake of justice, we note that some media have found the strength to admit a mistake and annul
news
.
In fact, the sensation apparently grew out of the following statement by the Belarusian leader:
- The development of the Customs Union involves the creation of attractive conditions for the participants of the association. Putin promised: starting with 1 in January of 2014, we will remove any exemptions ... If we want to develop the Customs Union and create the Eurasian Economic Union, then this must be done. We will still get the effect from this and lose nothing. Otherwise, we will not drag anyone into this Customs Union if we do not see the results from it.
As for the actual duties on petroleum products, Lukashenko stressed the following:
- Do not blame us for the fact that we took this from Russia. We didn't take anything from anyone. And the fact that customs duties were removed in domestic trade - this is how the Customs Union assumes ... At the same time, Minsk transfers to the Russian budget only for oil products exported to the West, 4 billion dollars. And if they stayed in the country - I would have already built the Emirates here.
The Case of Uralkali
As the President of Belarus stated, the "potash business" should not harm the relations between Belarus and Russia, and in this thesis there is a full understanding with the Russian leader:
"When Putin and I met, I said that not a single Baumgertner and Karimov were worth it that we not only once and for all have relations at the state level, but even personal relations were spoiled." He says: I agree with 100%, they are not worth it. We agreed that we should deal honestly with this matter. Our approaches are absolutely the same: a thief should be in prison.
Lukashenko noted that the Belarusian side is basically ready to restore relations with Uralkali:
- It will only benefit. I told Putin: do not delay the decision. As a last resort, let the state redeem it, now it costs little money. I promise you in a year to double the capitalization of Uralkali. We know how to do it ... We will build relations with anyone, but we would no longer like to see rogues here ... We have already started selling potash fertilizers, we received 150 million dollars last month, we received in October-December from 200 million we are even better contracts. We climb out. We are now very hard, but we get out.
At the end of the topic, Lukashenka said that he was ready to forgive the oligarch Suleiman Kerimov for "non-partner" actions in the Belarusian Potash Company, but the investigation of the criminal case in any case will continue:
- We are ready for any scenario: either we understand and bring the case to the court, or, please, you can refer the case to the court in Russia, we will work together in the attachment, as we have under an interstate agreement.
On the personal relationship of Lukashenko and Putin
According to the Belarusian leader, what is important is not what he discusses with the Russian president, it's important how the parties discuss the issues:
- This is an absolutely friendly discussion. We can always sit at the table and very frankly, that sometimes it is even unacceptable in relations, for example, between Russia and America, with other states, very openly and as friends to discuss problems. This is also a great achievement. Because when negotiating with a particular state, you always adhere to canons, protocol, diplomatic things. Here we are absolutely deprived of this, we, as in one state, live ...
We have a very good relationship, although I will not say that they are always cloudless. We always had enough problems, there were also collisions, you remember them, we didn't hide the reasons for this, but how we got out of this situation is important. They also always went out in a friendly way, without causing great damage to each other. Our relations and dialogue is a cast of problems existing between our states. And not only problems, there are good things. We are happy to celebrate them. Meeting, it is always nice to discuss such issues.
About integration processes
As Lukashenko said, Belarus and Russia are now more important than ever to be together in order to successfully overcome emerging problems:
- The global financial crisis has affected all countries, including us. This adversely affected the pace of economic development, complicated the export of products and services, especially since the second half of this year. In this regard, it is important for Russia and Belarus to be together more than ever ...
Today we are progressively making joint efforts, we are moving towards the creation of the Eurasian Economic Union. I want to emphasize that these integration processes are not an empty sound. Thanks to close economic, political and other ties between our states, we already have an excellent opportunity not only to sell goods in a huge market, but also jointly protect the interests of our countries from external threats. Feeling fraternal shoulder, it is easier to pass through new political and economic challenges, and there will be a lot of them ahead ...
At the same time, according to the Belarusian leader, he is disturbed by the behavior of "individual members of the Russian government, politicians who do not really delve into the processes taking place today":
- If only there is something on the screen to blur, not understanding what is happening. We agreed that one great politician, whose name you all know, stated during the potash conflict that we, it turns out (to me it was amazing), bring the assembly shop from Uralkali and collect it in Belarus ... As usual, they gave the team "atu", he ran, not knowing what to say.
In the integration context, Lukashenko said that the project of the Union State serves as a template for the creation of new integration entities, including the Eurasian Economic Union. The President of Belarus is sure that the union project has not outlived itself - "we must bear in mind that we are not standing in place: little by little, but we are moving."
Why Lukashenko is against the union of MAZ and KAMAZ
As the President stressed, in order to privatize any Belarusian enterprise or its part, an investor must be ready to invest in its development, introduce new technologies, open new markets for the products manufactured by this enterprise. On the part of KamAZ, Lukashenko does not see the appropriate opportunities:
- If you take these three parameters, then there is no money (from the Russian side), the technology is worse than at MAZ, because MAZ produces competitive products that are sold no worse than KamAZ if you put them on equal terms. Minsk Automobile Plant is a modernized enterprise, now in-depth modernization is underway. Therefore, questions to the Russian partners regarding their participation in this process are fully justified. If you go, how will you participate in upgrading? None? Then I have a question: would it not be possible that you will take this enterprise for nothing (there is no money) and, over time, at MAZ, they will only produce disks for cars? Can't be like that? Can.
Lukashenka's proposal is the following: "We can agree on this: divide our common market and sell it".
On the recognition of Abkhazia and South Ossetia
At a press conference, Lukashenko was asked why Belarus still did not recognize the independence of Abkhazia and South Ossetia. The answer is:
- Do you need this? Is it necessary today, from the point of view of even Russia, to haunt us this question? We recognize the independence of Abkhazia and South Ossetia - Georgia will immediately be excited, countries with territorial claims will be excited, and the West will immediately swell up. Does Russia need this? Thank God, we survived this moment, and so no one puts the question, and we will simply be a catalyst for this unnecessary trend. What for?
The president noted that, despite the lack of formal recognition, Belarus is closely cooperating with Abkhazia and South Ossetia:
- We helped them with equipment, tractors, and we cooperate in trade. Everywhere we demonstrate that we cooperate with the state. But there was no political chatter. It would give Russia a little, and it would lower us to such a bottom, where we would never see prospects at all. If Russia had shared these risks with us and assumed it, I would personally sign this decree. But I did not get that answer.
About the biggest problem of Belarus
According to Lukashenka, Belarus is ready to accept for permanent residence and "feed" 10 million people. According to statistics provided by the president, for the permanent place of residence profits from Russia to Belarus for 5 have been more than 35 for thousands of people, about 9 for thousands of Belarusians have received a residence permit in Russia for this time. The head of Belarus noted the following:
- The biggest problem we have is not even money, but people. At least as many people as we live live in our territory: we need not 10 million people, but 20 million. We can easily feed them. But they will work and create even more production. If a Russian person, a Russian, wants to come to us from any region, you are welcome, we will only welcome.
Separately, Lukashenko stressed that there is no problem with foreign labor migrants in the republic:
- People come from Uzbekistan, Tajikistan, other countries, mainly families, with children. Accept. If they settle in the countryside, they ask for land - yes, for God's sake, it is profitable for us. Work on construction sites, etc ... The best propagandists in Belarus are those who came to our country from where it is difficult, where it is difficult. They are happy to become private traders, farmers, are engaged in production.