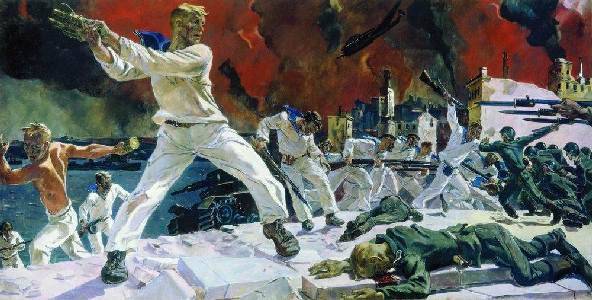 "Since evil deeds will be inculcated in people," was predicted in the posthumous broadcasts of Rev. Neal the Peacemaker, "they will also find calamities on them."
The holy righteous John of Kronstadt wrote: "The world is in a state of slumber, of a sinful sleep, asleep. God wakes him with wars, pestilence, fires, storms, devastating earthquakes, floods, crop failures ... The Lord, as a skilled doctor, subjects us to various temptations, sorrows, illnesses and troubles, to cleanse us like gold in the furnace ... Russian people and others the tribes inhabiting Russia are deeply corrupted, it is necessary to burn temptations and calamities for all, and the Lord, who does not want to perish to anyone, burns everyone out in this furnace. "
The third book of the prophet Ezra (another ecclesiastical title of this book is the Apocalypse of Ezra) tells about the time of the final wars and other terrible disasters: "... Then my chosen ones will come to the test as gold is tested by fire" (3 Ride 16, 74). The Lord pity us without end, but what if we can give some kind of sparks, some kind of holy fire, only when misfortunes, catastrophes, diseases, wars strike us ... The theme of purification and spiritual ascension as a result of wars was well revealed by F. M. Dostoevsky in his essay "Paradoxalist" ("Writer's Diary", April 1876). Here are the main ideas of the "paradoxalist" about the benefits of war:
"The wild idea that war is a scourge for humanity. On the contrary, the most useful thing. Only one kind of war is hateful and truly pernicious: it is an internecine, fratricidal war. It kills and disintegrates the state, it always goes on too long and makes people revived for centuries. But political, international war brings only one benefit, in all respects, and therefore it is absolutely necessary. "
"The lie that people go to kill each other: it never happens in the foreground, but, on the contrary, they go on to sacrifice their own lives - that's what should be in the foreground. This is completely different. There is no higher idea how to sacrifice your own life, defending your brothers and your fatherland or even simply defending the interests of your fatherland (cf. John 15, 13: "There is no more that love as if someone puts his soul for his friends". - Sacred . BUT.). Without generous ideas, humanity cannot live, and I even suspect that it is precisely for this reason that humanity loves war in order to participate in a generous idea. There is a need. "
"Who is discouraged during the war? On the contrary, everyone is immediately encouraged, everyone is uplifted, and they do not hear about ordinary apathy or boredom, as in peacetime. And then, when the war is over, as they like to remember about it, even in case of defeat! And do not believe, when everyone, meeting each other, speaks to the war, shaking their heads: "Here is a misfortune, here we have lived!" This is just one propriety. On the contrary, everyone has a holiday in the soul. You know, it is terribly difficult to confess other ideas: they will say, "the beast, the retrograde, will be condemned; they are afraid of it. Nobody will dare to praise the war. "
"Generosity perishes during periods of long peace, and instead of it are cynicism, indifference, boredom, and many — many that malicious mockery, and then almost for idle amusement, and not for business. Positively it can be said that the long world hardens people. In the long peace, a social advantage always goes over to the side of everything that is bad and coarse in humanity - the main thing is wealth and capital. Honor, philanthropy, self-sacrifice are still respected, still valued, they stand high now after the war, but the longer the peace goes on - all these beautiful generous things turn pale, dry up, die, and wealth, acquisitions seize everything. Only one hypocrisy remains at the end - the hypocrisy of honor, self-sacrifice, duty, so, perhaps, they will also be respected, despite all the cynicism, but only in red words for form. There will be no real honor, but formulas will remain.
Honor formulas are death of honor. A long world produces apathy, low thoughts, debauchery, dulls the senses. Pleasures do not become thinner, but grow coarser. Coarse wealth cannot enjoy magnanimity, but demands the pleasures of the more ambitious, more intimate to the cause, that is, to the direct satisfaction of the flesh. Pleasures become carnivorous. Voluptuousness causes sensuality, and voluptuousness is always cruelty. You just can not deny all this, because you can not deny the main fact: that a social advantage during a long world always in the end goes to gross wealth. "
"Science and art develop exactly in the first period after the war. War renews them, refreshes, causes, strengthens thoughts and gives impetus. On the contrary, in a long world and science stalls ... If there were no war in the world, art would have died down completely. All the best ideas of art are given by war, struggle. "
"Christianity itself recognizes the fact of war and prophesies that the sword will not pass until the end of the world: it is very wonderful and amazing. Oh, no doubt, in the highest, in the moral sense, it rejects war and requires brotherly love. I myself will be the first to rejoice when swords are piled on plowshares. But the question is: when can this happen? And is it worth it now to unmask swords into plowshares? The present world is always and everywhere worse than war, so worse that it becomes even immoral at the end to support it: there is nothing to appreciate, absolutely nothing to save, it is ashamed to save. Wealth, the rudeness of pleasure give rise to laziness, and laziness gives rise to slaves. To keep slaves in a slave state, it is necessary to take away from them free will and the possibility of enlightenment. After all, you can not not need a slave, whoever you are, even if you are the most humane person? I also note that in the period of peace, cowardice and dishonesty take root. Man by nature is terribly inclined toward cowardice and shamelessness, and he knows this perfectly well about himself; That is why, perhaps, he so longs for war, and so he loves war: he feels medicine in it. War develops brotherly love and unites nations. "
"War is refreshing people. The philanthropy of all is most developed only on the battlefield. It is even a strange fact that the war is less annoying than the world ... Remember, did we hate the French and the British during the Crimean campaign? On the contrary, it seemed as though they had come closer to them, as if they had even intermarried. We were interested in their opinions about our courage, caressing their prisoners; our soldiers and officers went to the outposts during the truces and almost embraced the enemies, even drank vodka together. Russia read about it with pleasure in the newspapers, which did not interfere, however, it was great to fight. The chivalrous spirit developed. And about the material disasters of the war I will not speak: who does not know the law, according to which after the war everything is resurrected by force. The economic forces of the country are excited ten times, as if a thundercloud shed a heavy rain over the parched soil. To those who suffered from the war now and all help, whereas during peace the whole regions may die of hunger before we scratch ourselves or give three rubles. "
"War raises the spirit of the people and their self-esteem. War equates all during the battle and peaces the master and slave in the highest manifestation of human dignity - in sacrificing life for a common cause, for all, for the fatherland. Do you really think that the masses, even the darkest masses of men and beggars, do not need the need for an active manifestation of generous feelings? ... The mutual feat of generosity generates the strongest connection between inequalities and classes. The landowner and the man, fighting together in the twelfth year, were closer to each other than in his village, in a peaceful manor. War is a reason for the masses to respect themselves, and therefore the people love war: he lays down songs about war, he listens to legends and stories about her for a long time ... shed blood is an important thing! No, war is necessary in our time; without war, the world would have collapsed, or at least it would have turned into some kind of mucus, some kind of muddy slush contaminated with rotten wounds ... "