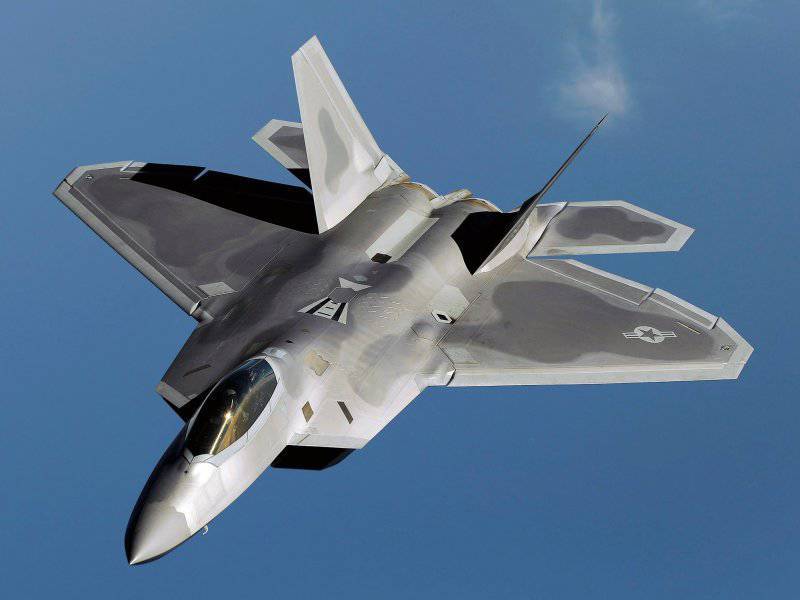 The US Air Force has developed a new tactic for the use of squadrons, consisting only of subtle fighter 5-generation F-22 "Raptor" (Raptor). This was announced by the weekly Janes Defense Weekly.
The main tactical unit in the framework of the new tactics is a small group of F-22, which is supposed to operate from unexpected directions of striking a designated target. Supposedly, the continuous combat cycle of this group will be 72 hours and will include the conduct of hostilities, fast refueling, replenishment of ammunition, and a change of position. This list distinguishes the new tactic from the usual one, which implies the use of large fighter air groups operating from a limited number of airfields.
The advantage of the new method of fighter application is that it increases the level of surprise, tactical flexibility and the pace of combat operations. At the same time, a new method, as military experts believe, will make it easier to solve the supply problem, since it does not require a preliminary deployment of a squadron of fighters and service units at the air base. The new tactical unit consists of X-NUMX F-4 fighters, one C-22 "Globemaster III" military transport aircraft and specially trained for the aforementioned tasks of the service personnel.
In the process of developing a new tactic, servicemen took part, both on active duty and retired. The testing of new tactics took place on October 9, when flight tests were conducted with the defeat of the assigned target in the Atlantic Ocean. During the test, the F-22 group attacked the target from an unexpected direction, flying almost over the North Pole.
Air Force representatives report that a new tactic is already being used on a number of Air Force bases.