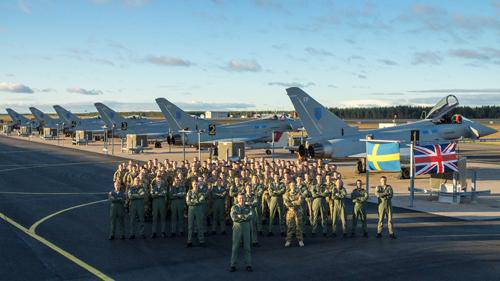 13-26 September The Swedish, Finnish, Norwegian, British and US air forces took part in the Arctic Challenge 2013 joint military exercises, aereo.jor.br reported today.
From the British Air Force in six-week maneuvers, six Typhoon fighters participated, which were deployed to Lewchars. The USAF was represented by the F-15C and F-15E fighter jets. British fighters were controlled from the Norbotten base by the Swedish Air Force, and the American, respectively, by the Orland and Buda bases, by the Norwegian Air Force. The Norwegian Air Force operated with F-16AM fighters, Finland - F-18C, Sweden - Gripen (Kallax base).
The Arctic Challenge exercises have become an excellent opportunity for planning, conducting and evaluating the use of large forces
aviation
in an unlimited area with various scenarios.
During the exercises, interaction with the non-NATO air forces was tested.