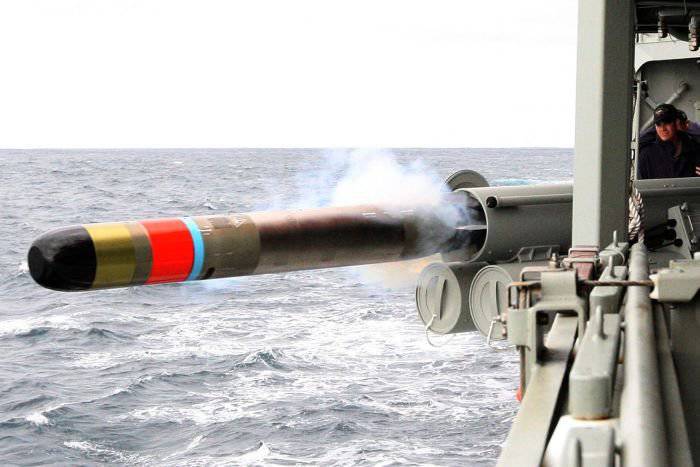 Thales has announced the adoption of the MU-90 light torpedo for the Australian Navy after a recent series of fire tests. Currently, all the Anzac frigates of the Australian Navy are fully equipped with MU-90 torpedoes.
According to the company's press release, the adoption of the MU-90 torpedoes was greatly facilitated by the close cooperation of the Australian Navy and the Djimindi Alliance, which includes the Arms Procurement Organization and Logistics (DMO) of the MoD of Australia, Thales Ostralia (Thales Australia) and EuroTorp (EuroTorp).
MU-90 torpedoes were ordered by Australia as part of a joint "2070 project" implemented by the Jimindi Alliance. The contract included the transfer of technology for the production of torpedoes.
The first batch of torpedoes MU-90 Australian Navy received at the beginning of 2008 year. In June of the same year, the Australian Navy successfully conducted the first test launch of a new torpedo from the Ansac project frigate "Toowoomba".
The following batches were partially or fully assembled in Australia. Thales Astralia, in Rydalmer, also built GOS MU-90.
The MU-90 replaced the Mk.46 light torpedoes on the Adelaide and Anzac URO frigates. The total cost of the torpedo replacement program is about 616 million Australian dollars (585 million dollars).
Torpedo MU-90 length 2,8 m, diameter 323 mm and weight 304 kg can reach speeds 29-50 nodes (54-93 km / h) and destroy targets at a distance of 13,5 miles (25 km) and depths from 25 to 1000 m.
Currently, work is underway to further improve the torpedoes. MU-90 can be in service with surface combatant ships, aircraft, as well as be part of rocket-torpedo systems.
The advantage of the MU-90 is the use of an electric battery in the power installation, which provides more power and autonomy. This allows the torpedo to develop high speed and destroy targets at distances and depths comparable to the characteristics of heavy torpedoes.
Designed for use by several types of surface and air platforms, the MU-90 LWT is recognized as the most effective light torpedo, exceeding in its capabilities the characteristics of the American Mk.54 Mod.0 and the British Sting-Ray Mod.1.
To date, more than 1000 torpedoes MU-90 have been ordered for the navies of five countries, including Australia, Denmark, France, Germany, Italy and Poland.