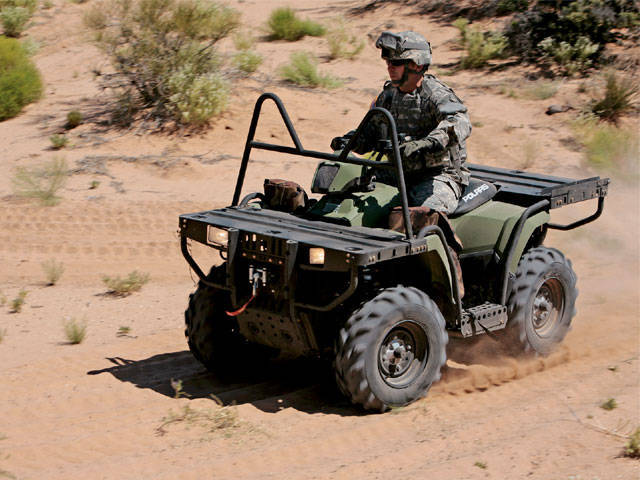 Modern asymmetrical conflicts determine the type and number of protected vehicles in a particular theater of operations (theater of operations), while the share of traditional motorcycles and ATVs in military procurement remains very uncertain, despite the increasing need for lightweight mobile equipment. This is stated in the article of Land Warfare International, August / September 2013, 18 - 21, translated by Vyacheslav Merzlyakov.
The American company Christini Technologies received an order from Peru for 260 - 270 military AWD (All Wheel Drive) 4WD motorcycles. Company President Steve Christine told 12 August 2013 that the final numbers still have to be determined. The company won tough competition with KTM and Honda after comparative tests of driving performance and determination of performance characteristics. Could this mean the return of the glorious days of military motorcycles?
Soldiers from the Australian special regiment in Afghanistan are waiting for a helicopter transfer to their patrol area
During the Second War, two-wheeled vehicles were the usual form of military transport. The mobility that the motorcycle had allowed the personnel to move around and deliver small loads and dispatches faster and with less visibility.
Since then, they have gone out of fashion, because messages and cargo can be delivered by other means, so that today only a few specialized units use motorcycles. Their four-wheeled counterparts are used for off-road driving, but due to technological progress in other categories of vehicles, even ATVs have few operational advantages.
Work for motorcycles
Some of the limitations imposed by the motorcycle are the load on the rider and the load capacity. A motorcyclist needs to effectively manage his workload; driving over rough terrain is a hard and exhausting job for him. Motorcycle's payload is not sufficient for large loads, so cars with a large, enclosed cab are more suitable for those who want to transport significant amounts of loads.
Fred Hayes, the former president of Hayes Diversified Technologies, currently a consultant and researcher for diesel engines, said that military motorcycles still have some significant advantages.
"At the moment we see that they are used by special operations forces. The threat of IEDs has limited the use of motorcycles in existing combat zones, but a good military motorcycle is relatively small, it is very fast and has excellent mobility. These characteristics make the military motorcycle a very versatile tool. " - he said.
Some operators still exploit motorcycles due to the need to perform their specialized tasks. And here Mr. Christine believes that the military motorcycle market is ready for growth again. "Motorcycles are one of the most (if not the most) widely used vehicles by the military and the forces of law and order around the world. At one time, the market grew rapidly, but was frozen by the US government sequestration. "
He added that armies around the world are expected to increase the need for lightweight mobile equipment compared to the need for any other vehicles due to their functionality, ease of driving and maintenance, and low cost.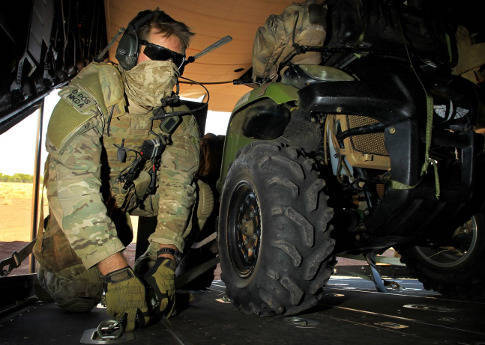 A technician attaches an ATV in a C-130H
Christini Technologies expects to receive large orders for its Military AWD motorcycle from the USA and other countries.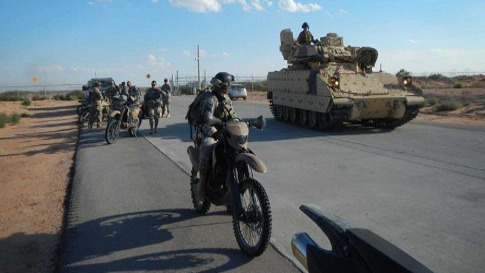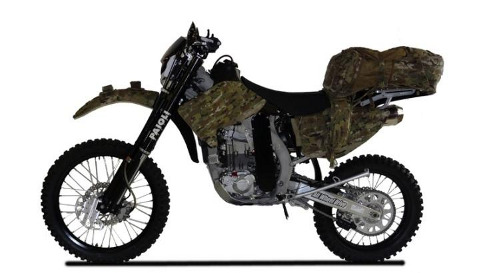 With all his might
Kristini said that at a cost of an M1 Abrams MBT, which is about 8,5 million dollars, one could buy more than 650 AWD motorcycles. The Christini Technologies Military AWD motorcycle is based on its civilian counterpart, but with the addition of special technologies worth 5000 dollars. Christine stated that his company is the only company that has developed a motorcycle of this type. The motorcycle can carry about 225 kg of cargo, develops speed over 125 km / h and is available in the following versions: patrol, reconnaissance and definitions of VCA (improvised explosive devices). Special operations vehicles, such as AWD, run on regular gasoline because of its availability, even in a war zone in the countryside. The diesel engine is an emerging technology, but for motorcycles it is not yet fully available.
There are 25 AWD motorcycles in the US military, and 90 units are still waiting for order confirmation, but Christine reported that no money from the budget has been allocated for them yet. As expected, before the 90 motorcycles will order the US Customs and Border Service, but the order has not yet been placed. More 50 machines are awaiting orders from the British Army.
Kristini said that in the latter case, the order is at an early stage, but his company is awaiting a request for trial motorcycles, after which the British Army must decide whether it wants to replace its 50 motorcycles. "Motorcyclists want equipment, but budget rats love to climb with their connections, familiar dealers and shops. And we work only directly, so we do not have intermediaries who receive additional bonuses. "
AWD motorcycle samples were also shipped to Europe, the Middle East and South America for future orders. One sample was sent to Jordan and three copies to Lithuania. Kristini said that Egypt, France and Spain are also interested in the AWD motorcycle. "Soon we have to submit an electric version," he added. "We are also working on a hybrid electric version, which will have a silent mode and be charged from the engine. He will also be able to run on diesel. "
In the Canadian, British and American armies, ATVs are in service, there they are known by the term ATV (all-terrain vehicle) or light mobile vehicles. ATVs are the preferred means of transport for off-road cargo when the operator wants to spend the minimum amount of manpower and resources on it. Australia is also in search of a quad in its official program. The contractor is already selected, but the current status of the program has not yet been determined.
ATVs ahead
ATVs have proven their usefulness at the forefront, delivering food, water and ammunition to areas where larger vehicles would be difficult to maneuver, and they have also proven themselves in the evacuation of the wounded. Similar machines were used in the operations of the British army in Afghanistan. The advantage of the quad over a traditional motorcycle is its greater carrying capacity and better stability on rough terrain, albeit in exchange for a lower speed.
Yamaha and Logic received a joint 2009 contract worth 7,7 million dollars for the supply of 200 ATV and British Army trailers to replace existing Honda ATV 450 ATVs and Logic SMT120b trailers.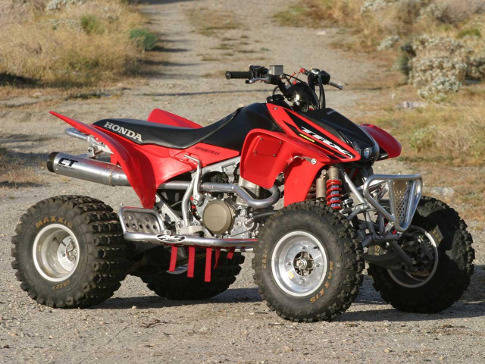 ATV Honda-TRX-450R standing in service with the British army
According to the representative of the army, the machines received several improvements, including a gas stick on the left handle and a two-forcing device allowing the evacuation of two wounded at the same time.
ATV ATVs develop a maximum speed of 75 km / h in the standard configuration and 50 km / h with a trailer. They can also cross the ford at half the height of their wheels.
The third battalion of the airborne regiment used quad bikes in combat operations, there they gave a positive assessment to these means. "They proved to be reliable and could drive in places where other cars could not. The equipment that ATVs were able to carry allowed us to patrol at greater distances for a longer time, and therefore we could reach those areas where the enemy did not expect us at all. "
"The ability to evacuate the wounded effectively and quickly also meant that we could move away from the established routes, thereby reducing the risk to our forces," the regiment said. These ATVs under the aforementioned contract were delivered in addition to the existing 250 quad bikes (including the Yamaha Grizzly 450), which are in service with the army.
University developments
At the end of 90, Cranfield University teamed up with Hayes Diversified Technologies (HDT) to develop a diesel motorcycle. The research was funded by the British Ministry of Defense and the US Marine Corps, their task was to develop an aircraft engine powered by JP8 or diesel fuel in order to meet NATO requirements for a single fuel for all military vehicles in order to reduce the logistic load.
"The main excuse for a JP8 or diesel-powered motorcycle is fuel compatibility, not cost," Hayes said. "All military vehicles must operate on JP8 — sometimes this is called the doctrine of a single fuel for the battlefield."
As a result, the engine appeared HDT M1030M1. It was mounted on a modified Kawasaki KLR650 based motorcycle, and the marines received 214 motorcycles from the HDT diesel and JP8 powered motorcycles.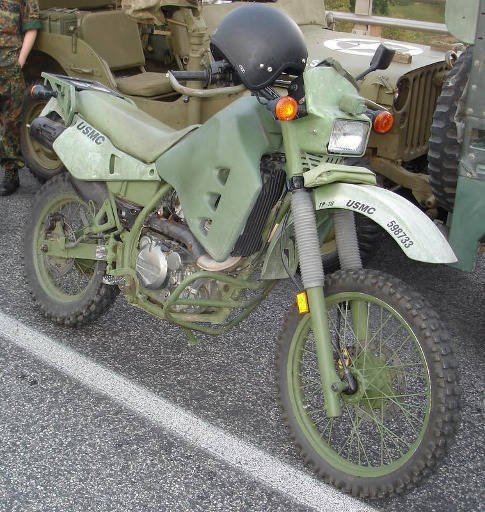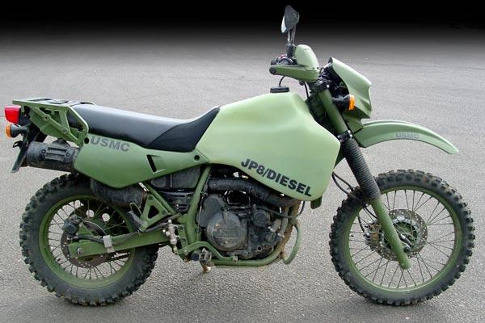 Kawasaki M1030B1 Marine Corps Motorcycle with HDT M1030M1 engine running on JP8 and diesel fuel (tank label)
Such a move to a larger and more powerful engine with a volume of 650 cm3 was considered quite risky for the marines, but in the end, it all paid off. The company HDT said that the modified KLR650 (known as the Marine Corps motorcycle M1030B1 Marine Corps) has proven to be a reliable and functional tool among the military. In the Marine Corps, the maximum speed of 148 km / h was achieved on it, while Mr. Hayes personally achieved a record speed of 750 km / h for serial 3 motorcycles cm149.
"One of the main uses of military motorcycles is the control of transport convoys and route reconnaissance, it's very important to move ahead of the convoys at relatively high speed," he added. "And the ability to quickly leave a combat area can be critical."
Although NATO requirements define diesel or JP8 fuel as fuel for all military vehicles, special operations units still operate light gasoline motorcycles.
Christine's lack of choice
This relates to the lack of competitive diesel options. Although the HDT system does not have a worthy rival, and it is unique in its type of motorcycle, but as Christine noted, it is too heavy and cumbersome to overcome really difficult rugged terrain. He believes that these vehicles are quite suitable for level terrain, but NATO is no longer involved in desert fighting. In theaters where stealth is of paramount importance, and ensuring the safety of its forces is a priority, the use of motorcycles is questionable due to their relatively loud engines, heard from a long distance. Therefore, developers solve this problem by creating an electric motorcycle.
Zero Motorcycles for the US Special Operations Forces is developing an MMX electric motorcycle based on its Zero MX modular power unit. To date, the company has deployed eight test systems in Australia and South America.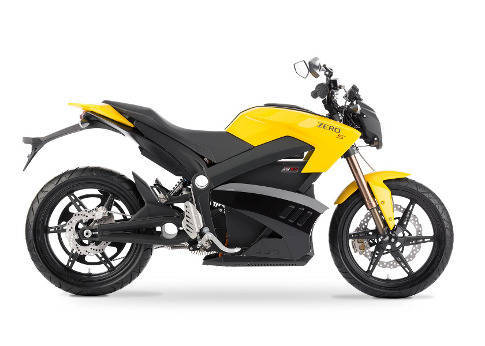 Motorcycle with electric drive from the company Zero Motorcycles
John Lloyd, head of overseas sales at Zero Motorcycles, said: "In addition to the motorcycles of our company Zero Motorcycles, we are not aware of any facts about the actual operation of motorcycles with electric drives. The use of such motorcycles seems to be associated with stealth, speed, reduced signatures, "agility", safety and work on non-gasoline origin, they are easy to transport and deploy in remote areas. "
These motorcycles depend on larger machines with an 110 / 220 Volt on-board network, since their batteries are charged from it. They are transported by large vehicles, charged while traveling to a combat area and deployed there upon arrival.
"In addition, their power units can be changed in a few minutes. Spare batteries can be transported on larger machines and, if necessary, they can be replaced with already discharged batteries. Refueling our MMX motorcycles in field or combat conditions is very simple and flexible. "
Lloyd is confident that electric motorcycles have a great future in military operations, since they have technological advantages over motorcycles with an internal combustion engine. "The Zero company believes that electric motorcycles have clear strategic prospects in the military sphere and precisely also consider it in some combat units."
"We really see it as an inconspicuous motorcycle, because it is much quieter compared to a traditional gasoline motorcycle. The infrared signature is significantly reduced due to the lack of heat generated by a non-gasoline engine. "
Before such systems opens a great future. "If we consider the low visibility of motorcycles, ease of operation, mobility and functional flexibility regarding refueling with renewable energy, we will certainly see widespread use of electric motorcycles in the next few years. Beginning from the use in combat and ending with non-combat use at bases, training, courier work ... there are many opportunities. "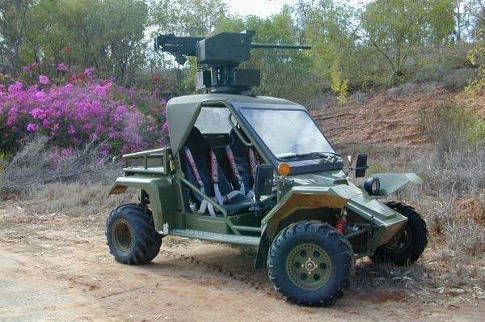 Tomcar buggy from the company Tomcar. Right option bought by the Indian army
Hybrid drive
Tomcar is also developing an electrical system that took three years to develop a hybrid-electric version of its off-road buggy, which is expected to enter the market under a new name at the end of 2013. Tomcar buggy was originally created for the Israeli army, where it is still in service; The British army also deployed this car in Afghanistan.
"This is one of those machines that are made to work, not to play," said Rem Zarkhi, vice president of marketing at Tomcar. - Most of the other products in the world were created for consumption. A technique that is designed for long-term operation by many people is a completely different matter. "
Zarkhi added that the electric vehicle is perfect for the military because it has a reduced thermal signature. "Any other car with an internal combustion engine cannot be hidden from thermal imaging equipment." "Sometimes you can drown out the sound, but it's impossible to hide the heat. Electricity is a cold thing and has no heat radiation, which makes it invisible to the bad guys. This is a true hybrid. On the other hand, you need to fork over the battery pack to drive confidently all day. "
One of the advantages of a Tomcar buggy is the ability to avoid dangerous traffic jams on main roads. "If you can carry the same load as in a traditional vehicle, but you can move outside the road network, there is much less risk. Also, you have the dimensions of a much smaller machine. "
The load capacity of the machine is the most significant factor for a buggy that can carry about 550 kg of cargo. The speed is less important when transporting over rough terrain, when the vehicle speed over 55 km / h is considered very decent.
"The most important application for the military is patrolling, there is a need to transport equipment, and speed is not so important," Zarkhi concluded. "No one drives fast, unless he gets into an unpleasant situation. I would say that 90% of the total operating time is driving at a speed of less than 50 km / h, since it's still an off-road vehicle. "
Perspective development
Personal security is one of the fundamental principles defining the activities of the military. Prospective development of ATVs and small four-wheeled vehicles in the future will lead a person out of the "man-machine" circuit. The development of automatic ground vehicles (AHAs) has advanced rapidly in recent years and quad-bike systems can be adapted for operations without human intervention. Tomcar develops these technologies by converting its buggy into an optionally driven car. "When a driver enters a high-risk zone, he simply leaves the car and sends him forward a few hundred meters," said Zarkhi, vice president of marketing for Tomcar.
In fact, the first application of the electrical system will be the ANA, since the two technologies complement each other. "The electric machine is significantly different from the mechanical, it is remotely controlled, so it is easy to convert the electric machine into a semi-automatic or fully automatic system," he added.
The company began to translate the Tomcar platform into a stand-alone platform ten years ago and since then it has been used as the base platform for the Israeli ANA JV G-Nius. The ANA option may be the only alternative if the purpose of the operation is to transport cargo without people. ANA with a load can move only at a speed of about 32 km / h, that is, if the delivery of cargo is not the main requirement and the emphasis is on the delivery of someone to the theater, then motorcycles today have an indisputable advantage. An average motorcycle of class 600 cm3 can reach a maximum speed of about 210 km / h.
For vehicles of this type, options for booking and installing weapons are very modest. Of course, simple weapons systems can be carried by riders, but the use of missile and grenade launchers is a matter of Hollywood exaggeration.
Zarkhi noted that motorcyclists in Iraq and Afghanistan sometimes carried with them "long" weapons, such as the M4 or machine gun, as well as their personal
weapon
, but motorcycles with reinforced protection do not exist, since the additional mass makes them too slow and, as a result, useless.