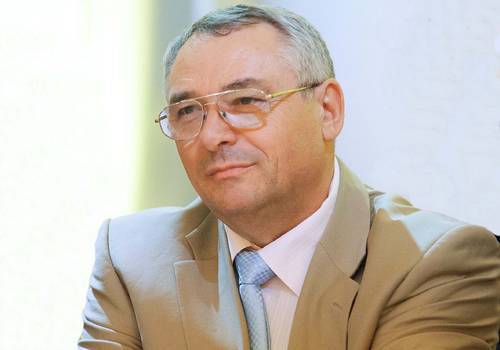 One of the leaders of the "Nord Stream" Sergei Serdyukov told "NV" who benefits from "shale fever" and for what it started in the West.
Not only in the West, but also in Russia, there is talk that the "shale revolution" will make Russian gas unnecessary, will crash fuel prices. Our interviewee, technical director of the international consortium "Nord Stream" / Nord Stream AG, Sergey SERDYUKOV, considers this "revolution" to be a political and advertising project that will bring a lot of disappointment to those who believe in it.
- Sergey Gavrilovich, you, as a technical director, built, and now you are operating the Nord Stream - a gas pipeline running along the bottom of the Baltic Sea from Vyborg to Germany for decent money - 8 billion euros.
- In fact, it was built by a consortium of countries - Russia, Germany, France and the Netherlands, but I really am responsible for technology and technology.
- ... And now a powerful information campaign has been launched, that this gas pipeline will not pay off and is not needed at all, because a "shale revolution" is coming. The United States has already switched to shale gas, by the 2020 years are going to establish its exports to Europe. Europe itself plans to start mining it, and Ukraine, which has already signed an agreement with Shell, worth 20 billion euros, is going to become the largest "earner". As a result, the Nord Stream may remain without work.
- At one time, gold rush erupted in California and Alaska. Tens of thousands of people threw everything and went looking for gold. Found the unit, the rest went bankrupt, died. The same, only on a large scale, occurs with shale gas. Launched projects in the United States, and especially as planned in Ukraine, are not a shale revolution. To put it mildly, this is the "shale fever" on which units will earn.
- But why? America really produces shale gas in huge volumes! And it is cheaper than purchased from the Middle East or Gazprom, if it was delivered to the United States.
- With the help of a sheet of paper and a ballpoint pen, especially with the help of a computer, I will draw you such a balance sheet, such profits, that you gasp. But without knowing the real situation - this is just an advertising move, propaganda. I am aware of the situation and experience. And I will eagerly explain, including to the Ukrainian colleagues, if they do not understand everything.
The US Shallow Eldorado is North Dakota. This is, in fact, the only known place in the world where shale gas can be produced profitably. In the rest of the American fields, oil makes a profit, while gas comes as a by-product, which is why it is considered cheap, because accounting costs are attributed to oil. In ordinary shale deposits, which are numerous in the world, there is little or no gas. It is necessary that under the shale were oil reservoirs, from which hydrocarbons in the pores seep into the shale. In pure form, such conditions are only in Dakota, on a stretch of about one hundred per hundred kilometers.
But what are the costs? The technology used by the Americans cannot even be called predatory - this is even worse. For gas to enter the well, it is necessary to fracture the formation so that cracks are formed. But water quickly fills up these cracks, because the Americans began to drive sand and a special gel into the cracks, which is extremely toxic. This is an environmental crime. As well as the fact that they do not preserve waste wells. In our country, each liquidation well is poured over the entire depth with a cementing solution. Americans do not do this to reduce costs. Otherwise, their earners would have been ruined. Shale borehole works all four years, it is like a bottle with a pop, zilch - and all the gas came out. No money is enough for each canning. Therefore, they will leave behind not just a desert, but a dead, as after a chemical war, land where it will be impossible to live.
By the way, for some reason, Greenpeace does not appear there. On the Prirazlomnaya project, the draft of which has been coordinated with all the northern countries, where nothing has been spilled, they have arrived on a special ship. And Dakota, which you can just come by car - preferably only in a chemical protection suit - they are not interested. Apparently, the sponsors are not told.
- But maybe the case is worth such sacrifices, because shale gas is really cheap.
- Nothing like this! If oil is not taken along with gas, the profitability is negative, despite the insane cost savings, the maximum tax breaks. In addition, this gas is very dirty, with a mass of impurities, it can be used only for domestic needs without expensive cleaning.
- Then why do Americans need it?
"This is not a commercial, but a political project, started by Bush, who wanted to demonstrate US energy independence. Well, there were other political interests. He has no long-term prospects - they will finish Dakota, Texas, and I don't know whether they will find anything else and whether the public will agree to arrange another poisonous desert.
- We in Russia are now also in the fashion theory of shale gas, which will soon conquer the world ...
- To tell the truth, we introduced the fashion for shale gas ourselves. In 1948, it was shale gas that came to Leningrad - earlier than to Moscow. But it was the gas obtained from the oil shale mined in the mines by sublimation in special reactors in the city of Kohtla-Järve. There is a large shale deposit - one for two states, Russia and Estonia, it can still produce this "white coal" to the surface in large quantities. And it can still be gasified, getting the most valuable shale oil and shale gas.
Well, the theory about the conquest of the world by natural shale gas is voiced by just a few people - you know them, because they are your colleagues, and I know who needs it, because we work in one area. In billiards there is such a term - cannon, when they hit one ball at a time so that it hits the other, and he rolls the hole in the third. The same combination is played out here - they talk about one thing, having in mind something completely different. The real issue is whether to leave Gazprom a monopoly on the export of all Russian gas or to allow several more large companies to be exported. The owners of these companies want to get direct access to foreign markets, the state has its own ideas on this. So some comrades decided to show the public and the country's leadership which leaders of Gazprom were short-sighted, how poorly they were monitoring market conditions, in particular, overslept the "shale revolution". This means that all exports cannot be trusted either. Such is the informational mnogohodovka, but not achieved a result.
- If shale gas, as you say, is a political project, then where did the Ukrainian shale project worth 20 billion euros come from?
- Yes, there will be no Ukrainian project - I speak to you as a specialist! There will be solemn presentations, signing agreements, handshakes, cutting ribbons and other promotional activities. It will take a couple of years, then the first exploration well, the second, will be drilled with fanfare. Then the project is recognized unpromising. Where is shale gas in Poland that Exxon Mobil promised to mine there? Where is he in Hungary? Dummy. Shell, which plans to produce gas in Ukraine, has just abandoned a number of shale projects in other countries, and is selling its shale assets in the United States. And in Ukraine will be the same. In scanty quantities there is gas in all shales, but Ukraine doesn't need to refill lighters, so the project will be abandoned.
"Then what is it all about?" Ukrainians will not fool themselves.
- Only for the sake of one thing - lower prices for Russian gas. Not the current prices - for our revision our partners have no grounds, but those that are formed on 2020 and the following years. This is what the slate argument is used for.
- Well, let's say there is no shale gas in Europe. But there is another threat - that this liquefied gas will be exported to Europe from the United States.
- There is no such threat. I have already mentioned one reason - the extraction of shale gas, even for its needs, costs the US too much, both financially and ecologically. The largest producer of this gas, Chesapeake Energy, is already in a pre-bankrupt state. The second reason is gas liquefaction technology. Before liquefying gas must be cleaned of carbon dioxide, otherwise it will float there flakes, like a spoon of tar in a barrel of honey. There is practically no carbon dioxide in Russian gas — which is Sakhalin's and West Siberian and offshore — so it is cheap to liquefy it. And in the American shale impurities - above the roof. Therefore, they will have to install a gas purification plant near the liquefaction plant, which will increase the final cost of the product of interest on 20 – 30. For a lot of money, everything can be done, but you can also heat the stove with banknotes.
- You say that it all comes down to one question - the price of Russian gas. And what claims to her, is she not a market one? We do not demand that the Germans sell us their cars, and the Italians - fashionable clothes below the price that they themselves have appointed.
- This is a very interesting and instructive
история
- where did the current gas prices come from? The story of how our European colleagues outsmarted themselves. The gas market is not exactly a market. These are not cars and not even oil, which you can buy from anyone you want and deliver to any destination. We need gas pipelines, which means long-term contracts that bind both parties - the supplier and the recipient. How to determine the price? In the mid-nineties, when Gazprom began to conclude large contracts with Europe, the Europeans proposed a pricing formula: linking the cost of gas to the price of oil. After all, both are fuel, boilers can be heated with gas, even with fuel oil. Then it was profitable for them, because oil cost from 12 to 19 dollars per barrel. But for six years now, the price of oil above one hundred dollars per barrel, respectively, has also increased the price of gas. This, of course, is not good for buyers, but what should be done? Oil and coal are even more expensive. Liquefied gas from the Middle East is also not cheap. The promises to build an independent gas pipeline from Azerbaijan to Europe - Nabucco is a house on the sand, another political project. There is only one argument left - to scare Russia with shale gas. As they say, the flag in hand.
- Do not these prices quarrel with Europeans seriously?
- With serious partners - no. Nobody is ever satisfied with prices at all, but in our case they are not taken from the ceiling, but tied to the exchange prices of oil. In addition, in energy, and indeed in any business, it is not so much the price that matters, but the stability of the supply of goods. Gazprom guarantees this stability, and the Europeans highly appreciate it. And what else is important in business - we, that is, the Russian side, are not trying to get all the money into our own pocket, but give money to our partners. In the same Nord Stream, the main buyers of our gas have their share. The "old" Europeans, by and large, are satisfied with everything, although they, of course, would be happy to find a way to reduce prices. The "new" Europeans and Ukraine are indignant most loudly, although they have also been repeatedly offered partnerships in gas projects.
- It turns out that the whole world is tied to natural gas, it has no alternative?
- There are - huge reserves of methane are contained in crystal hydrate deposits. They are available both in us and in other countries. The one who opens the way of their exploitation will be worthy of ten Nobel Prizes. This is a challenge for the new generation of scientists and engineers.
- In conclusion, I want to distract from the gas topic and ask: how did you get to work at Gazprom, and then at the management of Nord Stream? Young people who dream of Gazprom will be interested in this.
- Because in my youth I decided to become an engineer. In 1970's, when there was no talk of the notorious Bologna process, real engineers, technicians and managers were trained in one person. I can tell young people: technicians with higher education are acutely lacking both in our country and in Europe. I spoke with the Germans, they have already calculated that they lack forty thousand engineers. Some of them they intend to lure from Russia. It is unprofitable for us that other countries get our specialists for free.
Do you know what the market value of a normal engineer is? It is also calculated in the West - 17 – 20 million euros. So much is to grow a specialist. He pays back this money, he also brings profit to his enterprise. Today, all the townsfolk thanks to the press are aware of the prices of football stars. So, engineers should cost almost as much as football stars. Only stars "shine a maximum of 12 years", and a high-class engineer - 40 years. And finding a decent job for them is not a problem in any country - at least in Russia, at least in Europe.
help "nv"
Sergei Serdyukov headed the Lentransgaz company, which not only provided gas supplies to St. Petersburg and the entire North-West, but also was the main sponsor of Zenit before Gazprom joined the business. Before moving to the northern capital, Serdyukov worked in Uraltransgaz, Permtransgaz and other structures of the former Mingazprom and the Ministry of Oil and Gas Industry, defended his thesis. After Lentransgaz, he was transferred to the international consortium North European Gas Pipeline, later renamed Nord Stream, as technical director, where he still works today. He is married, has two daughters - the other children (four sons and a daughter) are already adults.