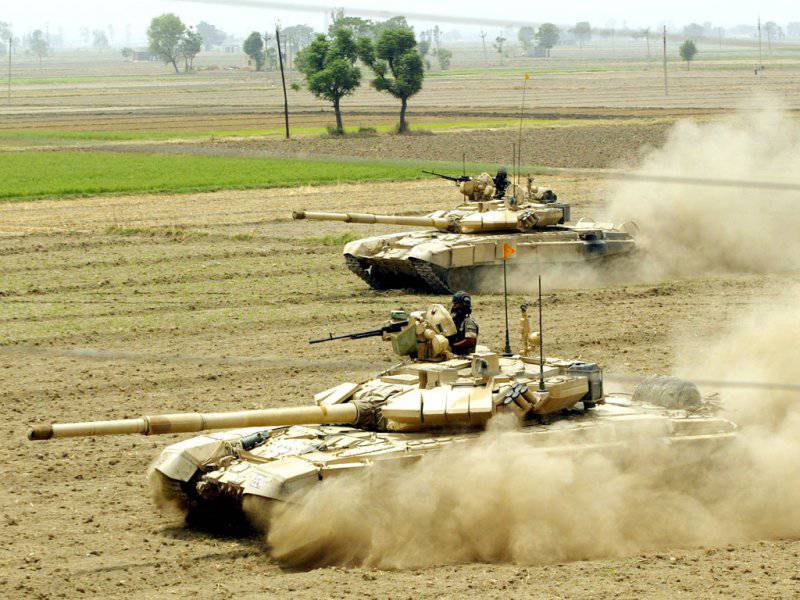 India recently ordered another 235
tanks
T-90, reports Strategy Page October 12th. Under license, these tanks are manufactured in India, taking into account the price of the license, each tank costs $ 4,9 million. By the end of the decade, India hopes to have around 1400 tanks of this type in its arsenal.
The first T-90 entered service with the Indian army in 1993, since then India has become the world's largest operator of tanks of this type. The T-90 is an upgraded version of the T-72, of which there are about 1900 in the Indian Army (production under license from 1980 of the year). T-90 weighs on 15% more than T-72, is equipped with an advanced fire control system, night vision devices (1500 range m) and electronic anti-tank anti-tank missiles. The automatic loader is more reliable than on T-72, which allows a crew of three (commander, gunner, driver) to perform their duties better. The T-90 also has dynamic protection in addition to the combined armor.
The T-90 is not as mobile as the T-72 and moves more slowly on the battlefield than the American M1 (the specific power of the T-90 is just 18 hp / t, while for the M1 this figure is 24 hp / t). The characteristics of the 125 mm guns are basically the same as on the T-72, but if more effective projectiles are used, this tank has a chance to counter the M1.
The most likely enemy of India, Pakistan, is equipped mainly with tanks of the 1950 era (Chinese T-59 is a licensed copy of the Soviet T-55). Pakistanis are also armed with about 700 T-69 and Ukrainian T-80 tanks, which are superior to T-90.
By 2020, India plans to have an 21 tank battalion (according to the Indian classification - a regiment) with T-62 90 tanks each. In fact, each battalion has only 45 combat tanks, the remaining 17 are designed for crew training and reserve.