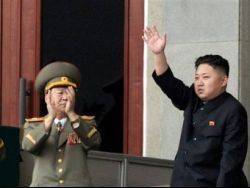 DPRK authorities refused to sign a non-aggression agreement proposed by US Secretary of State John Kerry.
The US Secretary of State spoke in favor of the possibility of resuming talks with North Korea on October 3, while on a visit to Tokyo. Kerry said that Washington is ready to negotiate with North Korea if Pyongyang returns to the issue of denuclearizing the Korean Peninsula.
"Knowing what the United States means by denuclearization, we will reject all proposals that are designed to isolate and suppress our country," reports the Korean Telegraph Agency of Korea (TsTAK).
A representative of the North Korean Committee for the Peaceful Unification of the Motherland said that the proposal of Secretary of State Kerry is a "profanation." The official stressed that the United States should end the "unjust" sanctions imposed on the DPRK after the third nuclear test in February of this year.
Earlier, the DPRK authorities threatened to launch a preemptive strike in the event of "military provocations" by the United States and South Korea. "The military conspiracy (US and South Korea) is aimed at stopping the current peace process and dialogue on the Korean Peninsula, and also heightens tensions that could escalate into a nuclear conflict," said the Central Democratic Party of Korea.