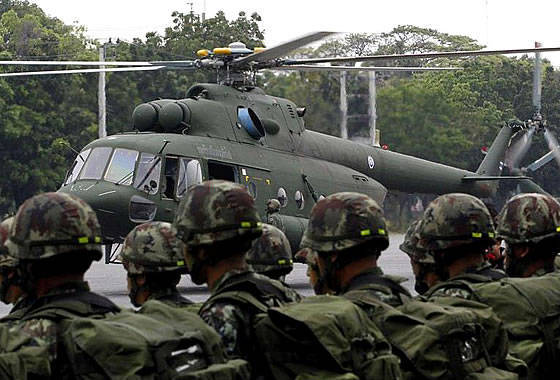 The Thai government 8 October approved the allocation of funds for the purchase of additional Mi-17В-5 helicopters in Russia and UH-72A Lakota of Eurocopter North America for the Land Forces of the country.
According to Janes Defense Weekly, the acquisition program provides for the purchase of six UH-72A helicopters worth 1,737 billion baht (55,4 million dollars) and two Mi-17B-5 helicopters worth 1,253 billion baht (39,97 million dollars). The government stated that payments for these programs will be made at the expense of defense budgets in the period from 2013 to FNXNXX.
According to the representative of the NE of Thailand, this government decision actually gives the authority to the NE command to begin negotiations and sign contracts as soon as possible. The acquisition is made as part of a long-term procurement plan.
According to the assistant representative of the North Atlantic of Thailand, Colonel Winthai Suvari (Winthai Suwaree), the new helicopters will replace outdated vehicles, which have been in service for more than 40 years, most of which are non-repairable.
In June 2013, the Defense Cooperation and Security Agency (DSCA) of the US Department of Defense notified Congress of a planned supply to Thailand in the framework of the Foreign Military Sales program of six UH-72A Lakota light-duty multi-purpose helicopters and related equipment. The total value of the transaction at that time was estimated at 77 million dollars.
In the past few years, the Ground Forces of Thailand have been taking active measures to modernize the helicopter fleet.
In October, the Thai government approved the purchase of three Mi-2008В-17 helicopters. This contract was the first purchase of Russian military helicopters for the Thai army. The helicopters were delivered to the customer in February 5 of the year.
In 2011, the government approved the allocation of 1,596 billion baht (51,3 million dollars) for the purchase of X-NUMX light multipurpose Fennek AS-8 helicopters for reconnaissance. In October, NE Thailand's 500 signed a contract for the purchase of two AW-2012 helicopters from Agusta / Westland for delivery in 139.
In August 2009, the DSCA agency notified the US Congress of the planned delivery to Thailand of the Foreign Military Sales program of three UH-60L helicopters, and in March 2010, the Thai government approved a proposal to purchase three UH-60M. In October 2011, the Thai government approved funding for the purchase of two additional Black Hawk helicopters.