Recently, many media have passed information that Zelenograd robots will start patrolling Sokolniki Park - they will start testing automatic surveillance systems capable of video recording and transmitting the image to the attendant console, independently navigating the terrain using video analytics algorithms, and registering the movements of objects and their behavior .
In the studio Zelenograd.ru Alexey Poluboyarinov, director of Zelenograd company "SMP Robotics" - developer and manufacturer of security robots.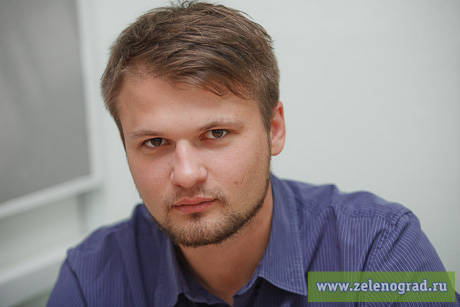 - Since we have such a vivid informational occasion - let's start right from it. Tell us about your project in Sokolniki Park. Is this the first Moscow park that you master?
- In fact, the project to launch a security robot in Sokolniki began quite spontaneously and was largely fueled by the media. By the way, it was from their submission that the idea of ​​this project appeared: the correspondent of the Izvestia newspaper interviewed us, and the conversation ended like this: "Would you like to put your robot in Sokolniki Park?", To which, of course, we answered affirmatively As a result, after 15 minutes, the reporter calls back and says: "And I agreed with the director of the park in Sokolniki that ..."
- As in the joke about shuttle diplomacy and the marriage of a Russian guy to Rockefeller's daughter.
- Yes, yes, it is from this series. And in fact, we are currently negotiating with Sokolniki. I think that as soon as the snow falls, we will put there a couple of robots for trial operation. There are certain bureaucratic obstacles, but we are being met, so yes, probably our robots will ride there. But in general, globally, this is not the only project and not the only place where our robots are now undergoing trial operation.
- So, your robots will appear in Sokolniki after all, not from September, and later?
- Yes, closer to the first snow. This is justified by the fact that it would be interesting for us to test our project of a security robot and our platforms for autonomous navigation. Now he is in the pre-production stage - we have made a number of platforms, each of which performs its tasks, and now we are looking for places where they can be put in order to see how they will behave live. We also have our own training ground, but, as you can understand, a hand-made training ground will not always have 100% objective information. Therefore, in addition to Sokolnikov, our robots also travel, for example, at a construction site in Sochi ...
- Do you mean the olympiad building?
- Yes, there they perform security functions. This is a fairly large object, one of the construction projects. There is one more project: our robot guards a thermal power station, and this is, in principle, an ideal observation platform for us. After all, what is our task, why did we make a security robot? So that he partially replaced the physical guard. For example, there is a typical object - a plant or hydroelectric station, and there is a change of guards, which usually varies from 10 to 30 people, depending on the size of the object. Our task in relation to the security robot is to partially replace these guards. They usually walk along some paths and look around, and we say that there is a platform that can independently, without the participation of operators, move along the same paths. A so-called tracking camera patrol is installed on the platform, which can see at 360 degrees. When a person or a large animal, for example, a bear standing on its hind legs, appears in its field of view, the camera points to it, saves its face and sends an alarm signal to the operator. In fact, we are replacing the guards in this way, and the operator, who is sitting in his warm booth and drinking tea, can decide whether to send a capture group to the scene or not.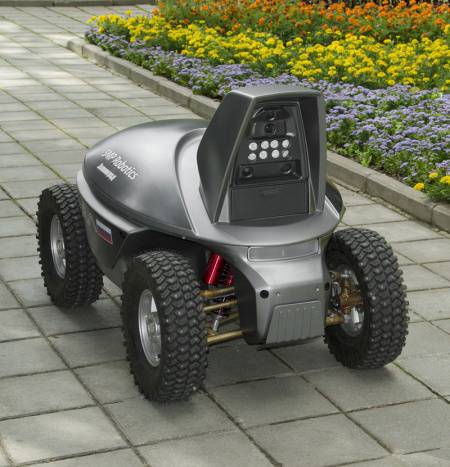 - The dream of any security service.
- The same operator himself can tell the robot the point where he should move.
- And how much is your robot?
- At the moment, our platform is worth about 2 million rubles, with cameras and all the rest. But this figure for pre-production. In early January, 2014, we will start small-scale production, then the cost of one unit will be about 1,5 million. When we get to the release of 100 units, the cost will approach 1 million, which is just the business case for using our robots. The calculation is as follows: a security guard at a typical heat and power plant or hydroelectric station costs about 900 thousand rubles a year - this is his white salary, personal income tax, vacation pay and some kind of micro premiums. Accordingly, our task is for the robot to pay for this guard during the year of operation and begin to bring profit to the enterprise. Robot maintenance is quite trivial, it is not worth any significant money on a project scale.
- To the objects that you have listed, in particular, Sokolniki, do you supply robots at your own expense, some prototypes? Or do they buy your robots?
- This is exactly the subject of negotiations. If this is a trial operation - which, most likely, will be in Sokolniki - then we will simply put the robots there, send our specialist and "ride" them. If the park likes them, then I think they have a reasonable price to drive out a couple of guards and replace them with robots.
- To talk about the prospects for the further acquisition of such robots in Moscow now makes sense, or is it still in the distant future?
- Globally, we are preparing production to start producing our platforms in series, and we have projects where we understand that we can sell 10, 20, 30 robots. But here everything will be undulating: as soon as they are applied on the first, second, third object, the security services and those responsible for the protection of some enterprises will see the effectiveness of using these devices and, accordingly, will begin to purchase them massively. Our task at the moment is that we are preparing production from the calculation in order to produce approximately 300-500 platforms per year, and then how it will go.
- Where will you produce - in Zelenograd, at your own facilities or somewhere else?
- We will produce robots on the basis of a friendly company in Tver. Our "think tank" is located in Zelenograd; here we have programmers, developers, circuitry, and the most expensive intellectual employees. Here is our pilot production. In general, "SMP" is a group of companies, and in addition to our "SMP Robotics", it has a division that deals with electronic components, a division that manufactures security systems, and there is a friendly enterprise that solves microelectronics. Just at its base, we plan to conduct production.
- Is Sokolniki Park now somehow preparing for the introduction of robots? Your robot is designed as a security guard for more or less deserted objects like CHP, as far as I understand, and the park is still a crowded place ... Does this somehow change the conditions for using robots?
- In the park, our robot will protect the forest zone in the first place. There are still not so many people there as in the central square. The robot will ride along the forest paths and see that no one falls and freezes, no one attacks anyone. But he can also drive in a crowd, it doesn't matter - he won't crush anyone, he is absolutely safe.
- If only he was not crushed.
- It is quite heavy, weighs more than 120 kilograms.
- So, he will ride along the forest paths and follow those who occasionally run there?
- Yes, the algorithm of his work is what: we ask him his entire habitat, build a map of the area and set reference points on this map, where he should get up and start looking around. And in Sokolniki the same scheme will be implemented. The tracking camera of a robot has a human detection range of about 80 meters under not very good weather conditions. If you install a thermal imager on it, it will be good enough to show yourself at night - we will be able to recognize a person up to 50 meters.
Regarding Sokolnikov and similar projects, a key issue in the communication channel arises. The robot itself is autonomous and does not need to provide additional communication channels besides what it has, but the question is how to transmit the video stream and alarm messages to the operator when something happens. In Sokolniki, most likely, it will be necessary to extend wi-fi or provide some other points of contact. Maybe it will be even banal GPRS, because inside the robot is our DVR "Tral", which produces a security unit.
- Is GPRS sufficient for video transmission?
- No, but there is an algorithm such that the robot keeps the video in good quality, and broadcasts it in low quality. As a rule, this low quality (with 320 and 240 resolution) is enough for the operator to understand that all is well or urgently needs to be undermined and everyone should be saved.
- And how your anti-vandal robots? I imagine how the machine goes through the park - and it seems to me that first of all any teenager will have a desire to kick him or throw something at him, test him, so to speak, for rigidity.
- First, the body of the robot is made of fiberglass, and it, by the way, is made at the enterprise of the NPO "Fiberglass" near Zelenograd, in Andreevka. This material is used to make radomes for rockets, so its strength is high enough, and if any branch falls on the robot, then nothing will happen to it. This was originally calculated when designing the robot body.
Regarding vandals: unfortunately, and perhaps, fortunately, as long as our legislation does not allow us to install some kind of automatic protection system, therefore, we can attach, for example, a noise electric grenade, or some pepper spray, or a stun gun, or even mesh. And if the operator sees that someone is trying to break the robot, he will press a special red button - and the deterrent will work.
"And if they try to steal it?"
- It is quite heavy. And again, there is a tracking camera on it, she sees in 80 meters what is happening around. It is clear that the photo of the person who is trying to steal it will be saved and transferred to the operator.
- I saw in one of the comments to
news
about Sokolniki: "But what about the security of personal data, what if someone doesn't want to be filmed in the park?" Doesn't a person's private territory violate?
- As far as I know, the park is equipped with video surveillance systems; in general, whether we like it or not, while we are moving around the city, hundreds of cameras are filming us. The robot in this case is the same mobile camera that simply moves independently.
- Let's turn to its technical properties. You said that you were going to launch it in the winter - that is, it means nothing to him?
"Actually, he is likely to get stuck in a snowdrift." We are talking about driving along paths, the height of the snow on which should not exceed 10-12 centimeters. This is what we actually got at last year's trials - the robot easily passes such snow. Its length is about 40 kilometers at a temperature of −10 degrees. Accordingly, in the mode "5 minutes we go, 10 minutes we stand and look around," it can work autonomously for about 16 hours, which is a typical change in the work of the guard. Regarding its patency: the robot can go not only along the asphalt path, but also, say, along the path with roots, along the lawn and so on. Now we are preparing a second platform, which will be absolutely all-terrain, it will be built on low-pressure tires, and its main task will be to monitor oil and gas pipelines, where there is absolutely no good road, only primers, and those are blurry. And just there the robot will pass.
- I read that in your chassis design wireless charging of the battery is still implemented.
- We are working on it - it is implemented, but we have not reached the point where it will be mass-produced. Firstly, wireless charging is quite expensive, and for some customers it is not needed: if you buy a fleet of 5-10 robots, then it's easier to have one security guard who just fits and connects them to the network when they run out of battery and independently return to the point for recharging. Wireless charging is sharpened for those objects where the robot must be completely autonomous. For example, some gas pumping station or diesel generators near the towers of communication. In cases where it is difficult for a person to get there, we assume to use wireless charging and yes, it will be cost-effective. And for those places where people are still nearby, wireless charging may not be very necessary.
- How does your wireless charging work?
- Due to induction: voltage is applied and two elements act - one is installed, roughly speaking, on the floor or on the platform where the charge is realized, and the second is directly in the robot, induction occurs, and thus we charge. This charge is not as effective in comparison with conventional wired and does not charge batteries very quickly. Batteries are also a very important and delicate topic. Now we use iron phosphate; they have a fairly high capacity compared to lead, they charge faster and are lighter, most importantly, because we can speak about our robot not only in terms of security use, but also as a platform that can carry some kind of payload. And most likely, it is a much more extensive market for the use of a robot, rather than just a guard - that is, you can fasten any advertising posters, a vending machine, some geodetic sensors or sensors measuring the level of the canvas, or even a camera that will measure the speed of cars, and then we get rid of corruption on the roads.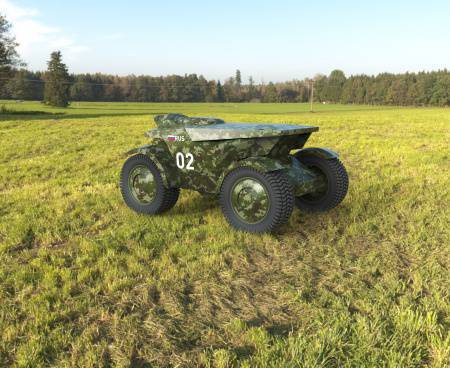 - Yes, that would be wonderful. Tell me, are you targeting any specific foreign analogues of such robots? How much is your know-how?
- We go our own way. At the moment, the bulk of foreign counterparts - for example, a car from Google - go on a set of parking sensors and using a lidar. A lidar is a laser that scans the space in front of it at a fast speed, creates a map of the area and, based on this, decides where to go. There are two drawbacks to this solution. The first - the lidar is quite expensive, the cost of the most poor-quality module is about 10 thousand dollars, and the one that can be used in real conditions and be sure that it does not break, from 30 thousand dollars. And the second drawback is when dense fog, snow or rain appears, the lidar actually rises into the concrete wall and the movement stops. Another way of this kind of systems is high-precision GPS. He also has flaws, for example, if such a car hit the tunnel, or under the shade of a building, or it travels through a forest, the GPS sensor may lose accuracy, and the robot will go somewhere to the side.
The basis of our algorithm is the use of visual odometry. This is a special algorithm that, when receiving a video signal from video cameras, puts certain reference points on objects in its field of view. Suppose we saw a tree, a house, we inscribed 10, 20, 30, 50 points on each of these objects, and we adjust our location based on the data from the video cameras. It is clear that the robot, of course, has an inertial system: a wheel rotation sensor, an accelerometer, a compass. But these are mechanical sensors, they accumulate an error. We made a mathematical model with all these sensors, put it together and correct this model with data from the camera. Thus, our robot can ride in the forest park area, and in conditions of snow or rain.
In general, it is along this development path that, most likely, all autonomous navigation will go for probably the next 5-10 years. It is much easier to assemble one calculator in silicon and simply add there a competent video analytics, rather than buy expensive mechanical elements or GPS, which in the case of any unforeseen situation may suddenly turn off.
Plus we use stereo vision, an algorithm that allows you to go around obstacles. The robot has two cameras that are spaced apart like two human eyes. Comparing pictures, superimposing one on another, we can measure the depth of the distance to each object that is in front of the robot, or its height. Thus, the robot selects the path of movement, autonomous navigation is carried out - with the help of the whole complex of video cameras, a platform that has a certain cross-country ability, and a set of sensors.
Of course, we can use GPS for those situations when there is an unknown terrain and the robot needs to go from point A to point B. In fact, for such tasks, for example, for gas pumping stations, we are preparing a large platform on low-pressure tires, and there will be implemented a gyro-stabilized platform on which the module with video cameras will be fixed - thus the robot will always see the horizon line and will be able to correctly choose the directions.
- Such serious modifications cause a question - have the military not yet become interested in your developments? Or the space industry? Let's say, to launch such a robot to the moon or to mars ...
- With space ... A sufficiently large number of enterprises conducts activities to navigate into space, and we all occasionally read about the rover, which now travels on Mars ... Military use of our robots is possible, but for now we are strictly in the commercial market. Of course, we would be interested to find some areas where we could serve the security of our Motherland. For example, our robot can put some radar stations or stations to induce interference, because now, as far as I know, this is done manually: there is a detachment of soldiers, they are deploying the antenna at some point and are standing next to it, smoking, etc. d. In general, it is possible to automate this process - by delivering certain elements of this radar to the points where exercises or military operations take place.
- Listening about video surveillance systems, I always remember another Zelenograd company - "ELVIS NeoTech", which also deals with intelligent video surveillance and security systems. You are competitors, how do you differ from each other?
- We have slightly different markets. "ELVIS NeoTech", as far as I know, is still closer either to large corporate or government customers; we are in the niche of commercial applications.
- How did you start as a company?
- Initially, we made a tracking camera, which we now install on the robot. That was about three years ago.
- Are you from MIET? In MIET, the direction of robotics is actively developing ...
- The backbone of the company - graduates of the Moscow Institute of Electronic Technology, I myself - a graduate of the Department of Systems of Automation, Management and Control. About three years ago, we made a tracking camera that sees 360 degrees and tracks people in its field of view. And the customer came to us, who said: "Guys, I have an object where we mine diamonds, there is a big funnel and it's quite problematic to hang cameras there. Could you make a camera for us that we would install where we need it? "This was the starting point for the start of the project. At first we just made a mobile tracking camera on a tripod, then we realized that it was not very convenient to carry batteries and install this tripod. Then we found a platform, loaded this camera onto it and made it on the radio control. Well, after this, in fact, the decision arose - why don't we make an autonomous platform? At that time, this task seemed rather trivial: and what, let's fix the GPS, and let her go there herself. Thus, the "SMP Robotics" was born, we began to look for designers who could develop a frame, began to look for specialists who understand visual odometry ... At the moment we come to the fact that the project is about to be released in the series and this would probably be a commercially successful venture.
- Did you start as a group of students, graduates, graduate students?
- Yes, we are still a group of former students, the main age in our team is 25 years, maximum 30 years. Of course, we constantly consult with senior comrades, of which there are quite a few in Zelenograd - Zelenograd is still an engineering city, and it still remains for them, it produces suitable specialists. We are a young engineering company that develops robots, and we hope that we will continue to do this.
- They write about you as a Skolkovo resident. How did you get there?
- With Skolkovo it turned out quite subtly. We spent a year living to become their residents, did a fairly large amount of work for this ... The beauty of Skolkovo was that they gave grants for development. But when we prepared the project, they wrote to us that our project is not innovative enough, that the future lies with the lidars. After that, our interaction with them somehow slowed down. We became a resident at the end of 2012, in the IT cluster. We are listed in Skolkovo, but we do not really interact.
- You have not received any investments, grants from Skolkovo?
- No, and this is sad. There is a feeling that maybe they are doing something else there ... As for the lidars, it is obvious to us that this is not the path of development. Micromechanics will always be expensive, and according to our technology everything can be implemented in one calculator, and the autonomous navigation module will cost as a cell phone. Now there are other residents in Skolkovo who are involved in video analytics and self-propelled robots, but when I was there the last time, all I saw were radio-controlled Kinect machines from Xbox.
- And who was your first investor, how much money are you currently developing?
- We are developing at our own expense. There is a division that is engaged in the production of video surveillance systems, and basically, based on its income, we are developing robots. We did not receive any subsidies or investments from the state, our developments are our own initiative.
- Are you looking for some personnel, are you recruiting? Is there a collaboration with MIET on this topic?
- With MIET - yes, of course. We take new students, see what they can do. We are looking for programmers and people who can cope with the tasks before us ... On our website smprobotics.ru there is a section "Jobs", which we are constantly updating. We, of course, work closely with MIET, so far the bulk of the team is just graduates of MIET. We are trying to solve quite a lot of problems at an outsourcing - for example, I stumble on the Internet at a person who wrote a dissertation or diploma on visual odometry, I find him through social networks and write: "Would you like to participate in a project with such and such task? "He does a piece of his work, we fasten it to his project and adapt it. It turns out to be cheaper than keeping people on staff, and at the same time they are specialists.
- So you have an extensive network of remote workers?
- For a number of tasks - yes, indeed, it is. We ourselves develop visual odometry or stereo vision ourselves; we will most likely give up the frame and software, the user interface for a row, because there is a fairly large amount of work - we want to make sure that the operator can contact the robot not only at the computer, but also on the tablet ... Two key the tasks that we face before the end of the second quarter of 2014 of the year are to make enough friendly software and learn how to produce these robots in Tver in small lots.
- In addition to plans to become great in Russia, are there any alternative dreams, hopes? Motherland does not really support you financially - have you ever been asked to leave as a group of developers?
I was born in this country, and I am going to work in this country and make it develop so that we are not ashamed of our Motherland. Why go somewhere, we will succeed here.