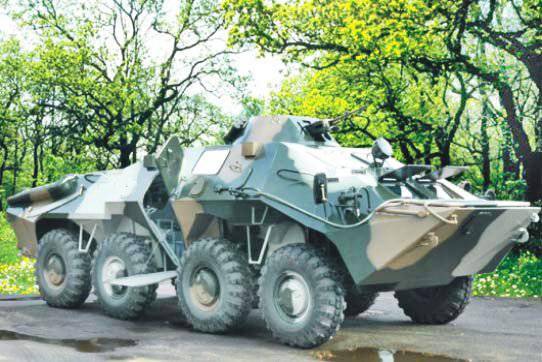 The command-staff vehicle (KSHM) "Svityaz", based on the BTR-70, is a wheeled, floating, armored vehicle, with all drive wheels, equipped with two powerful FPT "IVECO" diesel engines (Euro-3). Owns the high dynamic qualities, the increased passability and smoothness of the course. Equipped with filter - ventilation unit, air conditioning, heater, lighting systems.
CSR "Svityaz" is designed to provide control of troops and organization of communication in the operational-tactical control link in motion, afloat and at the bus stop, both independently and as part of a communications center.
The prototypes of KSHM Svityaz passed preliminary tests and are now preparing for state tests, which will be held in October-November. "Svityaz" was developed as a logical continuation of integrated hardware communications (CAS). If KAS deploys the infrastructure of the communication center of the control point, then the CR will be able to connect to these data networks and increase them.
With the help of "Svityaz", the units will be controlled by radio, as well as by the types of communications that are quite new for the army as WiMAX and WiFi. There will also be video surveillance of objects and the transfer of video information. In the "Svityaz" for the first time used data transmission over the radio using IP protocols. During the development of the KSHM, the approaches to the structure of the machine changed several times. And the latest version should be successful.
KSHM on the basis of the BTR-70 was chosen as the main one for the Ukrainian army. The base of the BTR-4 will, at best, be used as a base for the prospective CMR of the "second stage". As is known, in the 2012 year, Ukraine declared the delivery of one BTR-70Di to Sudan, and it is believed that this was just a crank machine based on it. It may well be that we are talking about one of the prototypes of "Svityaz".
Communication standards:
NATO: STANAG 5066
EUROCOM: ITU-T G.703.2048KBPS
Telefon ISDN: 2-x prov. 4's prov.
SPECIAL EQUIPMENT
Special equipment includes communication systems, automation and technical support:
Radio station KB P-1150
VHF radio stations P-030U
A-101 LAN Switch
Router A-201
Radio Gateway P-1261 with VoIP
Server
Navigation tools
Workstations
The command and command vehicle provides:
radio telephone communication and data transmission from workplaces with KB correspondents and VHF radio networks
radio telephone communication and data transmission from rendered workplaces
radio telephone communication between correspondents of radio networks and subscribers of the telephone network
data transmission between PC correspondents of radio networks and PC PU
voice communication between KSH workstations
data transmission in the local computer network KSHM
access to the telephone network of the control center
organization of two rented jobs
remote control of KSHM facilities from rendered jobs.
Chassis characteristics
Weight 12250 kg
Crew 2 people.
Landing 3 people.
Length 7595 mm
Width 2800 mm
Height 2300 mm
Ground clearance 490 mm
Maximum speed on the highway 100 km / h
Water speed 10 km / h
Cruising on the highway 860 km
Sources:
http://bmpd.livejournal.com/631503.html
http://warfiles.ru/show-40569-raskryty-podrobnosti-o-novoy-ukrainskoy-kshm-svityaz.html
http://btrmz.com/ru/ptodukt/lightbtr/btr70/svitaz