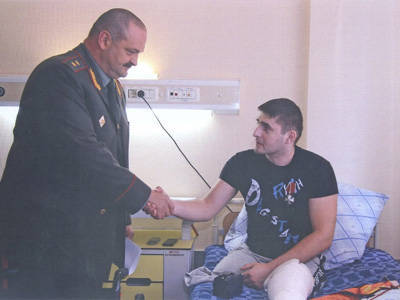 In the Main Military Clinical Hospital of the Interior Forces of the Ministry of Internal Affairs of Russia, Lieutenant-General Sergei Melikov, commander of the United Group of Forces for the Counter-Terrorism Operations in the North Caucasus Region of the Russian Federation, presented the Order of Courage to Sergeant Sultan Magomedov.
13 July 2012 Sergeant Sultan Magomedov in the reconnaissance group participated in a special operation to neutralize an armed gang in one of the districts of the Republic of Dagestan.
Being in secret, the serviceman noticed how several gangsters were secretly trying to move into the flank of the reconnaissance group. Realizing that the delay in this critical situation threatens the inevitable death of his comrades, the sergeant, risking his own life, consciously found himself and opened fire on the gunmen from a machine gun.
The brave soldier was wounded by return fire from superior militants, but during the battle the reconnaissance regrouped and reliably blocked the militants in the forest.