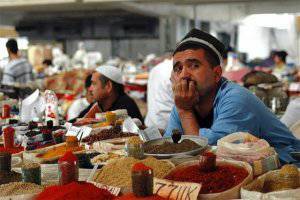 Today, the topic of labor migrants who are engaged in many industries is vigorously debated. The most popular industries for attracting migrants are construction and services. But despite the adoption of a law prohibiting people who do not have a Russian passport from trading, it is often possible to meet such traders in the markets. According to them, recently the controlling authorities began to check documents much less frequently, and for many policemen representatives of Southeast Asia for one person, which allows several foreign traders to work under the same Russian passport.
Today a proposal from United Russia party is being discussed, which consists in the idea of ​​banning work in the sphere of trade and representatives of the CIS countries. But today in large cities, commercial equipment is often served by these very people. For example,
trading equipment in Kazan
and Moscow is most often served by Azerbaijani and Uzbek traders. The President of Russia at the party congress came out with the support of the initiative to introduce a zero quota for representatives of foreign countries trying to take a place in the trade sphere of Russia.
How effective is this measure? In all likelihood, one should not expect a great effect from it. A number of experts in the field of migration policy this proposal is generally called populism. The reason is that most of the merchants who came to Russia from the CIS countries already have a Russian passport. Many managed to get dual citizenship (in cases where this is possible). Therefore, a ban on work in the trade sphere of migrants will in fact not give special results.
In addition, the ban may provoke a new increase in shadow employment, when the same migrants will have the opportunity to work in trade on a more than illegal basis - without applying for staffing. This was already the case in 2007, when for the first time in the Russian Federation a ban was imposed on the use of foreign labor in terms of retail trade. Today, this situation may happen again.
Representatives of the expert community say that instead of introducing artificial prohibitions, you just need to build the market system itself - transparent and understandable to everyone. When a person has a permit, a sanitary book, not bought in the transition, but received in the relevant government agencies, when such a person pays taxes, there will be no negative effect on the markets, no matter what nationality the trader may belong to, and no matter what passport pocket