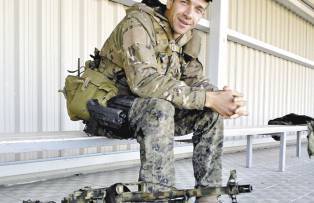 MY PROFESSION WILL BE ON LETTER "A"
On May 1, 2013, an apartment on the third floor of a house on Toporkov Street, was called by officers of the "A" department of the Special Purpose Center of the Federal Security Service of Russia. They brought tragic news to Vyacheslav Nikolaevich and Elena Valeryevna Zinenko: on April 30, their son Vitaly died in the line of duty.
GUY FROM OUR CITY
Vitaly is a native of the Kazakhstan city of Arkalyk of Kustanai region. Parents - Vyacheslav Nikolaevich and Elena Valerievna. After the collapse of the Soviet Union, the family moved to Russia and settled in the old town of Alexandrov, Vladimir region, located in 111 kilometers from Moscow.
Growing up in a different oriental mentality, Vitalik could not get used to the new realities. As the director of school No. 5 Faina Dmitrievna Bobrova tells, he could say: "Well, these Russians are!" And point out that, in his opinion, was another reason for his bewilderment.
In Group "A" Vitaly served for three and a half years, in the 6-m operational-combat department. Combat missions to the North Caucasus, special events, the last - the detention of merchants of the "white death".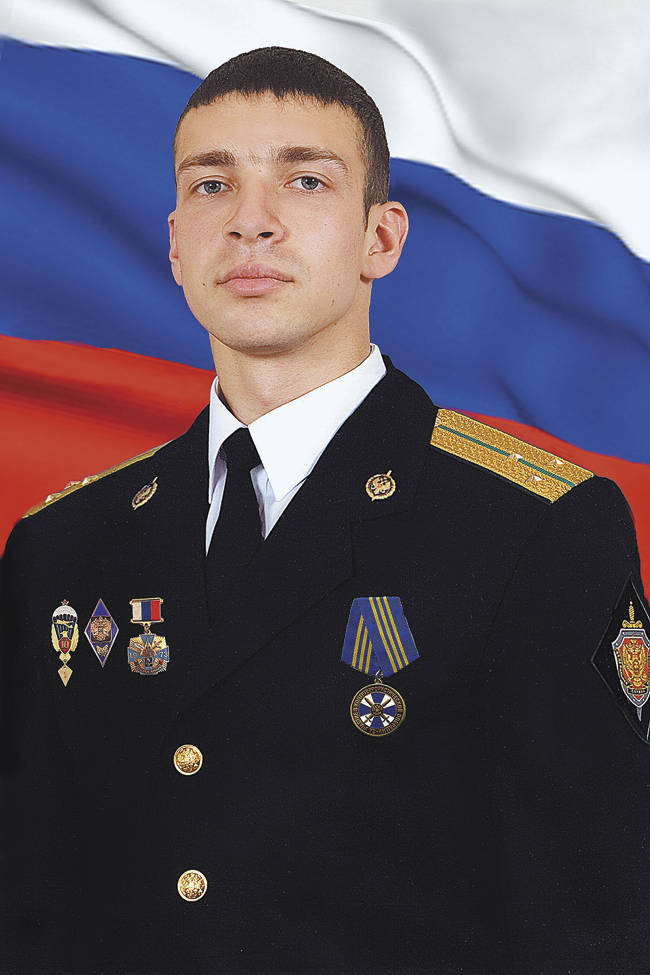 On the first trip, the commander addressed the young employees: "Who will take the machine gun?" Vitaly called, although he understood perfectly well what an additional burden it was. So Zinenko became a machine gunner.
Zinenko distinguished responsiveness and courageous modesty that adorns a real man. His heart was ready to perceive the pain of others. Comrades note the energy of Vitali, the everlasting positive attitude and focus on results. A strong, purposeful man was a good psychologist.
And Zinenko was a deeply religious, church-going man, had a confessor in the Trinity-Sergius Lavra - and it so happened that he died on the eve of Easter, in the days of Passion Week.
"Those who are now twenty-five years old are lucky," writes Olga Ryzhenkova in the essay "Death on Take-Off" (the newspaper "Uezdniy Gorod"). - At the beginning of the two thousandth, the life of young people in Alexandrov was in full swing, and everyone could find something for everyone. Since childhood, Vitaly worked in the theater "Meeting". He was called "our general" there. Not only because of one of his roles, but also because he always kept his word, and if there were any difficulties, he could organize the guys and find a way out and a solution. Tatyana Evgenievna Ekhmenina, the head of the theater, recalls how he played the foreman Vaskova in the play "And the Dawns Here are Quiet". It was necessary to see, she tells, how Vitaly, still a boy, could convey the careful, fatherly attitude of his hero to his subordinates, these young girls. And when they perish one after another, how deeply and truly he worried about each of them. Ego is impossible to play. Ego was its essence. He loved people very much. "
Farewell to Vitali was held in the Ritual Hall of the FSB on the Infantry Street. Then there was a funeral in the church of the holy martyr and healer Panteleimon. Specially from Alexandrov came a large group of Vitaly's friends and those who simply knew him, valued and respected.
"HAPPINESS. HOW I UNDERSTAND IT
From the school essay by Vitaly Zinenko. 10 class.
For me, the concept of happiness has changed and continues to change throughout my short life. When I was little, happiness for me was to get another toy from my parents, plenty to walk in the yard, go to the Park of Culture and Rest. In fact, then I was not interested in anything else. And in all this abundance I did not at all consider myself truly happy, on the contrary, I had new and new demands on my parents. I thought that they simply had to satisfy my desires, regardless of whether they had the money to spend on me.
With age, you begin to understand how wrong you were. After all, I did not realize that happiness does not depend on the number of toys and entertainment. Busy with my "worries", I forgot about my parents, it seemed to me that everything was fine, that parents were independent people, and they would endure any trials and illnesses. Having parents was not associated with happiness. Communicating with peers, I learned that some have only one of the parents or not at all. And he began to wonder how good it was to have loving parents, brothers and sisters, so long as there was love and mutual understanding in the family so that everyone would be healthy and happy.
Vitali chose his way from school: "If not me, then who?" As well as his attitude to people, which is basically prepared to come to the aid of those who are in dire need.
When a classmate Kristina Dorogobid and her friend got into a serious accident, Vitaly, who happened to be at that moment nearby, provided first aid with a friend.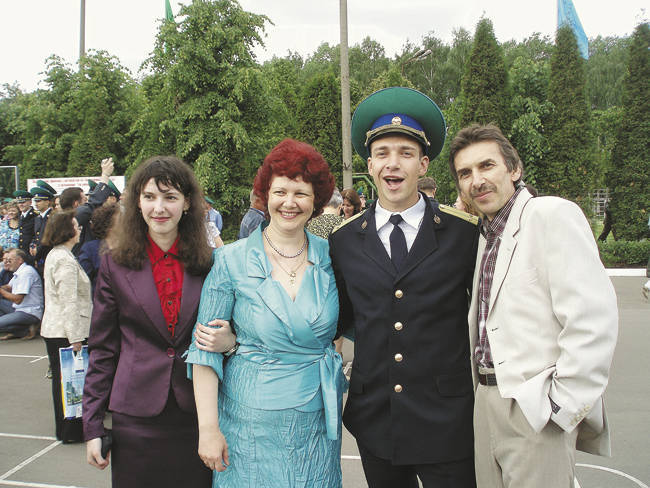 With parents, Vyacheslav Nikolaevich and Elena Valerievna, and sister Dasha
Vitaly's mother, Elena Valerievna tells: "My profession will be on the letter" A "- said the son. He chose between an actor, an architect and an archaeologist. And not just choosing, he tried each of these professions. Still at school, but quite seriously. As an actor, Vitaly grew up in the theater, and could become an architect - he graduated from the Children's Art School in the class of visual arts.
Since childhood, his moral ideal was Alexander Vasilyevich Suvorov. A portrait of the Generalissimo, painted in oil, hangs in Vitaly's room. And below - his army photos.
"He could be an archaeologist," writes Olga Ryzhenkova. - Thoroughly engaged in local history, Vitalik participated in scientific work. And there is a lot of evidence. These are certificates for the best scientific reports at local history conferences, and diplomas for participation in quizzes and competitions. And he went twice on the expedition "Under the Prince's Code." These were the first expeditions, when everything was just beginning, and together with schoolchildren and local historians, the most informal workers of the city administration, Ilya Pavlov and Galina Istomina, also carried backpacks along rivers and fields.
As retired midshipman Vasily Ivanovich Pogodaev, who led Sokol, says, Vitaly was not a responsible guy in his age, a man of honor, words and virtues: "Such as Vital, it happens that they die early, but they never leave the ranks."
Although in the case of Vitaliy Zinenko, one cannot say that his life is something gradually developing. His life is like a river, which fed all new and new tributaries. But no one, of course, expected that by twenty-six years she would already flow into another river - the river of eternity ...
The military-patriotic club "Falcon" at the beginning of the two thousandth in Alexandrov was as a gift of fate for the city and active youth. The club organized the already mentioned submariner Vasily Pogodaev. Engaged "falcons" in the then existing district DC. They had their own uniform and well-adjusted form, training schedule; they studied marine and military affairs. And how beautifully and seriously minted a step on the Alexander Parade on Victory Day for their commander - a military officer in uniform and with a dirk! It was a pleasure to watch.
"Acne was our platoon, my right hand. He never, never failed neither me nor the guys, "notes Vasily Ivanovich.
MASTER OF SPORT SPORT
The desire to be a military as a result has become predominant. Vitaly began to seriously engage in military practice and physical training. Tempering himself, he ran along the shore of Dichkovo Lake.
And Vitaly entered the cadet "Army School" in Kirzhach. For this, he had to go there almost every day and sometimes stay overnight at the guys in the barracks, because the classes ended late in the evening. And in the morning - back to Alexandrov, in his native fifth school.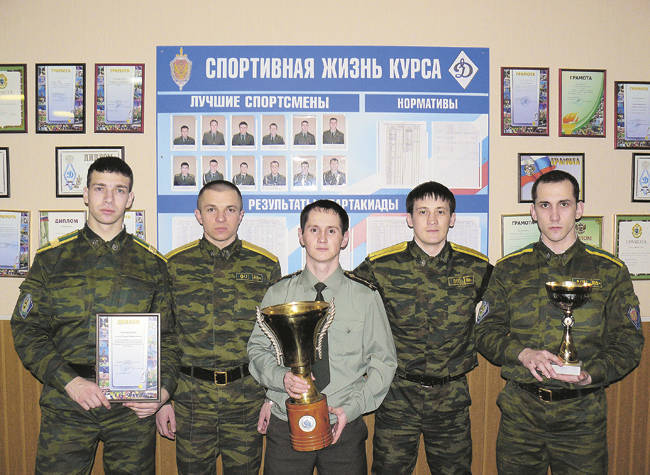 With comrades from the Golitsyn Frontier Institute of the FSB of Russia
Eleventh grade Zinenko graduated not just well. His name is recorded in the county Book of Honor, edition 2004 of the year. After school, he entered the Golitsyn Frontier Institute of the Federal Security Service of Russia. Junior sergeant, sergeant, senior sergeant. Course Leader First place in the cross-country on five kilometers with a full display and competition for lifting weights weighing twenty-four kilograms. And what is the result - 152 times! And this is with the external "fragility" of Vitaly ...
"HAPPINESS. HOW I UNDERSTAND IT
From the school essay by Vitaly Zinenko. 10 class.
I understood how right those people are who say that if you consider yourself unhappy, think of those who are even worse, and there are a lot of such people.
My attitude to many people has changed dramatically. I am proud of our country, I admire the feats of compatriots. People in the most difficult, hellish conditions with honor and dignity endured any hardships. It becomes clear that you are really happy: you have parents and sister, friends and comrades, you are healthy, there is a roof over your head, clothes and food.
In the future, I will be happy if I have a family, a favorite job, my parents will live to a great age, my dreams and dreams of my sister, my friends, classmates will come true, so that each of them has a happy life. And we must dream, we must set a goal and achieve it!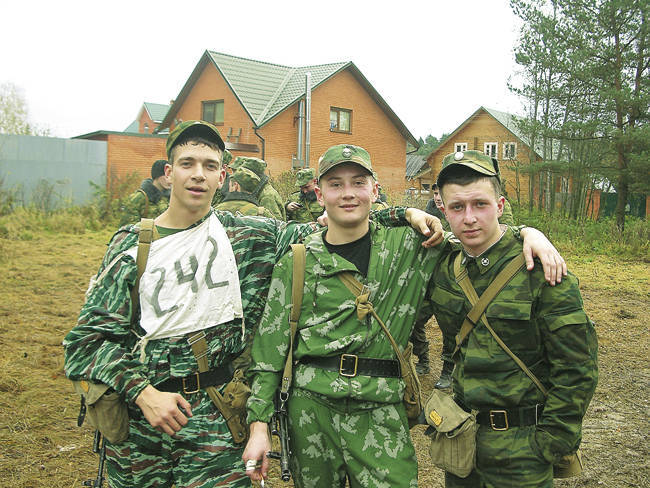 In Group "A" Zinenko decided to get more in the first year. This was his cherished dream. Preparing himself for the upcoming trials, he practiced charging before charging. To do this, he got up an hour earlier and, together with his friend Alexei, performed an hour jog, from six to seven, and only then they joined the general group of cadets.
It is noteworthy that Vitali never ran in headphones - he believed that you need to hear the noise of the world and ... the singing of birds.
The institute called him "master of sports in sports." He was truly all-rounder. Evidence of this is the award-winning graviton "Sporting Pride of the Institute", signed in 2009, by Major General Vladimir Gorodinsky.
After Golitsyno, having passed a rigorous selection, having passed the necessary standards and psychological tests, Vitaly Zinenko was enlisted in Administration "A" of the Special Purpose Center of the FSB of Russia. He was true to himself: as he said that his profession would be on "A", it happened. No, not an architect, not an actor, not an archeologist — an anti-terror fighter.
From the job description: "In a difficult situation he was quick to understand himself, acted decisively, showing a reasonable initiative. In the 2012 year, while on a business trip, Vitaly Vyacheslavovich participated in a special operation to capture one of the leaders of the gangs. At one of the sections of the operation, a threat to the life of the unit's personnel in which Senior Lieutenant Zinenko served was created. Immediately assessing the situation, Vitaly neutralized the threat with decisive actions, thereby allowing him to complete the combat operation successfully and without loss. For bold and courageous actions shown in the performance of combat missions, he was awarded the medal of the Federal Security Service of Russia "For participation in a counter-terrorist operation."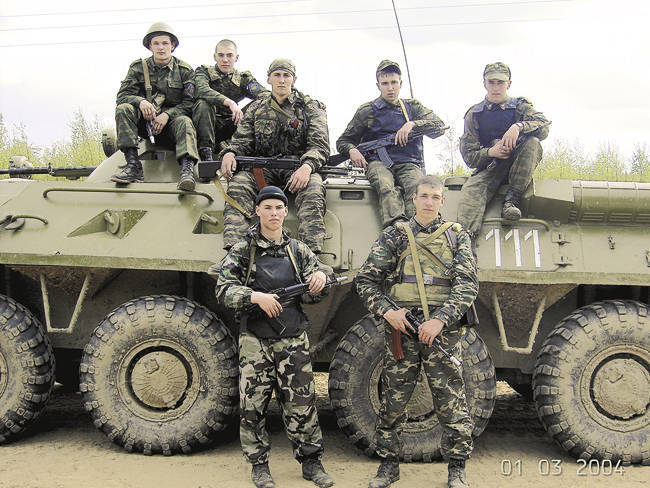 Physically was developed perfectly. Repeatedly participated in competitions in running, skiing, shooting, took prizes in these sports. He had a high performance, bravely endured significant mental and physical stress. A good organizer, was able to rally and mobilize the team. Outwardly, he was neat, tucked up. He enjoyed the deserved respect of his colleagues. "
And this is all in less than twenty-seven years! Others and in the years of physiological maturity can not boast such high scores.
LIFE AFTER DEATH
Vitaly met Vika Kosygina in Moscow on Poklonnaya Gora, where he and his comrades went to the feast of May 9. Passing by, I paid attention to two girls in military uniforms of World War II, who handed veterans scarlet carnations. Came, met. Young people exchanged phone numbers.
Here is such a significant date for dating spouses Zinenko - 9-e May! By the way, Vitaliy 20 was born on December, the Day of the security officer.
Vika, Victoria E. Zinenko, graduated from the sociological department of Moscow State University named after MV Lomonosov and studies in graduate school. At the V All-Russian Scientific Conference "Russia 2030 through the Eyes of Young Scientists" she made a presentation on "The role of informal youth associations in the political process of modern Russia."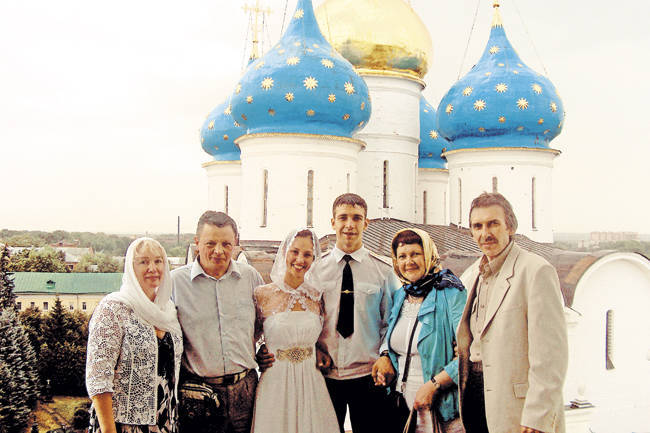 Vitalia's beloved sister Dasha, Daria Vyacheslavovna, graduated from the Vladimir Regional College of Music in piano and then worked as a teacher for five years. Currently, she is receiving another education - at the Moscow State University for the Humanities named after M. A. Sholokhov.
... Photo albums save the happy moments of a person's life. Travel around
historical
places, performances, friends, graduation, parents, sister Dasha. Here are the wedding photos: registration, wedding. Vitaliy and Victoria arrived in the registry office on horse-drawn carriages. They were a beautiful and happy couple.
"Vitaly Zinenko was buried at the Nikolo-Arkhangelskoye cemetery in Moscow on the Special Forces Alley," wrote Olga Ryzhenkova. - School No. 5 is requesting that a memorial plaque be installed on the facade of the school where the senior lieutenant studied. There is a proposal to give the name of Vitaly Zinenko to the military-sports game "Zarnitsa", which takes place in our area.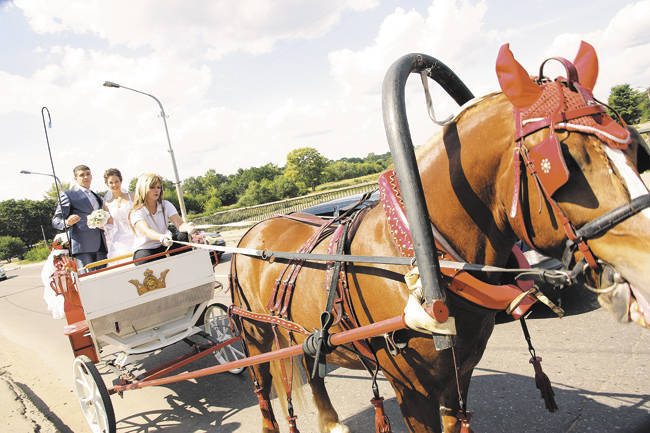 Vitaliy and Victoria Zinenko arrived at the registry office on a horse-drawn carriage
And I really want to say Vitaly's parents thank you very much for my son. It is you, Vyacheslav Nikolaevich and Elena Valerievna, who raised him a brave, kind, intelligent man, a true patriot of their homeland. It is in the atmosphere of your home that he learned to meet all difficulties with a smile and constant optimism, like Elena Valerievna, and a real man's wisdom, like Vyacheslav Nikolaevich. A gentle and fragile little sister Dasha, probably, has always been the embodiment of that light and kind that you need to protect with all your might and to the last drop of blood. And like a real man, a real defender of his Homeland, he defended us to the last drop of blood from terrorism and drugs. "
And only a few months passed, and on September 7 of the year 2013, a memorial plaque made by Afghan soldiers appeared on the facade of School No. 5. Pupils and teachers, representatives of the authorities and the public of the city, war veterans, power structures from various structures and simply caring people gathered on the ground in front of the school.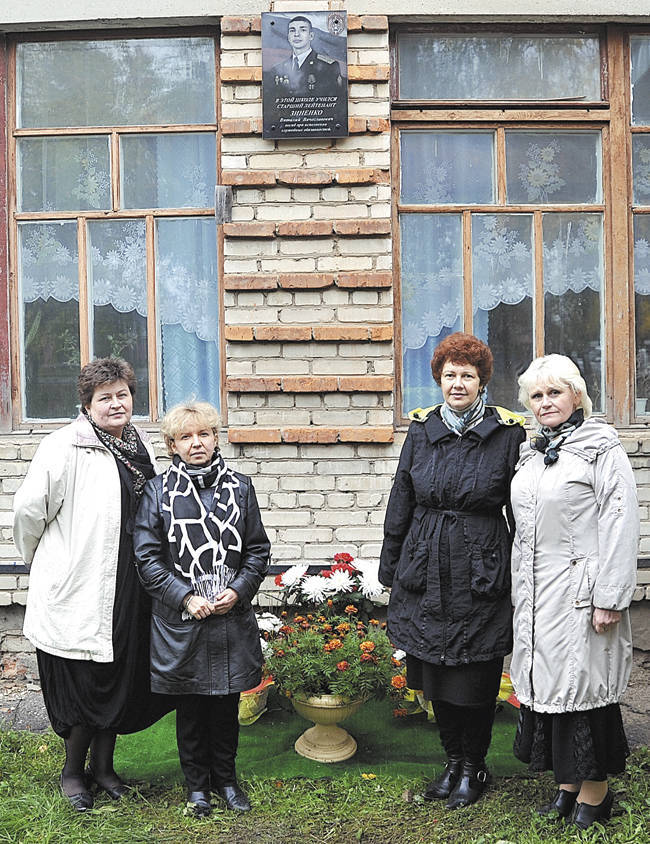 Called to a different service, Vitaly continues to help his school - now with his name, behind which stands the entire Group "A". City Alexandrov. September 2013 of the year
Sergei Rybakov is the chairman of the Alexander public organization of veterans of the war in Afghanistan and other military conflicts. Many thanks to him for the fact that the memorial plaque was made qualitatively and carefully installed by the forces of the "Afghans" themselves.
And right there, in the school park, employees of the "A" department planted a fir tree - in memory of their comrade-in-arms.
Called to a different service, Vitaly continues to help his own school - now with his name, behind which stands the entire legendary Group "A". Time will pass, and the "School over the Lake" will surely become personalized, and in this capacity will acquire a new life - as has already happened once, in the 1975 year, when the current building was built, modest and close by today's standards.
The book of the Hero of the Soviet Union Gennady Nikolaevich Zaitsev "Alpha is My Destiny", signed by the author Vitaly, is kept with Vitaly's relatives. And now in the sixth edition, which will be released next year for the KGB-FSB 40 anniversary of Group A, among the biographies of its dead employees will be a brief essay on senior lieutenant Vitaly Zinenko.
Love and light you carried to people
Served the Fatherland right!
Words of Suvorov ascended
Like the banner of your life!

Great SON,
Lovely husband,
He knew how to be friends with everyone!
You set an example of love for the profession and faith!
The editors of the newspaper "Special Forces of Russia" express their sincere gratitude to the family of Vitaly Zinenko, the director and teachers of the school number 5 of the city of Alexandrov for their help in preparing the essay.