Interesting information regarding the possible commencement of Russian deliveries of C-300ВМ ATPs to Iran comes within a week. At the same time, the information is said to be interpreted every time not only by the media, but also by Russian and Iranian politicians.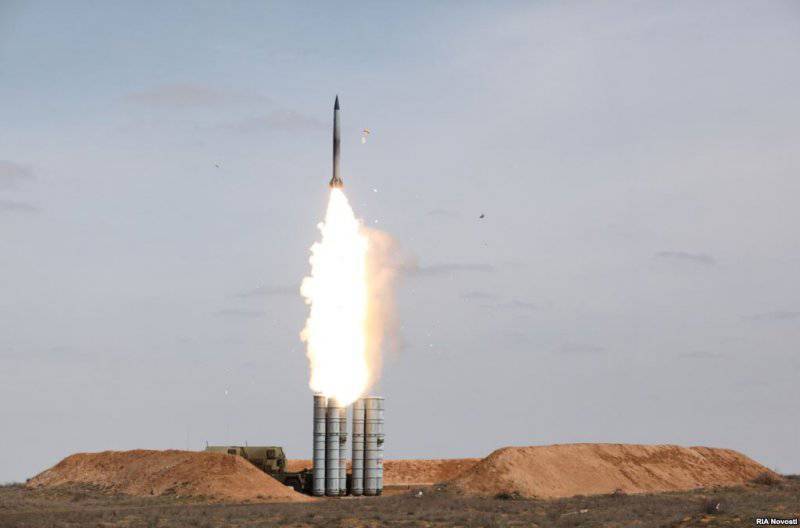 If you briefly recall what is at stake, then initially you should pay attention to the UN Security Council resolution and presidential decree, which was signed in 2010 year. The then president (Dmitry Medvedev), for strange reasons having decided to follow the UN resolution beyond measure, imposed a ban on the supply to Iran of not only offensive weapons, but also means of defense, to which C-300 complexes are fully and relate. Then Iran, the contract with which it was already concluded, on Russia, to put it mildly, was offended. I thought and thought and then stated that I was ready to recover from the Russian Federation through an international court a penalty for non-fulfillment of the contract. Read more about this in the material.
"Deliveries to Iran C-300. What to do with Medvedev's decree? "
It must be admitted that the move with the addition of Dmitry Medvedev C-300 to the "black" list, puzzled not only the Iranian side. In Russia, too, they were perplexed, and they continue to be perplexed: for what purposes did Dmitry Anatolyevich decide to supplement the prohibitions in a peculiar manner, and even then, when all sorts of "Arab spring flowers" ​​were already beginning to bloom in the world?
However, let us distract from Medvedev's motivation, and return to the information that comes in today. This information is as follows: the other day, the Iranian ambassador to Russia made a remark that is hard to ignore. Mahmoud Reza Sajjadi, namely the name of the Iranian ambassador, said that the issue of supplying Iran with C-300 was raised at the talks. Around the same time, Marzia Afham, the head of the press service of the Iranian Foreign Ministry, made a deeper statement, saying, in particular, that the friendly relations between Iran and Russia allowed negotiations between officials and experts to continue in such a way that Russia could their international obligations, and a compromise result would have been achieved on C-300.
Obviously, the very question of resuming (or rather, the beginning) of deliveries of anti-aircraft missile systems from Russia to Iran today is difficult for both sides to discuss. And Russia is clearly more difficult. Why?
First, an Iranian lawsuit was filed over Rosoboronexport in more than 4 billion dollars, moreover, according to Iran's statements: Iran's request was for 900 million, and more than 3 billion decided to "add" the court itself ... In general who pledged and how much is not so important - it's important that the sum was drawn up more than impressive, almost twice the total trade turnover between Russia and Iran (the trade turnover for the year 2012).
Secondly, a difficult situation emerges in the so-called "tandem". After all, if today Russia and Iran are really negotiating about the start of C-300 deliveries to Tehran, then somehow it will have to be presented inside Russia ... After all, our authorities do not consider that they completely forgot about the existence of a presidential law inside the country signed by Dmitry Medvedev about banning supplies. In principle, many interested Russians would not mind if they simply stepped over this decree, but it is unlikely to succeed. He is too sensational to ignore him.
It turns out that President Putin, if he is really ready to start supplying anti-aircraft missile systems to Iran (in this case we are already talking about delivering the Antey 300 C-2500BM instead of C-300PMU-1), it will actually cancel legal force decree Medvedev. It would seem that there is an obvious confusion and staggering in a tandem, a manifestation of obvious discrepancies in the interests, but ... Is this the first precedent when the presidents (current and previous) play "today decided one way - tomorrow the other decided something"? Not the first, and it can be assumed that not the last at all ... True, there is still an important difference: to start supplying C-300 with the current president after the ban imposed on the same supply by the previous president is still not canceled-returned, and This is not a game in summer-winter time. This is already a question of the foreign policy strategy of two people who occupy the highest posts in the state. And the facts seem to say that the president's foreign policy with the prime minister are very different ...
On the other hand, it can be assumed that they are not so different ... After all, if you remain confident that the difference in positions was before and is now, then you have to admit the fact of the independence of the presidency of Dmitry Medvedev ... And according to this fact, it turns out that Vladimir Putin, in particular, did not have the opportunity to give advice to the "first person" at those moments when he signed such important decrees. But what about the reality: I didn't have such an opportunity, didn't want to have it, or did Putin's position on C-300 supply to Iran really be similar to that of a "colleague in power"? A question that, for obvious reasons, cannot be answered unambiguously. One can only assume that Dmitry Medvedev was given to play a "reset" with the American, God forgive me, "partners", and he rebooted in full. Only after this reboot, the system somehow began to hang ...
And about the start of deliveries - the beginning of this has a high degree of probability. Moreover, even the United States managed to announce that they are considering Iran with its new president as a state with which they are ready to conduct an open dialogue. At this, the journalists even caught up with US Secretary of State Kerry, asking him the question that if the United States is ready for an open dialogue with Iran, then why would the European missile defense states? Kerry thought for a long time, produced something similar to a bellow, but did not find an intelligible answer ...