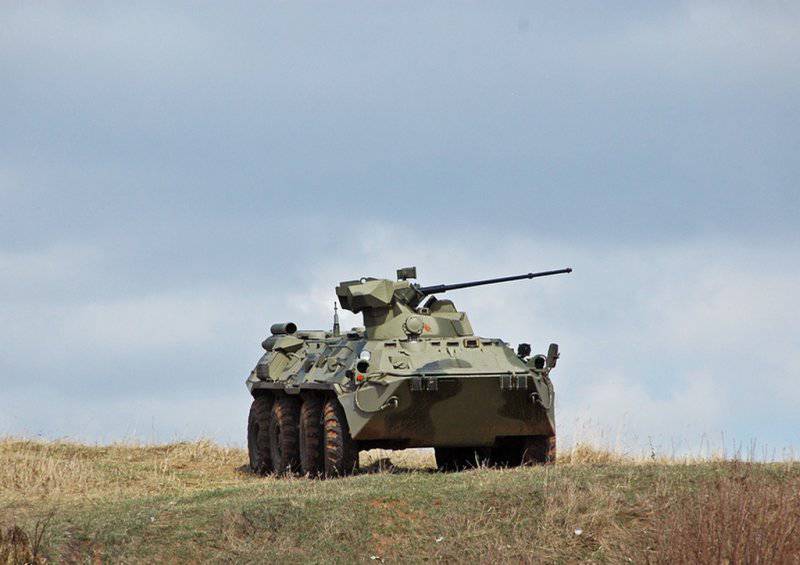 The military-industrial company (MIC) announced the start of construction of a new BTR-82А armored personnel carrier for the Russian army. It is planned to build from 200 to 300 machines per year. About this ARMS-TASS reported the representative of the MIC.
Compared to the BTR-80, the new car has a number of advantages: it is equipped with an 300-strong KamAZ turbo diesel engine, which allows it to reach a maximum speed of 100 km / h, which is 10-20 km / h more than the previous version BTR-82. Improvements received transmission and suspension, with the result that the mass of the new BTR has grown to 15,4 tons.
An electrically controlled combat module contains an 30-mm automatic 2-42 automatic cannon stabilized in two planes and a PKTM machine gun coupled to it. The armament is controlled with a TKN-4GA-02 sight. On both sides of the turret, 2 units of the smoke cloud system grenade launchers of the 3 grenade launcher are placed in each.
The structure of the module is also an innovation - thanks to a special layout
weapons
gunpowder gases do not get into the fighting compartment of the car. The angle of vertical alignment of the main armament ranges from -7 to + 70 degrees. The Russian army, however, did not refuse to purchase the previous modification of the BTR-82, the armament of which consists of a KPVT machine gun of the 14,5-mm caliber and a PKTM machine-gun of the 7,62-mm caliber.
The security of the BTR-82A is estimated at the level of its predecessor, the BTR-80A, but the design of the protection system includes a number of improvements: armor damage, protected from shock waves when the crew seat is undermined, and an improved fire extinguishing system. The armored personnel carrier is equipped with a system of protection against nuclear, chemical and biological weapons of mass destruction (WMD), as well as an air conditioning system.
The simultaneous development of a long-term replacement of the BTR-80, called the "Boomerang". It is assumed that the MIC assembled the first prototypes of the machine. It is known that its further development will take into account western experience and, in particular, the location of the engine in front of the car. Deliveries of the new BTR are expected from the 2015 of the year.