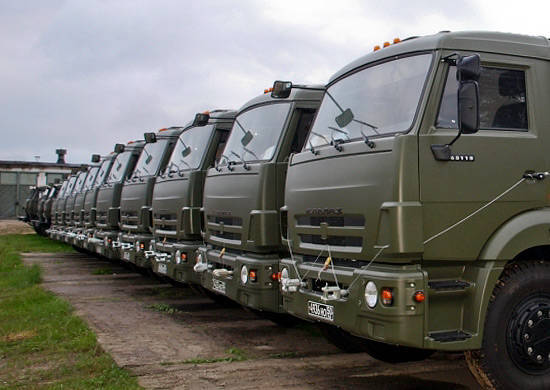 More than 130 units of modern KamAZ-65116 truck tractor units and KamAZ-65117 onboard trucks have been supplied to the Nizhny Novgorod compound of the logistics of the Western Military District.
From their predecessors, new models of automotive vehicles differ in increased engine power, greater carrying capacity, increased comfort.
All this allows to increase the tonnage of the transported goods while reducing the time to complete tasks. The increase in carrying capacity was also achieved thanks to the wide use of new composite materials of increased strength, from which the external cab parts were made. They are less susceptible to corrosion under the influence of environmental factors.
The new KamAZ-65116 has onboard computers with the cruise control automatic constant speed control function, and the following options have been added: adjusting the optimal fuel consumption, anti-lock braking system (ABS), hour meter hours and rear-view mirrors. This configuration allows to significantly improve the comfort of cars and the level of security when performing special tasks.
The renewal of the brigade's fleet with more powerful and comfortable samples of the new automobile armament significantly influenced the quality and timing of military missions for their missions.