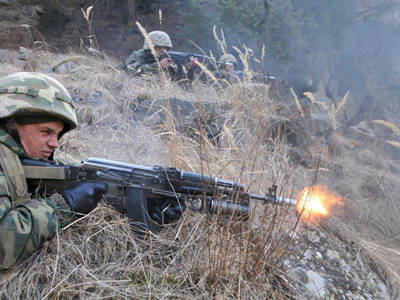 On October 5, 15 celebrated the anniversary of the formation of a special-purpose squad of the North-Caucasian Regional Command of the Interior Troops of the Ministry of the Interior of Russia "Edelweiss" (Mineralnye Vody).
This is one of the most militant and well-deserved parts of the internal troops. The detachment was formed as a result of the merger of special forces groups located in the south of Russia - in Grateful, Vladikavkaz, Zelenokumsk, Neftekumsk and Nalchik.
The detachment received its name "Edelweiss" as a sign that its personnel performs most of the service and combat tasks in the highlands.
The battletrack of the Edelweiss began in February of 1999. Special Forces officers maintained public order in the region of the administrative border between the Stavropol Territory and Chechnya, guarded the industrial facilities of Stavropol.
Since July, 1999 and to the present, the fighters perform service and combat tasks of the North Caucasus region.
"The 17 squad is one of the most worthy squads in the special forces of the internal troops. And the guys there are friendly - a very good team was originally formed. We are proud of them and want to wish all the best and brightest, and most importantly - always return from fulfilling the tasks alive and healthy, "Lieutenant-General Sergei Kutsov, congratulating the special forces on the anniversary, said congratulating the special forces.