A wonderful collection of the favorite books of many of their ZHL series is updated with a new edition of the 0 biography of the recently deceased Venezuelan leader Hugo Chávez.
The book "Hugo Chavez" in the series "ZHZL"
produced by the publishing house "Young Guard". The book will tell the reader about what life path passed the commandant, and this life path is described without embellishment, without too much tinsel and certainly without distortion.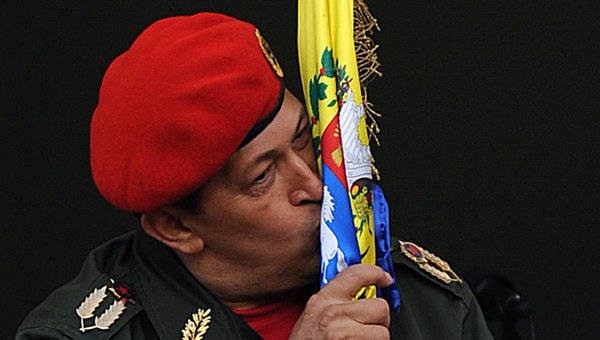 Many publications today exploit the theme of Hugo Chávez's contribution to the life of a state like Venezuela. At the same time, a large number of articles appear that intend to distort the facts. The authors of these materials are replacing concepts with a view to either downplay the role of Chavez, or consciously denigrate his image.
The book from the ZHZL series was written by a man who lived in Venezuela for 12 for years, and therefore has an idea of ​​the policy that was sent by its former leader. By the way, the Venezuelans themselves are not inclined to call Chavez "the former leader." During the presidency of Chávez, his popularity was very high. The main electorate of this person was from the lower and middle classes, for which the president did a lot: he built economy class housing, raised benefits and various social benefits.
The published book will tell you about the forces that tried to eliminate Hugo Chávez. The very life of a Comandante is in many ways a detective story.
история
which continues to be discussed today. The fact is that the Venezuelans themselves believe that Chavez could not die his own death. Conversation theory, in the course of which the president was infected with an incurable disease, is talked about in Venezuela among the local population.
The journalist Konstantin Sapozhnikov in his book deals with various processes that took place in the life of the Venezuelan president. The book, by definition, will appeal to those readers who are interested in modern politics, and who value the role of the individual in a particular country. The book will certainly appeal to historians and journalists who argue on the themes of the new Bolivarian revolutions in South America, the Latin American fraternity and cooperation between the countries of the region.
The presentation of the book by Konstantin Sapozhnikov has already taken place at one of the trade fairs in the capital. The book has caused serious interest, including among politicians. Gennady Zyuganov was one of those who paid special attention to the book.