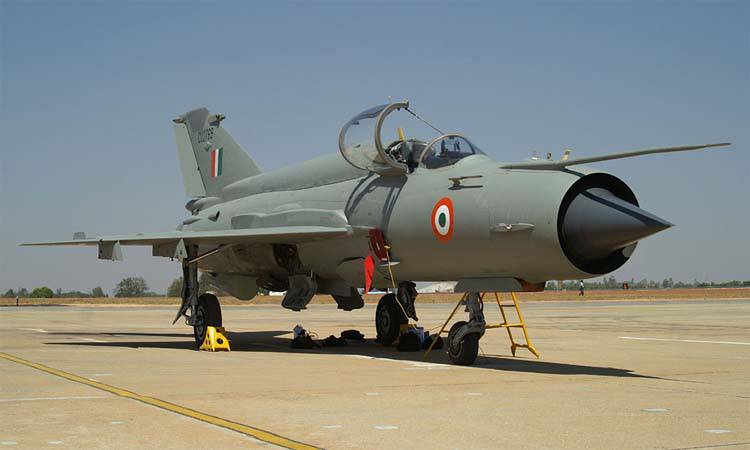 The Indian Air Force will not be able to abandon the operation of MiG-21 fighters until 2025, in particular, due to delays in signing an agreement on the supply of French Rafale fighter jets and the production of Tejas own aircraft. This was reported by the Times of India.
We are talking about 110 fighters MiG-21, upgraded in 2006 year in the version of the MiG-21bis ("Bison"). Earlier it was reported that India will completely abandon their operation by 2018-2019 years.
According to the calculations of the Indian side, by the 2022, the 42 fighter squadron will be at its disposal in comparison with the 34 units at the moment. It was assumed that Rafale will replace the MiG-21, but due to the fact that the supply agreement has not yet been signed, India will begin to replace the MiG-21 with the Russian Su-30МКИ. To date, it has adopted more than 170 Su-30МКИ from 272, ordered from Russia. By 2017, 14 squadrons of these fighters will be based in India. Air Force Commander Anil Kumar Brown said Friday that the first Rafale will be here no earlier than 2017 of the year.
The French company Dassault (Dassault), which produces Rafale, won the tender in January 2012. Under the terms of the competition, the winner pays half of the amount paid for the planes to fighter production in India. Around 110, Rafale aircraft must be manufactured by Hindustan Aeronautics Limited (Hindustan Aeronautics Limited), India, while only the first 18 are directly supplied by the supplier and delivered here in assembled form. The amount of the transaction was originally estimated at 10 billion dollars, but today it can already exceed 20 billion.
In April, India celebrated the 50 anniversary of the start of shipments of Soviet MiG-21. The agreement was signed in 1962 year, and they began a year later. In 1967, the Hindustan Aeronautics Corporation transferred the first MiG-21 to the Indian Air Force, which was built here under a license obtained from the USSR. More than 260 such fighters are still in service.