Ukraine's promises to find, instead of Russia, other partners in the production of the An aircraft, may begin to come true. A proposal to create a joint venture with Ukraine was put forward by Saudi Arabia. A few years ago, representatives of this country declared that they really needed Ukrainian An-70, which Russia is refusing.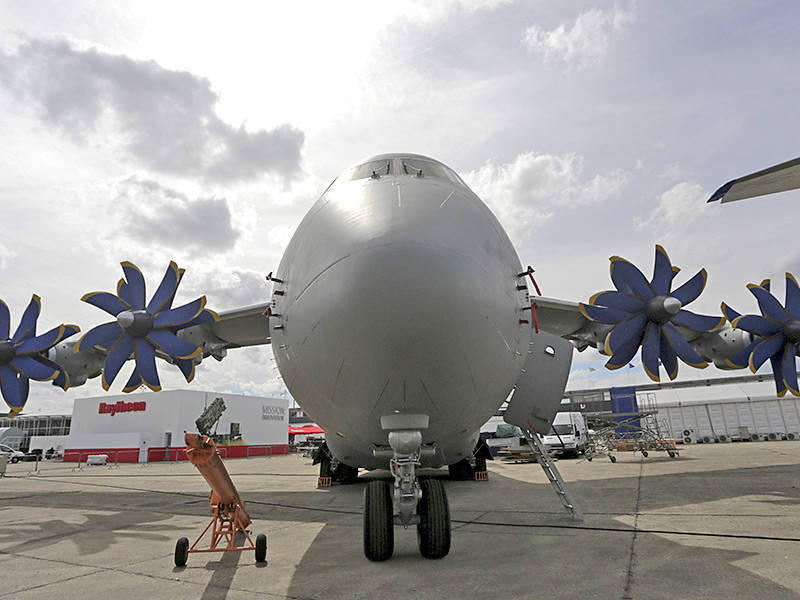 The most promising and competitive in Ukraine aerospace industry in the conditions of cooling relations with Russia found partners in the face of the Arabs.
On Friday, the Prime Minister of Ukraine Mykola Azarov met with representatives of the government of Saudi Arabia, after which the parties announced the agreement reached. In particular, Prince Turki bin Saud bin Mohammed Al Saud said that Saudi Arabia is ready to become a strategic partner of Ukraine, and besides is interested in establishing cooperation with Ukraine in all spheres of the aerospace industry.
Prince, Vice-President of the Scientific and Technological Center. King Abdulaziz emphasized the fact that Ukraine has a huge potential in the aircraft industry and space industry and, accordingly, Saudi Arabia is interested in cooperation in these promising areas.
"We are interested in co-production in the territory of Saudi Arabia of the An family of airplanes," the government's press service quoted him as saying, UNIAN reports.
Currently, in the framework of international cooperation, the leading Ukrainian developer of aircraft engineering GP Antonov (Kiev) is promoting the world's new generation of An-148 / 158 regional aircraft on the 68-99 passengers with a range from 2 to 4,4 thousand kilometers
The Antonov transport aircraft, including the multipurpose An-32 and An-74, the heavy transport An-124-100 Ruslan, as well as the average transport An-70, were the most famous on the world market.
An-148 is an aircraft of the Ukrainian design bureau, but the final product is produced in Russia, in Voronezh, and the degree of localization is about 80% (Russian components).
An-124 Ruslan and An-70 are joint projects in the aircraft industry of Russia and Ukraine, which Russia may refuse in the near future.
"The problem with the An-124 Ruslan is that the Ukrainian side is very tight on agreeing to transfer to us consent to modernize individual units of this aircraft. But we will no longer wait and take advantage of international experience," said in late August Russian Deputy Prime Minister Dmitry Rogozin.
According to him, if Ukraine does not make a decision now, then "then we will simply have to localize all production. And abandon their services completely. Who will they work with? With the Chinese? Sell the Chinese? China is also far advanced in this regard Why do they need Ukraine? ".
Rogozin responded no less harshly about the An-70 project (at the beginning of September, Russia practically froze the An-70 production program). In particular, the Deputy Prime Minister noted that An-70 in its technical characteristics is practically a direct competitor of the Russian Il-476.
"I will ask a question: why do we need a multi-family, besides with a partial series? Do we need to produce at our own enterprise, say, 50 Il-476 and 50 An-70? We are interested in large series, in serious loading of our enterprises and in specialization, so that each plant does not turn into a subsistence economy, "Rogozin explained.
This interview Rogozin did not go unnoticed. Almost immediately, correspondent quarrel with him was entered by the general designer of the state-owned enterprise Antonov, Dmitry Kiva. "I heard an interview with Rogozin, who called him (An-70 - approx. VIEW) virtual plane and competitor Il-76. What kind of virtual? Here he really flies on MAKS. We specifically brought him," said Kiva.
According to him, in the world there are only four aircraft that can carry the entire range of necessary military equipment and weapons, as well as take off and land on shorter lanes, including unpaved –American С17, European А400М, Chinese Yun 20 and Russian-Ukrainian An -70.
At the same time, Kiva warned that if Russia abandoned the An-70 project, the Antonov state-owned enterprise was ready to launch the construction of this model in another country. "I have four western countries that want to cooperate with us. Let Russia refuse the An-70, tomorrow I will launch the aircraft in mass production in another country. They are already standing and asking. True, the Russian will suffer
aviation
industry, which is involved in the cooperation on the production of An-70, "he said.
Saudi Arabia has long been eyeing Ukrainian aircraft. Back at the beginning of 2006, during a visit to the ASTC. Oleg Antonov, representatives of the delegation of Saudi Arabia, led by the Minister of Industry and Commerce, said that the country needs a specialized cargo ramp aircraft with a carrying capacity of 35-40 tons, and the Ukrainian A-70 short take-off and landing aircraft meet the best requirements.
At the same time, the issue of equipping airlines and government agencies in Saudi Arabia with passenger An-140, An-148, multipurpose An-74 aircraft, as well as a number of special-purpose aircraft based on them was discussed.
The aircraft industry is clearly not the industry that can be called a priority for oil-rich Saudi Arabia. There is no information on the production of aircraft in its open sources on its territory, but it is known about contracts for the purchase of aircraft (in particular, military aircraft) from the United States and Great Britain.