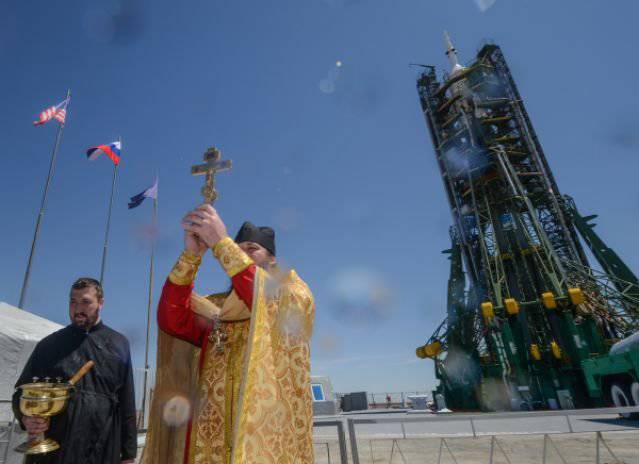 According to the abbot of the temple at Baikonur, the recently fallen "Proton" was also not consecrated
The rector of the Church of the Holy Martyr George the Victorious, Father Sergiy Bychkov, dedicated to the consecration of the missiles that are launched from the Baikonur cosmodrome, told Metro that the success of the launch will often depend on the rite of consecration.
"The consecration of rockets began in the 1998 year. Since we sanctify almost all of the rockets. At the same time, with those rockets that we consecrated, everything was fine, but those that were not consecrated fell. For example, the recently fallen Proton was not consecrated, "- said Father Sergius.
The abbot of the temple at Baikonur said that four rockets had not been sanctified in his memory: the first two were still in 90, when the procedure had not yet become traditional, the Belarusian rocket, which was launched about four years ago, and Proton launched in the summer this year. To consecrate a rocket or not, decides the design office.
"This seems to be a special providence of God. There are people who want to sanctify rockets, but there are those who do not want it. Apparently, the Lord shows to such people that we are doing a good and necessary thing," added the priest.
According to Father Sergius, the Proton rocket was going to be sanctified, but, by coincidence, it was not possible to do so.
"With the Proton, it turned out inexplicably - I didn't happen to be in the city and the rocket was launched without my blessing - here again the Providence of God," said Father Sergius.
The priest says that the leadership of Roskosmos and the crew members themselves have great respect for the procedure of consecration and are taking part in the rite.
"It often happens that we send not only Orthodox cosmonauts into space, but also people with a different faith. They all kiss the cross and we sprinkle them with holy water," Father Sergiy added.
Ранее
head of Roscosmos Vladimir Popovkin said that the ministry will continue to consecrate missiles
However, he noted that the reliability of the rocket is not in whether it was consecrated or not, but in how it was prepared for launch at the plant and how it was tested at the cosmodrome.