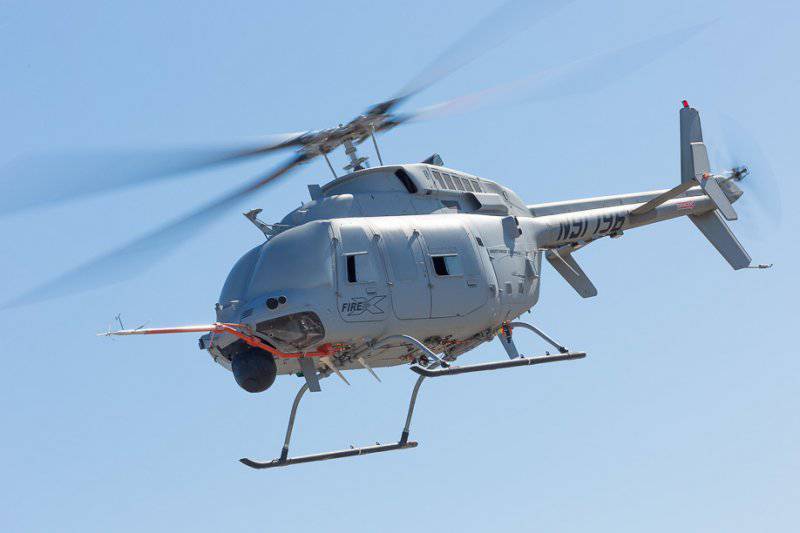 Northrop Grumman specialists for the first time launched the MQ-8C "Fire Scout" helicopter-type unmanned aerial vehicle during tests at the Point Mugu site (California).
The tests allowed the engineers to collect data needed to evaluate the performance of all systems before the first flight, which is scheduled for October 2013. Subsequent flight tests of the UAV will last for 6 months.
Northrop Grumman is the main contractor of the US-based MQ-8 Fire Scout program, whose goal is to develop a UAV for information gathering, surveillance and reconnaissance.
As previously reported by TSAMTO, in April 2012, the Command
aviation
According to the results of the tender, the US Navy signed a contract with Northrop Grumman to develop a new version of the VTUAV (vertical take-off and landing tactical unmanned aerial vehicle) tactical helicopter UAV. The cost of the agreement is estimated at $ 262,3 million. Under the contract, the company is to develop the next generation Fire Scout UAV, the MQ-407C, based on the Bell-8 helicopter, which should be ready for use in 2014. The contract provided for the development, manufacture and testing of two prototypes, the supply of 6 serial machines, sets of spare parts and support for the supplied equipment.
In March 2013, the US Navy signed a contract with Northrop Grumman for the supply of additional MQ-8C Fire Scout, which increased the total number of units ordered to 14 units. (including 2 prototype). In total, the US Navy intends to purchase up to 28 aircraft of the new version, which will complement the fleet of 168 MQ-8B.
The new version was developed in response to the need of the US Navy for UAVs, which will have a greater range, autonomy and payload mass compared to the previously created MQ-8B, which will allow the device to perform reconnaissance tasks with high efficiency. The use of Bell-407 helicopter as a platform allows transporting three times the payload and doubling autonomy compared to the MQ-8B variant, which also reduces the workload on the crew, reducing the number of take-offs and landings. The MQ-8C UAV can carry a payload of 2600 pounds (1179,3 kg) and be in the air for 15-16 hours.