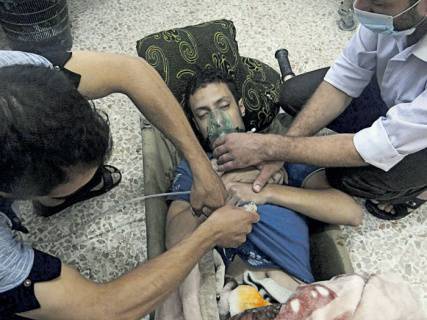 Again and again I reflect on the events in Syria, I ask myself questions. What kind? Here they are.
When applying chemical
weapons
the carrier has a shell, a bomb, a rocket, a mine — only the hull is opened. The explosion of the carrier is not aimed at creating fragments and not scattering them over a long distance, but at opening the container with toxic substances (OM). That is, the carriers — a projectile, a bomb, a rocket, a mine — have minimal damage to the hull; they should lie almost perfectly on the ground. If "fragments with the Cyrillic alphabet" were found, then it was a non-standard delivery of weapons of ammunition.
And on Kerry's statement: "... this opposition secretly penetrated into the territory that it did not control, launched rockets, which it does not have in its arsenal, with poison sarin, which it does not have either, in order to kill its own supporters. And then, just as imperceptibly, the opposition dismantles the installations, plunges them and takes them out of the center of Damascus, controlled by Asad ... "- you can answer this way: if there is a bombardment of a known area with rockets from a known place, then all that remains is to pour sarin at the place of shelling. fragments of "Cyrillic" also smear in sarin - that's all. Not difficult.
But it is very difficult to prove who has used agents and how. It is only with Mr. Kerry that everything works out very quickly and convincingly.
So what is the US meaning of the bombing of Syria (well, except for the pain in the heart for the dying people under the yoke of inhuman Assad)?
I think that the purpose of the bombing with humanity is not connected in any way. Rather, they are associated with the economy. This was the case with Iraq and Libya.
Both Saddam and Gaddafi wanted to receive all payments for oil not in dollars, which are not secured by anything other than the same dollars, but in their own currency and in gold. That is, they wanted to get away from the order that was imposed on the whole world by the United States during the time of Roosevelt. Result? Both in the coffin, the countries looted, there is a civil war, the right people are pumping oil out of the countries. What prevents Syria from Assad? It prevents the laying of a gas pipe from Qatar through Saudi Arabia, Turkey and further to Europe - to France and Germany. The prices for Russian gas are falling - Russia is beginning to engage in survival, it has nothing to do with it. And she returns to the mill of petrodollar relations, and then she, together with China, began to disintegrate - settlements begin to lead in rubles and yuan. But what about the dollar? Is it printing in vain?
REALIZATION "TOMAHAVKOV"
Seventeen trillion - the debt of the United States, and the gold reserves - only 130 billion. Debt more stock in 130 times. For the USA, the mutual settlements in the world since Roosevelt times are the conditions for survival. But Russia does not want to weaken - otherwise it will sit down on ration cards, we have the lion's share of food - imported. Let's sit down with a collapse in gas prices very low and for a long time. Perestroika-2 will begin - again the shelves in the shops are empty and have a very evil population.
Russian elite fade abroad? She is already there waiting with open arms. The "Gaddafi effect" showed: everything will be taken away in a flash. Result? The Russian elite suddenly fell in love with Russia anew - liquidated accounts of officials abroad and so on.
Suddenly, the Russian army began to revive, the exercises for the exercises - still not just.
So the goal, as I see it, is not Syria at all - Russia and China. Russia will not calm down, and China is the main holder of US debt. What do they do to the lender if he is bored with the return of the debt? They kill him. It remains only to think of how. But we must begin, I believe, with knocking out chairs from under the priests. What kind of chair does China have in the event of a US sneak on it? Russia is his only chair.
That is, the norms of international law already mean nothing? It looks like it.
Why is Syria suddenly quarreled with all the Arabs? Something very fast. The Arab Spring also came suddenly. For some reason she did not touch Saudi Arabia, Qatar, the United Arab Emirates and other US friends.
And why are the militants preparing in other territories by instructors from the United States, Great Britain, and then sent to Syria? To stop bloodshed or for profuse bloodletting? And after that comes true democracy?
Does it come only after applying Tomahawks on 1,5 million each, which are paid by Qatar and Saudi Arabia? Or is it that we have such a deft US arms sales department? The United States fires, and Saudi Arabia and Qatar are paying for the shelling.
The United States does not transfer its "Tomahawks" to anyone, they shoot themselves, and the money is on hand. This is what I call the successful implementation of 200 "Tomahawks", for which the term is still out or will be released. Price - 300 million. This is a very good deal, in my opinion.
The United States is arranging democracy after democracy all over the world. Probably the most democratic among us is Afghanistan? True, drug trafficking with the advent of the United States increased by an order of magnitude, and Kyrgyzstan is already heavily involved. The smooth flow of drugs to Russia and Europe is a merit of the USA or what? Iraq, after they hanged Saddam, became more democratic many times over? After the establishment of democracy in Libya, the militants went to arrange it in Mali - is this the main result? And where, by the way, are billions of Gaddafi? Arrested or went to pay for the bombing
aviation
USA? And where are the billions of Saddam? And who looted the museums of Iraq? Isn't the US army? And who blew up Egypt? Tired of all Mubarak with his corruption? And where are his millions in western banks? And who installed the Muslim Brotherhood in Egypt? Now the Egyptian army cannot stand the United States. What is the reason, long and old?
And why the United States did not support democracy in Turkey? What prevented? Not enough bullying of their own people? Didn't Obama want to use the "red line" to use tear gas? After all, he acts as suffocating with an excess. Interestingly, is it unknown to chemical experts in the West?
One thing pleases me very much - the chemical experts that Kerry and the company refer to are rapidly getting smarter and no longer carry any nonsense easily and naturally: "we know where it flew from, how it flew, where it flew, here are fragments with the Cyrillic alphabet". Everything is back to the right chemical track.
And somehow imperceptibly, French chemical experts and French intelligence have disappeared from the matter somewhere.
Guys, ay, where are you? Well, tell us how chemical weapons carriers are organized around the world. And tell us about the stocks of AE in the countries of the Middle East. You are intelligence! About Turkey, tell us how there is a production of sarin-type agents. Saudi Arabia do not forget.
In fact, the legends would have to come up with intelligence intelligence plausible. Would consult with experts. You don't have to invent everything yourself, and then force chemists to justify this nonsense.
CONVULSIA - FOR WIDE PUBLIC
Now let's talk about the dead (affected) 21-th number. At first, it was about their number in 300 people. Then the numbers rose to 1400. Still dead or stricken? These are two big differences. In the West, insist - the dead. So, 1400, in one place, at the same time 21.
I can't believe this number. Why? Because I know how much 1400 is. In a column of four - 350 rows. We went out for a drill, and we had 1400 - the beginning was on one hill, and the end - on the other. This is a lot of people. Now imagine that this is a loss. Simultaneous. In a hot climate in the territory contaminated with sarin - not to be removed within 24 hours. After all, the territory is infected there, and Asad beats all the time - this is a week or two troupes to carry. During this time, the stench in the city and the epidemic will begin. So the 1400 figure at the same time killed in a limited area is hard to believe. More precisely - I can not believe at all.
What I saw on TV as evidence proves nothing. So the number of 1400 dead was or was not?
I report to everyone once again why I have doubts about it. If we take out at least one troupe per minute from the affected area, then it is almost 24 hours, and under fire, in satellites and gas masks, simultaneously dismantling the debris, it is impossible to cope in 24 hours. Two or three days, a week or two - utter utter stink. People will get hurt no longer by sarin, but by decaying corpses. Therefore, I really want to clarify the figure - 1400 dead from sarin.
I was told here that the Israeli intelligence, AMAN, which is believed to never lie, was involved in finding the "trail of Assad". This is just fine. A miracle is not lying. Intelligence in general, in my opinion, should be silent, and if it gave out some information to the people, then this information is intelligence.
But we will continue. Next - also a figure. 350 liters of sarin. Sarin - isopropyl ester of methylphosphonic acid fluoride - in essence (degassed with 18% sodium hydroxide). The acid cannot be contained in plastic cans for a long time - it leaks, eats away and so on.
350 liters is a lot. This is not one rocket. I would say that it is a VAP - a pourer of aviation equipment. Were any legendary intelligence AMAN fixed? No, the conversation was about 122-mm projectiles with Cyrillic. Fine. Characteristics of the projectile? Do not know? I'll tell you: 122-mm 2-03217 chemical projectile with expelling bottom. Projectile weight - 22,827 kg. Weight of OB type - 1,7 kg. We divide 350 liters (they are kilograms, the proportion of sarin - 1,0943) and we get 205 shells. 205 shells must be released almost simultaneously, so that 350 liters of sarin hit the ground. Perhaps, the never-moving intelligence of AMAN recorded an almost simultaneous launch of 205 122-mm chemical shells?
Yes? And the video has this massive shelling, this Syrian Kursk arc?
But back to the signs of fatal defeat from sarin.
All absolutely expert chemists will also be needed here, from AMAN's intelligence as well. Sarin dies within a minute during inhalation of sarin vapors (and they are 4 times heavier than air and easily dispersed by the wind, and only 1 – 2 hours are deadly for lesions) with 0,075 g / cubic meter concentration.
At the last stage there are convulsions and fur-like foam from the nose and mouth of a pale yellow color. Convulsions and foam remain on the corpse. In convulsions, the body stiffens (rigor mortis), and the traces of fallen foam do not disappear from the face - it is easy to detect. What was demonstrated - no corpses, frozen in convulsions and no foam. Have any other videos? Only for specialists? And the fact that we vtyuhivat, this is for the inhabitants? Are there artists?
Convulsions are not twitching (muscle twitching is not the deadly phase of convulsions). Convulsions are slow, very strong, not controlled by the brain, a very unnatural bending of the whole body and limbs. A living creature (all living creatures perish from sarin equally, whether it is a man, a cat or a rabbit, I saw it - people in secret, trophy films, animals live in a laboratory), dying from sarin, inspires horror.
I repeat, convulsions are a very slow bending of the whole body, so it freezes, as if stretching somewhere and cannot reach.
Nerve toxic agents - sarin, soman and others are combined into one family not by chemical formula - it is different, but by how the ability to transmit nerve impulses to muscles is blocked. The picture of defeat is not drastically different - there must be a foam with convulsions, and a point, or then we must assume that 40 years ago I had something with a sight and I saw something wrong.
ARITHMETIC OPENS A DECEPTION
Or else we can assume that the carriers of the TV and the TV itself are made in a handicraft way and this is not sarin ... Well, then it's definitely to the opposition - Assad has nothing to do with it.
For a second, let's go back to the "1400 dead from sarin" figure. For example, we believe that we died from sarin - 1400, right away. At the same time. Who found that from sarin? Doctors? What are doctors? Pathologists? Establish the causes of death, in fact, doctors, pathologists. And it takes time. Yes, and doctors need a lot of it, because it is necessary to evaluate the 1400 corpses. Again at the same time. So how much do pathologists need? Figure please And how much time they spent on the examination of 1400 corpses - also, please, a figure. Do you have such numbers? Not.
After all, information about the deceased appeared swiftly - several times a day. And always - no doubt about their authenticity. And the cries of "women, children" - this is plenty. So are the numbers or not? Have the data expertise?
Or do we believe forever honest intelligence AMAN? Or is it data from other intelligence?
Whose data is this? UN experts? How many of them worked at the same time only in the field of pathology?
And about chemical shells and about 350 liters of sarin. I would like to talk a little about the tactics of the use of chemical weapons. Perhaps chemists will correct me.
Chemical weapons applied by area. It is impossible in one place, even if it is a suburb of Damascus, to effectively launch 205 shells simultaneously. One projectile must cover at least 80 square. meters to create combat concentration. 205 shells - is 16 400 sq. meters Such a defeat area of ​​Damascus?
Do experts confirm it? Notice, and I insist on it - a blow to this area was supposed to be delivered SIMULTANEOUSLY with 205 shells! It is very important. Late with simultaneity, do not create a combat concentration, from which 1400 people will die within a minute.
By the way, again about them - about 1400 dead. Or nevertheless about the injured, and the injured are not the dead, they were damaged and ... survived? The dead are separate.
But, we will believe in the 1400 dead (of course, women, of course, children).
Divide 16 400 sq. meters on 1400 dead - this is on the 11,7 meter on the deceased. In the Damascus area, under shelling, was there such a population density? Is there an expert opinion on this? Well? Again, no.
One person per 11,7 apt. Meter - I can not calm down. And how much will it be on 1 sq. km? On the calculator divide 1 million square meters. m on 11,7 - 85 470 people. A good population density for the area where intensive military operations are being conducted ... And no one escaped? No refugees? Simply, we are in a world of interesting numbers that touches us.
In short, questions, questions, questions - questions alone. And the answers need time. But to strike at Syria does not need time. In principle, everything is prepared.