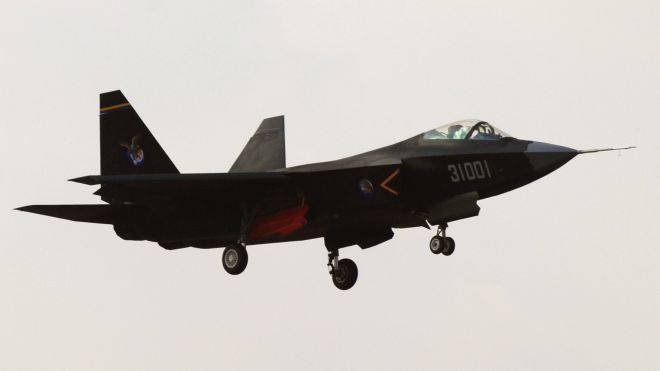 The newest Chinese fighter J-31 receives more criticism than enthusiastic reviews from experts, and recently the People's Liberation Army (PLA) of China said that this aircraft is intended only for export, reports October October FoxNews.com.
The J-31 was probably designed as the next generation fighter for Chinese aircraft carriers and should have been on a par with the F-35 Lightning II. But now, it seems, China, which has only one aircraft carrier, will offer these planes to Air Forces of second-tier countries, such as Brazil, Pakistan and some countries of the Middle East.
"Probably, the fighter was not originally created for export, but it seems that it turned out that it is not good enough," said Stephen Biddle, a political science professor at George Bush University, in an interview with FoxNews.com.
Even the Chinese press criticizes the combat aircraft created in the country, for example, the Sina Military Network claims that the J-15 carrier-based fighter could not take off from an aircraft carrier with "heavy weapons", which could have a negative effect on combat range and strike power.
aviation
experts believe that based on limited information about the J-31, we can only claim that it is just a "cheap copy" of the American F-22. "The J-31 is a kind of copy of the most advanced (and problematic) American F-22 fighter. We see the same nose, two-keel vertical plumage and trapezoidal wings along with some stealth features, "says former Italian Air Force pilot David Cenciotti. But Sensiotti said the J-31 probably doesn't have thrust vector engines that give the fighters superior maneuverability. He suspects that this aircraft was created on the basis of the study of American military aircraft, and not just the design of the F-117, shot down in 1999 by a Serbian anti-aircraft missile, hinting that the Chinese with the help of cyber attacks could get some useful technical drawings for them F-22 and F-35.
But no espionage and copying technology can provide the creation of high-tech aircraft, such as modern American fighters, says Congressman Adam Kinzinger. An Air Force veteran, he still serves as a National Guard Air Force pilot. "America has always produced and produces the best aviation technology in the world. Although China claims the great potential of J-31, I will remain a skeptic until I see evidence, "he says.
Jane's Defense Weekly Asia Pacific Editor James Hardy believes there is no way to compare J-31 with other fighters, given the secrecy surrounding this aircraft. "There is limited data on J-31, and it is impossible to say whether it is superior or inferior to F-35. How can you evaluate the aircraft, if we do not know anything about the onboard radar, subsystems, avionics, and from what materials it is made. Of course, the forms (silhouette) of the airframe make it look like a fifth-generation fighter, but not knowing what materials it is made of, we cannot say anything about its EPR (effective area of ​​dispersion), "said the expert.
Hardy adds that the lack of information and the fact that the fighter, bypassing its own air force, turned out to be an export product, can hinder its sales on the world market. "The key question is why the PLA Air Force is not going to put the J-31 into service, and the next question will be: if this plane is not good enough for China, then why should other countries buy it?" Hardy concluded.