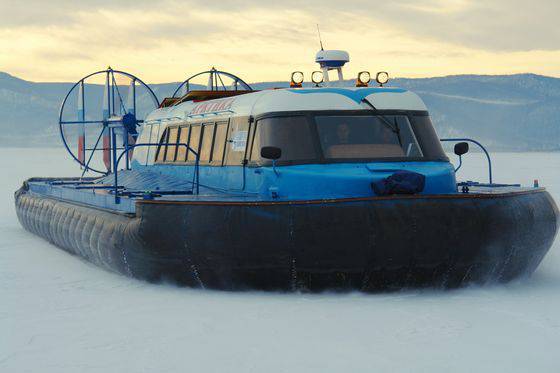 Three orders for the all-terrain vehicle "Arktika" received an order from the People's Republic of China, contracts for six more vehicles are under study. About this at the exhibition "VTTV Omsk-2013" said the governor of the Omsk region Viktor Nazarov, reports "Omsk province".
"Any contract for the purchase of our equipment, concluded at the exhibition or by its results, is an increase in the production volumes of our enterprises, taxes to the budget and jobs," V. Nazarov stressed.
According to V.Nazarov, "Laos, Vietnam, Cambodia are interested in our products. Negotiations are continuing with other countries. "
REFERENCE:

The "Arctic" is a snow-swamp and floating hovercraft all-terrain vehicle designed to travel both by land and by water. The "Arctic" can move both above the water surface and above the snowy virgin soil, humorous ice, marshes and tundra.

According to the resource sdelanounas.ru, cruising speed is 80 km / h, and over smooth surfaces it reaches 140 km / h.

The main fuel tanks provide a range of 1100 km. Installing additional tanks allows you to increase the range to 1500 km.

The model range of the "Arctic" includes both amphibious ATVs on an air cushion (GDP) and amphibious loading platforms on an air cushion (AGP).

Amphibious all-terrain vehicle, depending on the modification, can take on board from 8 to 50 people and from 1 to 5 tons of cargo.

Depending on the model, the loading platform also allows transporting up to 30 people and from 15 to 120 tons of cargo.

"Arctic" meets all necessary environmental standards.

Amphibious cargo platform on the Arktika air cushion, developed by Omsk designers, has been adopted by the Russian army.
The governor of the Omsk region, Viktor Nazarov, noted that "the products presented at the exhibition aroused great interest among specialists and participants, and there is no doubt about the need to hold such exhibition events in the future."
On the second day of the tenth anniversary exhibition "VTTV Omsk-2013", the running performance and technical characteristics of weapons and military equipment were shown at the testing ground of the 242 training center of the Airborne Forces, Omsk Province reported.