In the world today, there are two main types of environmental organizations. The former earn financial resources in order to allocate them for the protection of the environment, the restoration of populations of endangered animals, the creation of nature conservation zones and reserves. Others use environmental problems (and often pseudo-problems) to earn money. As they say, organizations act with accuracy "to the contrary". Let's try to guess what type of organization Greenpeace belongs to? You won't have to guess for a long time, if only because the organization's budget has grown more than 11 times over the past two decades (from 30 to 350 million dollars) and continues to grow today, but this organization is in no hurry to realize effective environmental projects except for PR-projects that attract attention.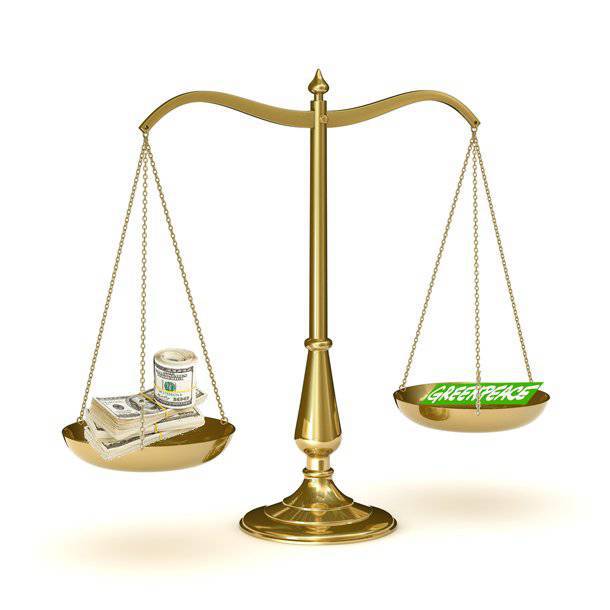 Let's approach consideration of a question and on the other hand. What do you think, what kind of state segment should, by definition, an environmental organization expand if its budget increases significantly? Well, it is understandable, the reader will say: the staff of environmentalists ... in fact, environmentalists, experts in the study of flora and fauna. But it turns out that this seemingly obvious trend in Greenpeace does not work. Of course, the staff of people who call themselves "ecologists" is also growing there, but for some reason, the staff of professional lawyers is growing more ... Nobody argues that the rights of environmental organization employees should be protected, but when the staff of lawyers becomes comparable in number with a staff of "environmentalists", and the legal questions of the employees themselves are put up above environmental issues, this leads to certain thoughts ...
Greenpeace has 20 regional and 27 so-called national offices (including in Russia), and each of these offices is served by a professional legal group. In Russia, advocate work in the direction of Greenpeace is carried out by lawyer Irina Isakova, who today condemns the very fact of the detention of activists on the Prirazlomnaya platform and accusing them of piracy.
Irina Isakova (Greenpeace International lawyer):
Of course, allegations of piracy are not substantiated and not proven. Evidence must be sufficient to charge. The evidence of the investigation is irrelevant - the protocol of interrogation of witnesses does not contain specific facts that indicate a particular person. Evidence from the investigation is also unacceptable, as it was collected in violation of the law. For example, the detention took place for the most part without the presence of lawyers. We will appeal against illegal actions of both investigative and judicial authorities.
It is noteworthy that the reception room of Mrs Isakova is not a hut at all, covered with moss in a green oak forest, as one would expect with a lawyer of an environmental organization, but an office in the center of the capital. Barely distracting from her "green" concerns in Greenpeace, Irina Ivanovna does not leave her other clients in legal trouble. Isakova's clients include the singer Anastasia Stotskaya, for whom a lawyer knocks out money from her producers ... Apparently, after social events and talks with producers of Russian "pop stars", the lawyer again suffers an irresistible craving for the protection of "defenders" of the Arctic ...
We return, however, directly to Greenpeace. This movement itself began to take shape in the 60s of the last century, when tests were conducted in Alaska
weapons
mass destruction. Initially, the organization may have looked like a kind of association of romantic enthusiasts who, by their activity, wanted to prevent the proliferation of nuclear weapons. Over time, a certain circle of people who, frankly speaking, have a tenth relation to environmental romance, decided that this project can be a good idea. However, in order to make the earnings not look obvious, an excellent screen was conceived in the form that the organization does not take money from business structures and from state authorities, but will exist only with money from benefactors ...
For the number of such benefactors to grow steadily, it was necessary and to act accordingly. They tried to attract people not to environmental protection projects, but to sentimental photographic and video materials on how activists fight for this environment ... Arrive in northern latitudes in a fur hat, down jacket and leather shoes, take a picture and put photos on the background of a dead cub seals in print, arrive on an SUV that "eats" 20 liters per hundred kilometers, at a gas station, chained yourself to a gas station, protesting against oil production, videotaped (without taking your SUV into the frame) and spread around the world ... Organize rock concerts, in which young people and girls are often "under sympathy" with the narcotic high for the fighters for the "greens", buying tickets and "foolishness" replenishing the growing budget and appeasing appetites.
Sympathizers, of course, were before, and continue to multiply now. After seeing a photo of a bloody hemmy, many of course would like to help. And you will want to help yourself ... But the whole thing is that Greenpeace is not going to do anything that stops barbaric fishing. The heads of the current Greenpeace are absolutely not interested in the future of Arctic animals, the process of oil production, or the threat of the proliferation of weapons of mass destruction. They are interested in something else - how you can earn here. At the same time, some activists are really sure that they are helping nature, as are the holders of the "controlling stake" Greenpeace. The psychological principle of self-conviction works when a person tries to justify his activity by inventing new and new variants of this justification. In order to convince themselves, first of all, of themselves, and then of those around them, activists and their chiefs use posters and shots with heart-breaking plots and texts, necessarily against a bright background, always with arshin letters, necessarily bloodied bodies of animals, frustrated children and other components PR campaigns.
To understand how this works, it is enough to visit any Greenpeace site. We enter the electronic office of the organization in Russia. The first thing that catches your eye is the phrase "Make a donation" under the photo of an almost crying baby, holding a soft toy of a white and dirty bear in his hands. On the other site - English-speaking - a photo of a dead dolphin and bloody jets in sea water, on the next photo - Lalita Ramdas (chairman of the board) in Hindu vestments and a characteristic bindi point on the forehead. And again the call to make a donation. Agree, the psychological effect is amazing. He frankly gives methods, if not totalitarian sects, then something very similar ... It wouldn't be enough to write: "If you like nature, send us a hundred bucks, brother! Hallelujah! "
On the pages of the site, however, we will not find information about which nature reserves or nature conservation areas were discovered by activists, what successes in the fight against poachers were demonstrated, but we will find this - and in large numbers:
Greenpeace's response to unsubstantiated statements by the Russian authorities and some media

Greenpeace lawyers appealed to the Investigative Committee

Greenpeace ship detained illegally: legal analysis

Greenpeace International attorneys' statements regarding the first results of the trial (author's comment on Arctic Sunrise activists)

Yes, everything is fine, guys. But where is the ecological work? If you yourself believe that you are an environmental organization, then at least let those who donate their donations believe it. But it's definitely not enough to do with some biting green letters. Where are the results directly?
So after all these questions from Greenpeace will still remain unanswered. Why? Because this organization does not consider it necessary to respond to what is outside its field of interest. Here is one of the typical examples. Repeatedly, the question of the destructive development of a nickel deposit on the lands of the Khopersky Reserve has been raised on our resource. Representatives of Russian environmental organizations have repeatedly appealed to Greenpeace for help, but ...
Here is the answer of one of the leaders of the Greenpeace division in Russia, Mikhail Kreindlin:
It is not yet possible to determine what kind of damage will be caused by the nickel mining enterprise of the Khopyorsky Reserve, since environmentalists have practically no information about the new nickel mining project.
I don't know what kind of wind rose there is, calculations haven't been seen, if emissions will fly, what emissions will fly towards the reserve, it's impossible to say, at least according to the information we have. The same applies to water resources, near the river Khoper, which flows through the reserve. If there are injections into the river, then, of course, the region, including the reserve, may be damaged.
That is, with respect to the Khopersky Reserve, Greenpeace answers in the style "I don't know", "maybe", "impossible to say", "river" - this is normal, but on the "Prirazlomnaya" these guys immediately, you know, determined everything ... What is characteristic , no wind rose was needed ... Only some calculations a decade ago, which were even criticized in the UN (well, you understand why the word "even" was used).
Awesome job, isn't it? And all because there is not a lot of money to help the "protection" of the Khopersky Reserve ... It's probably impossible to take a photo against the dead muskrat of the activists - you need to catch up with her live first ... Another thing is stationary Prirazlomnaya and other similar projects - noise a lot, budget revenues, too, lawyers rub their hands - in general, the fighters for the "greens" are all in the works, like a bee ...