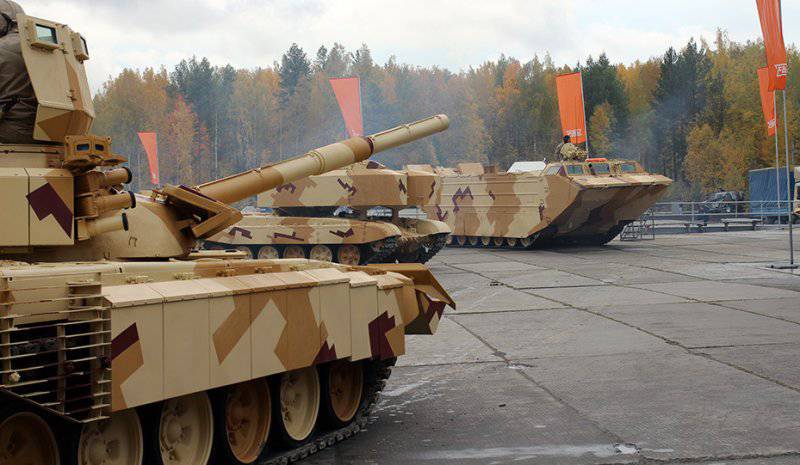 Held annually in the Ural city of Nizhny Tagil, the Russian arms exhibition reminds Mardi Gras for gunsmiths: a lot of bright costumes, noise and crowds of tourists.
Against the backdrop of constantly demonstrating targets
tanks
severe military attaches mixed in the crowd with dads in camouflage, pulling the hand of their children. They all came here in order to look at the latest military equipment. Russian sellers from distant provincial defense plants demonstrate their latest guidance systems and cumulative ammunition in the pavilions, stretching to the front of smart delegations from the Arabian Gulf countries in the hope of interest in them with their goods.
Middle Eastern themes are clearly present at this annual arms bazaar. Introduced on Tuesday a new combat vehicle BMPT-72 "Terminator" is painted in the colors of the desert, and the graphic display in the background shows how this machine moves smoothly across the battlefield, bordered by palm trees and sand dunes. Prime Minister Dmitry Medvedev, who visited the exhibition, asked the crew commander of the demonstration model: "Where are you going to Kuwait?"
Russian gunsmiths are so fixated on customers from the Middle East that even their latest cruise missile was called the Iskander. This is Alexander, but in Arabic.
However, now Russian dealers of military equipment are paying priority attention to another buyer: the Russian state. Last year, military spending in Russia grew by 25%, and this year Moscow will probably overtake Britain and Japan in defense expenditures, as evidenced by IHS analysis data. Thus, Russia will be ranked third in the world in arms purchases, spending 2013 a billion dollars in 68,8, and these indicators are only behind China (131,7 billion dollars) and the US, who spend more on defense than the 10 countries following them, put together (637,8 billion dollars).
Demonstrating his determination to restore the status of Russia as a real and convincing diplomatic and military force, President Vladimir Putin declared a ten-year arms procurement program last year that would cost the country 755 billions of dollars.
While the Western powers are focusing on Russian supplies
weapons
in Syria, Moscow is building up its military power, raising concerns about how it intends to use it as a lever of pressure.
Plans to increase defense spending are aimed not only at reviving the Russian armed forces, but also at rescuing the country's prestige after two lost decades, when its army experienced one humiliation after another. In 1996, she lost the first Chechen war to the motley rabble of militants, and in 2000, the Russian submarine Kursk sank. Since there was no money in the army, soldiers sometimes paid for pickled cucumbers. The rearmament carried out after the 20 years of stagnation of the military budget is part of a new plan to put the army on a professional basis - both in America and in Britain. Thus, there is a departure from the draft as the basis for the recruitment of the armed forces, which was intended to conduct mass battles with Napoleon and Hitler.
Unlike the Terminator, intended for export, the new main battle tank Armata, shown last Thursday in Nizhny Tagil, is intended exclusively for Russia. The car was surrounded by such a dense veil of secrecy that only Medvedev could see it.
"Armata" belongs to a new generation of Russian military equipment, which is designed not only for export deliveries, but also to maintain the international reputation of Moscow. Other representatives of this new generation are the Su-35 Sukhoi fighter and its later version, the T-50 aircraft. According to some experts, the C-350 anti-aircraft missile system surpasses the American "Patriot" in its characteristics. And the attack helicopter Mi-28 is designed to compete with the American Apache machine.
Conservatives argue that investing in the Russian arms industry makes economic sense. "The military-industrial complex was the locomotive of our technical progress," says Vladimir Yakunin, who heads the Russian state-owned railway company and is a conservative from Putin's entourage.
In striving for modernization, Russia will literally change everything. In July, it was announced that separate shower cabins should appear in the army barracks, and in the units there will be dining rooms with a buffet (and even with a salad bar), which will replace the standard soldier's diet: barley, oatmeal and lard. In August, Defense Minister Sergei Shoigu even announced that the national anthem performed by a brass band had to be replaced by a pop version, and played in barracks to "create a patriotic mood".
The traditionalists were horrified by yet another reform: soldiers began to wear socks instead of sisters, which the Russian army wore with boots from about the 16th century.
Implementation of such reforms will cost less than the planned rearmament, government officials say. According to them, although the invasion of Georgia in the 2008 year ended in victory, it showed how dangerous it is to rely on outdated military equipment.
"This is the payment of army debts and
the fleet
because for 20 years no one has financed anything, "says Dmitry Rogozin, deputy prime minister for the defense industry. "The war in the South Caucasus has revealed all our weaknesses."
However, the influx of state money into the defense sector of industry has shown that this industry is poorly prepared and equipped. The order for 37 Su-35 machines has already been postponed for two years due to delays in the design.
On July 2, a powerful explosion of the Proton rocket occurred right on the launch pad, which destroyed three GLONASS satellites created by the military for a global navigation and positioning system. In this regard, doubts have reappeared in Russia's ability to replicate the impressive achievements of Soviet-era engineers.
Rogozin said in a radio interview in July that many failures are not critical. "We can blow our nose into a scarf and say that we are losers, unable to do anything, that the generation of our fathers was great, and we are nobody. But this is the wrong position. You can't just wrap yourself in a shroud and go to the cemetery. "
Reforming the army means deciding what to do with the classified Russian military-industrial complex, which includes state-owned weapons manufacturing enterprises. This complex for decades in the Soviet Union and even after its collapse was in fact a state within a state. Working in secret and high-tech enterprises, the leading defense industry companies have long seemed to be fiefdoms, accustomed to dictate their conditions to the government.
The Kremlin really wants to reform this sector before opening the state funding gates and giving money to arms manufacturers, which for two decades have existed mainly due to exports.
The growth in the number of orders predictably caused a skirmish between military and Russian defense enterprises. In 2011, the Nizhny Tagil tank manufacturer Uralvagonzavod attempted to raise the price of its T-70 tank, the workhorse of the Russian army, from 118 to 90 million rubles. The commander of the ground forces, General Alexander Postnikov, committed an unprecedented act by publicly criticizing T-90 and calling it "the seventeenth modification of the Soviet T-72", whose production began in 1973 year. He added that for 118 million rubles "it is better to buy three German Leopards".
In 2011, the Ministry of Defense struck the first large order of military equipment abroad, concluding, among other things, a contract to buy in France for 1,7 a billion dollars of two Mistral-class amphibious assault ships. This deal was promoted in every way by former Defense Minister Anatoly Serdyukov in order to punish Russian industry and make it more competitive.
But in the end, the defense industry triumphed in the price war. Serdyukov was dismissed in 2012 in connection with a corruption scandal. A veteran of military operations in Transnistria, Abkhazia and Chechnya, General Vyacheslav Khalitov is now working as deputy general director of Uralvagonzavod and is responsible for the production of tanks. He admits that for now the defense industry is gaining the upper hand.
"Now everyone has calmed down," he says. - The Ministry of Defense now speaks more about the technical side, and not about prices. They are more concerned that the requirements of the technical tasks are fulfilled. "
But with the end of the price war, the Kremlin did not abandon its reform program. Dealing with the defense industry is still very difficult. 1350 military enterprises represent the only modern and high-tech manufacturing sector in Russia. This is the main functional element of the economy, the need for the development of which the Kremlin recognizes today. True, some observers believe that up to a quarter of these enterprises are bankrupt today from a technical point of view.
The previous attempts to implement reforms have come to nothing. In 2007, the defense industry was reformed, under which its enterprises were transferred to state-owned holding companies, such as Russian Technologies. But even there they barely kept afloat. Some plants were partially privatized.
"Each of these holding companies is a parody of the Soviet defense industry with all their inefficiency, bureaucracy and corruption," said Alexander Golts, a military expert and deputy editor-in-chief of the online magazine Daily Journal. "They take money away from those who are more or less productive and redistribute it among those who go bankrupt."
It seems that now more and more enterprises are moving in the direction of privatization. Last week, the state sold a 49% stake in the Kalashnikov concern, which manufactures the eponymous assault rifle. But while privatization is an investment, it is more difficult to command private shareholders than government departments. This became clear in January, when the shareholders of the private company Cordiant, the only one producing in Russia
aviation
tires, decided to stop unprofitable production.
"So, do we put all our planes on skis?" Joked Rogozin, who said that a special commission of the military department had "re-negotiated" with the shareholders of Kordiant, after which his enterprises immediately resumed work. "Now everything is fine," he said in an interview with Ekho Moskvy radio station.
For some, the actual question is not how to rearm Russia, but about why it is needed. Putin in his public speeches criticizing the West often refers to incomprehensible external threats and calls on Russia to defend its sovereignty. But as Golts says, "The Soviet Union took the idea of ​​a US military attack very seriously, but today in the Kremlin no one believes in it." After another, reminiscent of Putin's paranoid speech from 20 September, a humorous remark appeared on Twitter: "Schizophrenics have imaginary friends. But only Russia has imaginary enemies. "
Many believe that the army level of the superpower of Russia can not afford, especially in conditions where no serious threats to its security have been identified. As a percentage of GDP, Russia's defense spending should grow from 3,2% in 2013 to 3,8% in 2016. This is much more than other emerging market countries, such as India (2,6%), Turkey (2,3%) and China (1,9%). This is evidenced by research data of the Moscow investment bank "Renaissance Capital". Opponents from the government and other areas say that the proposed increase in defense spending, which Putin said last year during his election campaign, will be too expensive, and that it will have to be taken from other areas where they are urgently needed. For example, this infrastructure and education. According to Renaissance Capital, the share of health care spending should decline from almost 4% in 2013 to 2,2% in 2016. In the same way, allocations for education will be reduced from 5,1% in 2013 to 3,9% in 2016.
Former Russian Finance Minister Alexei Kudrin, who resigned in 2011 year because of a conflict over military spending, says: "While all countries are starting to cut military spending, Russia does the opposite. However, we have neither the capacity nor the means for such an increase. "
The director of the Moscow Center for Analysis of Strategies and Technologies, Ruslan Pukhov, answers this in the following way: "The main enemy of the army is the Ministry of Finance".
Kremlin: Putin plays card of paranoia
Before becoming president for the third time, Vladimir Putin in his public speeches was often distinguished by fantastic and ridiculous statements. He accused his political opponents of betrayal committed for foreign money, and argued that the US State Department, and in particular the former Secretary of State Hillary Clinton, was giving "signals" to protesters against the Kremlin. He often hinted at the mysterious overseas forces seeking the collapse of Russia.
If you listen to Putin, you get the impression that there are only enemies around him. And here he comes to the aid of a strategy of rearmament. There is no paranoia here, if the enemies really want to destroy you, and 23 trillion rubles is quite an acceptable price if it provides Russia with security.
Opponents of compromise from the government echo Putin's paranoid statements. Deputy Prime Minister for Defense Dmitry Rogozin at the 27 conference in June made a startling statement that "the United States can destroy up to 90 percent of our nuclear potential in a few hours." He further stated that the Russian nuclear deterrent might be defeated in the first six hours of the conflict.
However, Rogozin did not specify why the United States needs it.
Ruslan Pukhov from the Center for Analysis of Strategies and Technologies says: "When we are engaged in this military buildup, it is important not to confuse a real enemy with an enemy who has been sitting in our heads since the times of the Cold War." One military analyst noted: "Putin and his subordinates happily talk about the threat of a rapid global strike and the ability of Americans to destroy Russian nuclear targets. But in reality, they do not seriously believe in it. "
It seems that this is just an attempt to whip up fear, nothing more. As Western diplomats say, Russian officials privately assure them that such paranoia is only a political staged trick that should not be taken seriously.
Putin had to win the election in 2012, and therefore he played the card "of Russia as a besieged fortress," said sociologist Lev Gudkov, who heads the Levada Center.
But the problem is that after the elections a year and a half has passed, and Putin is still playing this card.