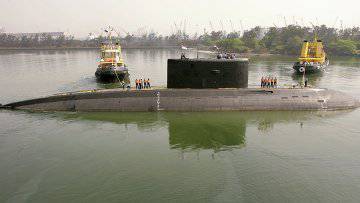 The Russian and Indian sides have no doubts about the serviceability of the systems and mechanisms of the Sindurakshak submarine that exploded in the port of Mumbai on the night of August 14, said Anton Trofimov, the head of the Zvezdochka center ship repair company, recently.
Trofimov, as part of a guarantee group, traveled to India, where he was being investigated on the fact of the explosion of a submarine. "Knot by knot, we practically" dismantled "the whole ship. They agreed that the failure of the materiel could not lead to such consequences, "he wrote in the blog of the press service of the company.
"We informally communicated with the informed representatives of the Indian side. They outlined the incident and immediately said that the Indian side had no complaints against us, "Trofimov said.
Earlier it was reported that the cause of the explosion on a sunken 14 August diesel-electric submarine Sindurakshak, could be an error when loading torpedoes.
The submarine was built in 1997 at the Admiralty Shipyards in St. Petersburg by order of the Indian Navy, modernized at the Zvezdochka Ship Repair Center in Severodvinsk, Russia, and on April 29 arrived in the port of Mumbai.
A modern Club-S missile system was installed on the submarine, more than 10 Indian and foreign-made systems were installed, including the Ushus hydroacoustic system and the Porpoise radar station.
At the time of the explosion on board the submarine were 18 crew members. Divers managed to detect the bodies of 12 of them. Rescue operations continue for a total of more than one and a half thousand hours.