From the face of our planet in recent times almost completely disappeared politicians differing immediacy and integrity. The overwhelming majority of world leaders play pseudo-diplomacy, they strive to demonstrate what has become a name for the word tolerance, chatter, pick up words. Everything is in order to retain the electorate by all means (and artificially too), so that people vote "rightly", so that the ratings are higher, so that the media abounds with positive articles and ratings. However, this often leads to a backlash.
You see, pederasts cannot be called pederasts, otherwise they, God forbid, will be offended and give their votes to other candidates. For him (a hypothetical modern leader of an average state), some homosexuals may be voting, but he is still happy - as they say, voices do not smell ...
Fascists and Nazis can not be called fascists and Nazis. This, you know, national patriots. And, you see, nothing terrible, that for the administration of their all-consuming patriotism, they are ready to walk over the corpses of other people ...
It is not recommended to place a Christmas tree in the city center, all of a sudden the local Muslim community will be offended and will again vote not for you, but for someone else ...
You cannot call a father a father, and a mother a mother, otherwise the sexual minority, which in some countries apparently wants to become a majority, will think that this is pressure on his rights ...
White cannot be called white, black cannot be called black. Suddenly someone in this see some hint, ambiguity, almost Aesop language ...
In general, on the basis of this pseudo-tolerance and pseudo-diplomacy among many political leaders, I'm sorry, the roofs are starting to go. And when, against their background, a politician suddenly manifests himself, who, without too much rotten pathos, calls things by his own name, then you will definitely turn your attention to such a politician. "Man!" - this is one of the options for reaction to political integrity.
So, the hypothetical prize "Politician-Man" during the week would be fair to present to the Belarusian leader Alexander Lukashenko. Of course, the personality of Lukashenka himself can be treated differently, and this is a personal matter of each person (both Belarusian and non-Belarusian). That's not the point. The essence of the words that the other day the President of Belarus said in an interview with Kazakhstan television channel 24KZ. Alexander Lukashenko argued on various topics, among which was the topic of Syria and the desire of certain countries to solve the Syrian conflict by external military intervention. In this context, the theme of the "exclusivity of the American nation" also surfaced. And here Alexander G. made a number of comments, by which it is simply impossible to pass indifferently.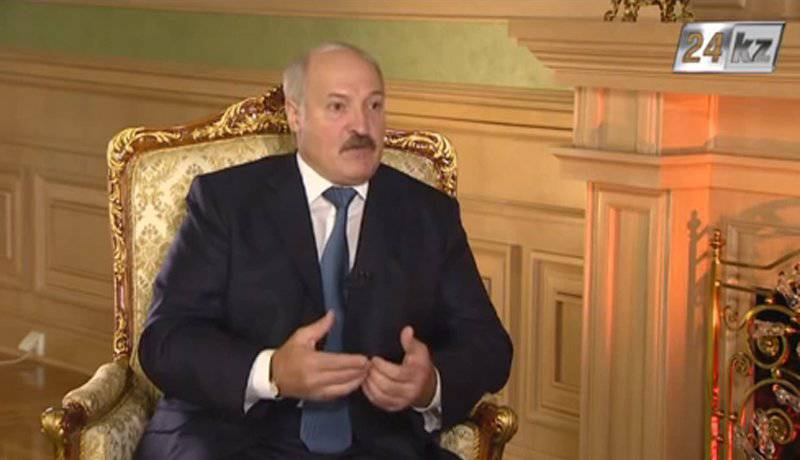 Speaking about Obama's words about the fact that Americans are an exceptional nation, Lukashenko remarked:
I, as a historian, cannot comprehend what kind of a nation is this - an American one, which has itself appropriated the right of certain exclusivity. We experienced this uniqueness in the middle of the last century ...
And if these words can be called a kind of intimate transformation of Putin's words in his article published not so long ago in The New York Times, here's Lukashenka's reasoning about Obama's personality - political immediacy, which today, to put it mildly, not all politicians can afford . Lukashenko-can. Straight and calm. Without unnecessary ornateness and other verbal "marmalade":
In general, Obama amazes me! Not so long ago, black people in America were slaves ... Today they are already claiming some kind of exclusivity ... I never thought that a person who came out of these poor strata would be able to conduct such rhetoric in the world at all ... This is unacceptable. This is extremely dangerous.
Well, Mr. American President Barack Obama, ate, as they say. "But father" struck you with an instructive injection, calling things by their proper names. What will you do now? According to the laws of the genre - a new portion of anti-Belorussian sanctions and squeaky exclamations of the American satellites that Lukashenko is the main European dictator. But this is already as old as the world, and, as you yourself perfectly understand, it will definitely not affect the Belarusian leader.
But the words of the Belarusian president are like the culmination of a famous fairy tale about the king's new dress: "The king is naked!" The boy shouts out when a narcissistic naked monarch walks with his retinue down the street, thinking that he is wearing a chic costume. Lukashenko is not a boy in politics, but his words are close to that catch phrase - now a phrase addressed to the American president, who has lost the "dress" of his dignity, but considering that his appearance, thoughts and actions are a model of infallibility and an object for mass worship.
Good this will not end. God forbid, the Americans will climb there, as they climbed into Libya (and in general the NATO bloc) and begin to bomb. This is a catastrophe. Then the whole "Arab Arc" will flare up. Then will not find it all.

One was hanged, another was put on a stake, in Egypt it lies like a stalk, a man is suffering in a hospital. Okay, these are presidents. And how many thousands of people killed! What kind of democracy is this?
Kazakhstan's 24KZ channel is, of course, not The New York Times, but you can be sure that the words of the Belarusian leader will reach the US. Of course, Obama after this may want to in Belarus and chemical
weapon
search, but with this he will clearly have problems ... In general, Lukashenko - Obama, 1: 0. Goal scored effectively. The match is over. Will there be a response? - wait ...