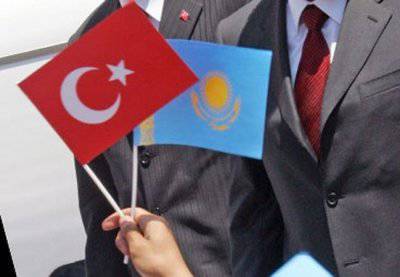 The Minister of Defense of Kazakhstan, Adilbek Dzhaksybekov, held talks in September with Ankara's negotiations with his Turkish counterpart Ismet Yılmaz, the press service of the Ministry of Defense of the Republic of Kazakhstan reported.
During the meeting, the sides discussed prospects for the development of bilateral cooperation in the military and military-technical fields, as well as in the field of military education.
"The Ministry of Defense of our country attaches great importance to the dynamic development of cooperation with the defense ministry and the Turkish Armed Forces. Your country is one of the most important partners of Kazakhstan. I am confident that the Kazakh-Turkish cooperation in the military sphere will continue to develop on the principles of reliable partnership and mutual benefit. "- noted Dzhaksybekov.
During the visit, the Minister of Defense of the Republic of Kazakhstan visited the company "ASELSAN" and "TAİ". With the leadership of ASELSAN, Jansbekov discussed the prospects for further development and the implementation of the Kazakhstan-Turkish defense industrial plant Kazakhstan Aselsan Engineering, which is scheduled to open at the end of the year in Astana. The project aims to manufacture riflescopes for small
weapons
, night vision devices and thermal imagers. Production of electronic printed circuit boards, software development, and manufacturing of optical lenses are envisaged.
With the leadership of TAİ, the Minister of Defense of the Republic of Kazakhstan discussed the Kazakh-Turkish cooperation in production
aviation
technicians. This company produces spare parts for modernized and light-winged flying vehicles, is engaged in the assembly of aircraft from the manufactured spare parts. The delegation got acquainted with the production of aircraft, UAVs and other aircraft manufactured by the company.
In Ankara, Adilbek Jansbekov familiarized himself with the production of armored combat vehicles at the FNSS plant. The Turkish side expressed interest in opening such an enterprise in Astana.