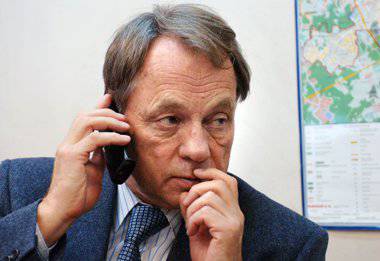 Oleg Poptsov, the first head of the Rossiya channel created in 1990, once was a member of the inner circle of Yeltsin and Gaidar. He knows all the major milestones, facts and circumstances of that troubled time - the collapse of the USSR and the emergence of a new Russian state.
- Oleg Maksimovich, in the first post-Soviet years you were close with the highest authority of the country. How do you evaluate that period in the life of our state?
- Often used phrase - "hope dies last." What is she in my understanding? The man is very hard to say goodbye to hope. Unfulfilled hopes greatly hurt him. The 90 were years of just such unfulfilled hopes.
Those years were accompanied by a breakthrough in an imperious environment of an incredible number of non-professionals. And devoid of any moral, ethical and even aesthetic restrictions.
Many democrats of that time still remember my words, said after leaving the meeting of the I Congress of Deputies: "I have never seen such a large number of non-professionals gathered in one hall".
They made a depressing impression. These people have never been in power. They did not have the skills, the skills of this business, no understanding of what laws are and how to write them.
My colleague on the Peasant Party, its leader, Yuri Chernichenko, had at one time argued with me: well, they used to be professionals, but they didn't do a damn thing - they didn't take off even a breakthrough. So let them, they say, now non-professionals will try!
- But then, long-time opponents will object to you, then democracy was established in the country ...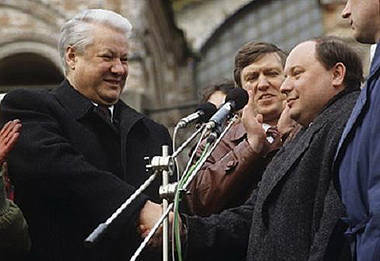 - Yeltsin was never a democrat, this is wrongly attributed to him. He was forced to join the democratic movement, for he really wanted to be a great power. As a person who understood Yeltsin very well, it was easy for me to understand all his "unpredictability", fed by fantasies about Charles de Gaulle. It was the latter who was considered to be such an unpredictable president in the world, and Yeltsin enjoyed it very much in his time.
So about the democracy of Yeltsin ... He reluctantly went to this democratic front, starting with membership in the "Interregional Group". Sakharov died, and the Democrats urgently needed a new leader. Therefore, with some joy, they accepted into their ranks the disgraced, rebellious Yeltsin.
The same simply had no team. He could not rely on someone from Gorbachev's entourage - in view of the serious contact with Gorbachev. And even mutual hostility, which passed into its extreme state - hatred.
There was practically no one to take with him from the capital's office - after, as one might say, he had defiantly betrayed him, the former Moscow party leader, the apparatus.
I was present at that "historical" party plenum of the 1987, where, in front of Gorbachev, Yeltsin publicly denounced this apparatus. All this was unbearable even for the general secretary to see, and he could not stand it, said irritably: "Enough!"
Your humble servant has closely acquainted you with the young reformers Gaidar, Burbulis and other Yeltsin. With Gaidar at the end of 80, we were tied up with work in the "green movement", created largely thanks to the magazine "Rural Youth", in which I was the chief editor.
Then one day Yeltsin, turning to me, asked: well, they say, how is this, Gaidar? I answered about the following: as a preacher, propagandist, popularizer of ideas is extremely talented. Formed, erudite, especially in economic matters. But as an organizer - zero.
"And now the moment came when the young reformers changed the previous Russian government of Silayev ..."
- Yeltsin then invited Gaidar to himself, talked with him and offered him the post of acting prime minister.
Upon his return from the Kremlin, he met me in his office with the following words: "Oleg, you know, now was with Boris Nikolayevich ... The conversation lasted 25 minutes. And he offered me the post of prime minister ... Oleg, it's not serious. "
So Yeltsin, leaning on these young reformers, began to build a "new Russia". By his character, he was absolutely Russian, with all, as they say in such cases, the attendant pros and cons.
But he didn't have an understanding of economics at all, and he, as if spellbound, listened when Chubais and Gaidar spoke.
35-year-olds have reached the pinnacle of power, which cannot be allowed in Russia. After all, we have life experience for being in power - traditionally the defining criterion and, if you will, the motive. Russian man is so arranged.
In general, Yeltsin's efforts in the field of personnel renewal were only enough to fill this federal-government "capacity".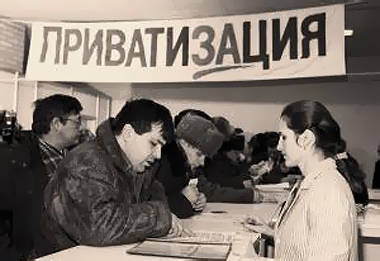 Forces on personnel changes in the field is not left, there were still all those who led, managed in Soviet times. And their average age was not 35 or even 40 years, but at best 55. Naturally, the province grumbled: "Are we going to listen to these boys ?!"
That is why reforms were so hard. And this is why they did not have allies. But not only therefore, of course.
Of those who carried out these reforms, the most gifted was Anatoly Chubais. Strong organizer. But at the same time - neo-Bolshevik, professing the principle: "He who is not with us is against us." He and all his associates in the government were, in fact, managers, and the "management" of the whole country began with their efforts.
Well, what is a manager in our conditions? Specialist in sales organization. But after all, in order to organize the sale of something, it is necessary to produce this "something". And the young reformers had nothing to do with the production.
Gaidar first appeared in the factory floor, when he began to act as prime minister. All these guys with PhDs who came from scientific laboratories did not have any knowledge of the Russian mentality at all. First of all, because of youth.
At one time, Vitaly Ignatenko told me: "You understand what's the matter: people with higher education came to power, but without secondary education." All right
In December, at the Congress of People's Deputies, 92 conducted rating votes on the premier's candidacy. And when Yeltsin was asked sharp, impartial questions about his pet Gaidar, the president suddenly said: "But he's smart."
It was a terrible scene, because the hall burst out laughing. I then involuntarily thought: "God, where have I gone. Well, yes, Gaidar is really not stupid. But in the mouth of the president this is more than a naive assessment. Anyway, what to say: but look, what a beautiful tie he has. "
I repeat, Yeltsin was fascinated by the speech of Gaidar and Chubais. He believed them. In the end, because of this blind faith, the economy of a gigantic country was destroyed. And the collapse of the economy, in turn, spawned widespread, total disbelief.
- Your relations with Yeltsin and Gaydarovtsy, apparently, began to deteriorate in the middle of 90-x. What caused these "stylistic differences"?
- Those that I just said - a significant difference in worldview. They were offended when I began to criticize them on RTR. They could not forgive me for this.
At one of the meetings with the press, Yeltsin asked me: "Why do you, my television, criticize me?" I then answered him: "Boris Nikolayevich, when the authorities make obvious mistakes, their assessment by the allies and opponents is the same. And the mistakes are really obvious. "
Years later, I told Gaidar and his closest supporters: "Guys, understand, the energy of repentance in Russia is enormous energy. If you say: fellow citizens, we have made a lot of mistakes, we admit it, but believe in the sincerity of our ideas, give us a chance to embody our intentions - then people will look at you completely differently. "
Before Yeltsin's last address to the people, Yeltsin had a rating of 5 – 6%. But when he said, "Forgive me," overnight, this rating went up to 28 – 30%. For a Russian person repentance is a great thing.
And what did Gaidar say about this? If, say, we admit our mistakes, then we will show weakness, the Communists will take advantage of this and come to power.
I tried to object to him: "This is not a weakness, Egor! On the contrary, you show strength. Communists will never come to power. They are bad politicians. Although you, frankly, the policy is very bad. Today you are cursing and cursing the Soviet government, but soon they will curse and curse you in the same way. "
Recently I saw Chubais in the Posner program. They argued about the results of privatization. They brought a lot of all sorts of different arguments "for" and "against." And finally, Chubais could not stand it and said something like: "Come on, this is not the point. Unfair she was - that's the main problem! "
Wow, the man saw the light in two decades! Section, razul country and for once saw the light! Of course, this privatization was a cruel blow, a backlash. Its consequences have just led to the fact that the once proclaimed democracy collapsed.
Because democratic reforms merged with economic reforms, and the latter failed miserably. But, after all, the people do not divide and are absolutely not obliged to divide: where is democracy, and where is robber privatization. "Fuck you with your democracy!" Says the people. And he is right in his own way.
In 90, we made a frenzy, we made a revolution. After all, how does a revolution differ from evolution? The first completely neglects the past. Evolution is a relay race. And if private property was destroyed in 1917, then state property was destroyed in 90. The cases are very similar. Consequently, the results are almost the same.
Why do we live like this, why do we have little work? Our society has not stood the test of individualism.
It has always been collective. The Soviet system was based on collectivity. The Bolsheviks were by no means stupid when they appealed to conciliarism, to Minin and Pozharsky, the people's militia.
After all, this collectivity-catholicity is inherent in the Russian person organically. Therefore, the Bolsheviks won with the collective farms and with other undertakings. The fists were reputed to be the most capable business executives, but were programmed for capitalist individualism, and they were swept away.
"A little more than half a century later, they dared collectivity with collegiality ..."
- Yes it is. But everything is relative and everything has its price. Individualism at its best is the revelation of the possibilities of the individual. And the summation, the aggregate of the "revealed" personalities, in theory, should contribute to the breakthrough of society on the path of development.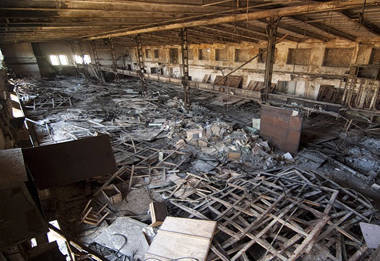 But when it is not prepared for this, and every person lives according to the principle "my hut is on the edge, mine is the main thing," everything in the state is derailed. Therefore, our capitalism is gangster, thieving, and has nothing to do with classical capitalism.
And at the same time, his advocates, like 20 years ago, continue the same song: private property is more efficient, more useful than state property, it fully justifies itself, gives impulses to development, and so on.
Nothing like this! With all its flaws, only state property has contributed to and promotes economic development in our country even now, and now it does.
"But what about America?" - ask. Well, in America, the state and society were built not twenty years, but "several" more.
In the US, there is a unifying idea, very simple and understandable to everyone: America is above all. You are driving through the American desert and see: in the middle of it is a small house and an American flag flying above it. This is the incarnated unifying idea.
We did not have such a stronghold, and everything collapsed.
Having destroyed the previous society, we parted ways with the idea of ​​uniting people. Disunity is incredible. Even the "irreconcilable opposition" of the former Democrats under the rule of the authorities is not able to unite, hopelessly getting sick of our homegrown individualism.
This factor, in my opinion, played the most crucial role in the transformation of our state in the 90-s.
- You touched the gangster nature of our early capitalism. How important is this aspect to the characteristics of that era?
- He is dominant, decisive. Primary capital accumulation is connected, as is well known, with the criminalization of society. With this simple thought, I somehow turned to Yeltsin. Was, if I'm not mistaken, 92-th year.
I suggested: we must immediately create a commission under the leadership of the president to combat corruption and criminality. He said that if we do not do this, the country will be on the verge of a catastrophe, because in the background of each political party there will be a criminal world.
So it happened. Why did the Bolsheviks take power? Because they formed their cells in the underground, which provided them with better organization. The criminals are all underground and organized brilliantly.
Democrats naively believed that democracy is their property. But democracy is a habitat, it belongs to everyone. And the best will always be able to take advantage of its opportunities the most organized.
It is useful to recall another mantra of young reformers: "Our support will be the middle class". When Gaidar was told: "Egor, we have a middle class — these are teachers, doctors, engineers of the military-industrial complex and other industries," he replied grimly and grimaced, "This is not the middle class, these are dependents. The middle class is a small business. "
That's just the formation of a new class need a minimum of 10 – 15 years, and the creation of a criminal community - a maximum of 6 months.
- Today, sometimes the hosanna is sometimes sung by "free 90" ...
- Are you talking about the theses of Mr. Jurgens, neoliberalism, chatter about removing the state from managing the economy?
The crisis in this regard explained everything and showed. The Communists increased the rating because of this crisis. For it became clear to everyone that the withdrawal of the state from the economy leads to a catastrophe of the system. In the same America - everywhere state. It helped and helps private business.
By the way, what have we done this business? The owners of plants, factories and ships - what did they do? Immediately all the money brought abroad. And turned to the state for new money. State allocated. And they again transferred them abroad and placed them at interest. This is how gangster capitalism works in Russia.
It is therefore not surprising that, according to a sociological survey conducted by the RAS staff, only 9 percent of the country's population believes in the possibility of the country's development without state intervention in this development. The 91 percentage considers such elimination or withdrawal as erroneous.