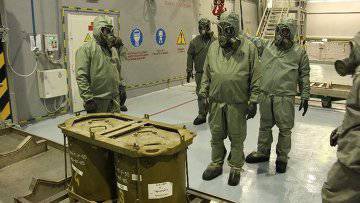 The official representative of the Russian Federation at the UN, Vitaly Churkin, announced that the first stage in the transfer of the Syrian chemical
weapons
in the hands of an international organization is scheduled to be completed by early November During this time, experts will have to familiarize themselves with how chemical weapons are stored in Syria, analyze documents from the Syrian government on the extent to which their production was or is being carried out. After that, the international forces will have to remove the chemical weapons in Syria and dispose of them.
It is reported that one of the places where such recycling may begin in the near future is the city of Pochep, located in the Bryansk region.
Here is a military enterprise, which uses the disposal of various types of chemical weapons in a fully closed mode. Emissions to the environment, according to high-ranking military officials, are completely excluded at this enterprise. At such a strategically important facility, everything is thought out to the smallest detail:
security
, technological process, use of computer technologies, protection of personnel of the enterprise.
The management of the company states that recycling can be carried out in Syria. To do this, the plant has special mobile installations that allow you to dispose of chemical weapons outside the facility. At the same time, the protection of such a process must be of high quality, otherwise the process of utilization may be used by extremists as new attempts to provoke an escalation in Syria.
Western experts argue that Syria's chemical weapons can be sorted into individual batches, which under special control can be transferred to various specialized companies. In one of the interviews, foreign journalists asked the head of the Russian Foreign Ministry, Lavrov, who will finance the recycling process, since this process cannot be called cheap. Lavrov responded to this, as far as we know, there was a circle of states that wanted to finance the war in Syria, and therefore there will be those who want to sponsor peace in this long-suffering country.
So far, all the talk about solving the Syrian conflict by peaceful means is cutting the ground from under the feet of extremists. This should be used to strengthen diplomatic success, including using all the tools of the UN for this.