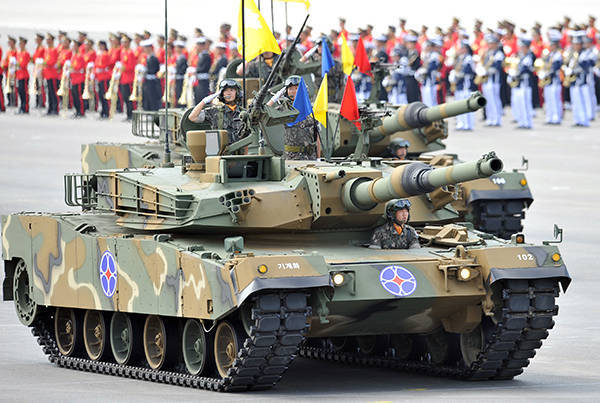 South Korea decided to show the whole world, and especially its northern neighbor, with whom there have been many disagreements lately, its increasing military power.
At the same time, the "muscle game" was timed to coincide with the 65 anniversary of the South Korean Armed Forces Day, in honor of which the largest military parade took place in the last 10 years.
According to representatives of the country's military department, the parade was the most ambitious in ten years and is designed to demonstrate that the threat from the DPRK is minimal due to the buildup of the country's military potential.
According to the authorities, 11 of thousands of military personnel took part in the parade, 190 types of military equipment were involved, as well as 120 aircraft and helicopters. Not without a demonstration of new products. Thus, domestic-made cruise missiles were shown, capable of striking at key targets in the territory of the DPRK.
Among the distinguished guests of the parade are the visiting US Secretary of Defense Chuck Hagel and the chairman of the United States Joint Chiefs of Staff, General Martin Dempsey, who is visiting South Korea.
During her ceremonial performance before the participants and spectators of the parade at the airbase in the town of Seongnam, Korean President Park Geun-hye stressed that the creation of a powerful anti-missile defense of the South and opportunities for a preemptive strike would help to contain threats from North Korea
weapon
. According to her, the situation on the Korean Peninsula now remains very tense.