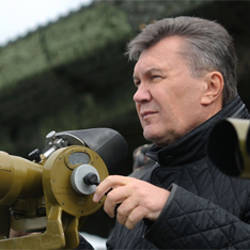 President of Ukraine Viktor Yanukovych October 1 took part in demonstration and tactical exercises of the Armed Forces, which took place at the Yavoriv training ground in the Lviv region. The head of state launched the STUGNA-P anti-tank guided missiles. One of them, as reported by Segodnya, landed in a lake, and a fragment of the second flew over the head of the president.
One of the fired rockets hit the Zavadovsky reservoir in the village of Grushev and killed a lot of fish. At this time, according to Comments.ua, on the shore of the lake there were six tents with tourists. According to eyewitnesses, the shock wave was of such strength that it almost knocked down the tent.
"A shot whistled from the side of the landfill, there in the 100 area there were fishermen sitting - about ten people - and a shell exploded somewhere in the water. A column of water rose 70 - 80 meters after that, the whole lake was smoke-filled. blew off, "one of the witnesses to the incident told 24. Representatives of the fisheries and law enforcement officers arrived at the place of emergency.
During the exercise, Yanukovych himself could have suffered: as Galinfo reports, during the shooting of ammunition over the commander's parade ground, where the head of state was located, a missile fragment flew by. According to the military, such cases are not uncommon and do not pose a threat to people's lives.
During the briefing, Yanukovych shared his impressions of the teachings: "Professionals have seen the shortcomings and draw conclusions. I will not say what these are the shortcomings." And on his official website, the president promised "from year to year to increase funding for training so that the military would be able to both qualitatively prepare and make good use of the capabilities of our weapons, the capabilities of our army."
Ukrainian military incident with a rocket falling into the lake does not comment.