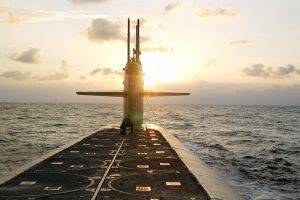 The US Navy seeks to reduce the cost of developing a promising SSBN (X) SSBN to replace Ohio-class strategic submarines through the use of Virginia strike nuclear submarine technologies, DoD BUZZ reports September 27, citing senior representatives
fleet
.
The fleet made adjustments to the program in order to reduce its cost, said Rear Admiral Richard Breckenridge, director of the systems of the US Navy underwater warfare, in an interview to Military.com.
12 prospective SSBNs should replace Ohio's 14 submarines. The development of the boat is carried out in the company Electric Boat, which is a branch of General Dynamics. Five-year R & D work has an 1,85 billion value. Excluding the design work, the cost of one SSBN should be 4,9 billion dollars (previously the price was 5,4 billion dollars). The construction of the head SSBN should begin in 2021 year.
The new SSBN will have 16 launchers of SLBMs compared to the 24 of the Ohio submarine, refueling the nuclear power plant only once before handing over the Navy, the estimated service life of the submarine 42 of the year (the SSBB Ohio has been refilled several times during the operation) . The number of new SSBNs - 12 units - is calculated taking into account the minimum requirements of the Navy in this component of strategic nuclear deterrence. On the boat, in particular, will be used spherical antenna GUS, mast / periscope fiber-optic data transmission lines, high-definition cameras, remote control with touch panels and joysticks used on the submarine "Virginia".
Next year, the number of US Navy SSBN combat patrols will exceed 4000, Breckenridge said. "Having a naval strategic component with 1960's prevented the outbreak of a major war using nuclear
weapons
and gave the highest guarantees of security of our country, "said Rear Admiral. Meanwhile, the Russian and Chinese navies are building new SSBNs with nuclear weapons, Breckenridge warned.
"Submarines are almost an ideal second strike weapon; they provide the potential for a counterstroke in any circumstances. Sea-based missiles are more accurate than ICBMs and significantly more efficient than strategic bombers, "said Chris Preble, vice president of defense and foreign policy at the Cato Institute (Washington, DC).