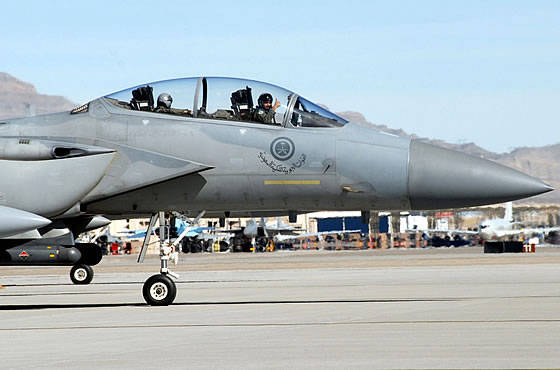 The US Department of Defense announced that it signed a contract with Al Salam Aircraft (Al Salam Aircraft) for the provision of preparations for the modernization of the F-15S fighters of the Saudi Arabian Air Force.
The contract, signed by the US Air Force, provides for the commissioning of an assembly plant, the preparation of production plans and modernization schedules of F-15S fighter jets in service with the Saudi Arabian Air Force prior to the F-15SA configuration.
The contract value is 33,06 million dollars. The result of the program will be the upgrade of the X-NUMX aircraft F-70S to the F-15SA version. At the initial stage of this project, two aircraft will be modified at the Boeing company in St. Louis (Ms.). After the completion of this phase, the program for retrofitting the remaining fighters will be implemented in Riyadh (Saudi Arabia).
The initial phase of the program is scheduled to be completed by December 31 2015 of the year, and the contract terms by December 31 of 2019 are fully implemented.
The Saudi Air Force has operated F-15S aircraft since the 1990s.
In October 2010, the United States Department of Defense Defense Cooperation Agency (DSCA) notified Congress of the planned sale of Saudi Arabia of various weapons and equipment worth more than $ 60 billion. As part of the request, in particular, it is planned to supply X-NUMX new F-84SA fighter jets, as well as an upgrade to the F-15SA version of the F-15S F-70S aircraft that are in service with the Saudi Arabian Air Force.
In 2013, Boeing delivered to the test team three instrumented prototypes of the upgraded F-15SA Eagle fighters to be used for flight tests.
F-15SA is the latest version of the F-15 fighter, providing increased combat effectiveness and survival in combat, as well as lower maintenance costs during operation.
The aircraft is equipped with two additional underwing assemblies, which allows it to carry an increased combat load, upgraded avionics, a missile attack warning system, self-defense devices, an electrical control system, an infrared search and tracking system, an APG-63 active antenna radar (V ) 3, container targeting AN / AAQ-33 "Sniper".
The aircraft will be able to use new weapons systems, including the Air-to-Air Side AIM-9X SD, air-to-air missile and various air-to-surface munitions. The F100-PW-229 powerplant will be replaced by the more powerful General Electric electric drive F110-GE-129.