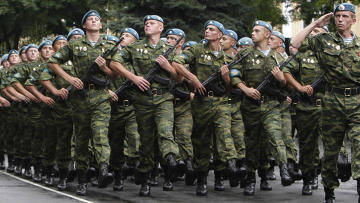 Independence Day and the 20 anniversary of Victory in the Patriotic War 1992-1993 are celebrated on Monday in Abkhazia, with Russian border guards and units of the Gudauta military base of the Russian Defense Ministry taking part in the celebrations.
Solemn events will begin with the laying of wreaths at the Memorial of Glory in the center of Sukhum, will continue in the square to them Vladislav Ardzinby, where ceremonial calculations of the Armed Forces of Abkhazia, the Gudauta military base of the Ministry of Defense of the Russian Federation, the Border Department of the FSB of Russia in the republic, the Cossacks of Abkhazia, Don, Kuban, will pass with a solemn march, ITAR-TASS reports.
The delegations of Russia, South Ossetia, the Pridnestrovian Moldavian Republic, the Nagorno-Karabakh Republic, the delegation of the Abkhaz diaspora of Turkey, as well as guests from Japan and Italy take part in the celebrations.
Welcoming the guests on Sunday, President of Abkhazia Alexander Ankvab particularly noted "a large-scale humanitarian operation that was carried out (during military operations) by the State Committee of the Russian Federation for Emergency Situations under the leadership of Sergey Shoigu and Sergey Kudinov". He stressed that "thanks to the real assistance that Tatarstan, Bashkortostan, Rostov Oblast, Moscow provided us, the Russian cities located far from Abkhazia and our closest neighbor, Krasnodar Territory, we did not break, survived, won the Victory."
Ankvab also recalled that "15 years after the expulsion of the aggressor, in August 2008, the independence of the Republic of Abkhazia was recognized by the Russian Federation, a great country, with whose people we have been united by centuries
historical
and spiritual and cultural community. " "And, undoubtedly, the second most important event after the Victory Day for all of us is the international recognition of the independence of our state. We rightfully believe that our Victory was finally fixed by this political act adopted by the Russian Federation, "the president stated.
On Monday, the celebrations in the capital of Abkhazia will end with a festive concert at the republican stadium and fireworks.
The Georgian-Abkhaz war, which is called the Patriotic War in Abkhazia, lasted 413 days. More than 2 thousand. 500 fighters became victims of military actions, about 200 were missing.
For courage and bravery shown in the battles, more than 6 thousand participants of the war were awarded high state awards, 360 soldiers were awarded the title of Hero of Abkhazia, 1 thousand 949 awarded the Order of Leon, 2 thousand 921 defender of Abkhazia was awarded the medal "For martial arts" In addition to the citizens of Abkhazia, volunteers from the North Caucasus, Southern Russia, representatives of the Abkhaz diaspora of Turkey, and Syria took part in the war.