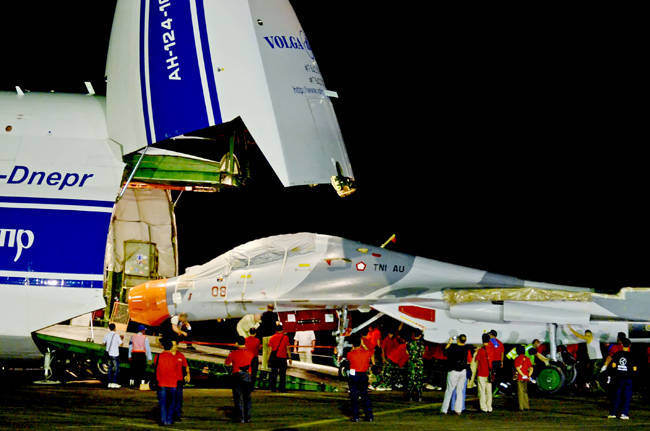 The Indonesian Defense Forces announced plans to train new pilots and to form 8 fighter squadrons, reports Jakarta Globe 27 September.
"We hope that we will have eight fighter squadrons by 2024," said the Chief Marshal
aviation
Ida Bagus Putu Dunia on Wednesday after receiving another six Su-30MK2 fighters from Russia. As expected, each squadron will consist of 16 Sukhoi fighters. Marshall said that these fighters will create "powerful deterrence forces" that will strengthen the combat capabilities of the Indonesian Air Force. By agreement with Russia, pilots will be trained at the Khasanuddin Air Force Base. "Sukhoi's technologies meet the highest requirements and keep up with the times. We have enough pilots to control these fighters, but we are also preparing new pilots for new fighters, "said the marshal.
Ida also added that the Air Force will replace the old F-5 Tiger fighter jets. The base "Hasanuddin" is fully equipped with new aircraft weapons, including ammunition, confirmed the Marshal. Purnomo Yusgiantoro, the country's defense minister, also confirmed plans to replace the F-5. In addition to the Sukhoi aircraft, the military also received one squadron of training and combat T-50 airplanes of South Korean production (the base of Iswahudi Madiun, East Java).
Meanwhile, human rights advocates expressed concern about the purchase in the UK of "sophisticated spy equipment" by Gamma TSE, which has
history
cooperation with "despotic regimes". But a spokesman for the Ministry of Defense, Brigadier General Sisriadi, said that the acquisition of new reconnaissance equipment was part of efforts to modernize the main weapons systems and it was necessary to exchange information inside the country's armed forces in order to prevent its interception by "irresponsible parties."
"We will use this equipment only in the interests of strategic defense, and not for criminal purposes," said the Minister of Defense.