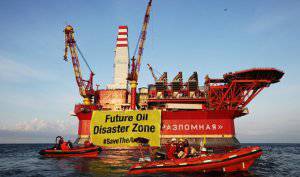 Shenderovich is wildly indignant: for what did the Greenpeacers, who climbed onto the Prirazlomnaya platform, shut up in jail for two months? Russia is said to be a country of idiots, only idiots could "screw" these innocent pigeons, who were just joking, when they simply climbed onto a strategic Arctic object that they could not do at all.
And someone "just" got into his pocket, how would he react to it?
In our Criminal Code, there is a fair rule, in my opinion: when someone threatens with a pistol, it doesn't matter if it's a weapon or a dummy. If the threat was perceived realistically, then the attacker, even with a dummy, is obliged to ogresti fully for robbery.
But how to distinguish, at first glance, Greenpeace from terrorists? After all, the terrorists do not glue the sticker "We are terrorists!" On the contrary, they mow down just any visitors of the theater, the shop, "doctors without borders", Greenpeace and so on. And therefore, any unauthorized entry to where it is not necessary, according to all laws and reason, should be qualified as an attempt at terrorism.
A simple reconciliation: would someone get on the ropes to a similar object in the worship of Shenderovich USA, would such scouts be shot immediately with automatic bursts or not? It is clear even to Shenderovich that they would have shot without a hitch!
But this is - States! They are allowed, for they are not a trembling creature, but the very, for our Shenderovichs, respect is very, very! Well, and Russia, therefore, must be clamped forever in the form of a trembling creature, which can be easily climbed with ropes and without ropes, and she in reply cannot utter a word!
I just made a noise about trying to capture the object, with a huge safety precaution, as a joke for its sake - and its liberal saviors are ready to strangle her for it!
Moreover, it is clear that if this amusing attack had not been beaten off and the jokers could have broken something on that platform, the reverse wind would have struck: our idiots cannot defend themselves even from Greenpeace!
As if Russia, obviously not the first righteous in the world, but not the last bastard, has some kind of original sin, for which it must of course be destroyed and finished. And she, according to the thoughts of those who finish off, still have to say thank you to them for this dobish!
And Shenderovich, it seems, is precisely this that is why he is most angry: why are these idiots, led by Putin, not bowing to his belt for his blessed attempt to powder them?