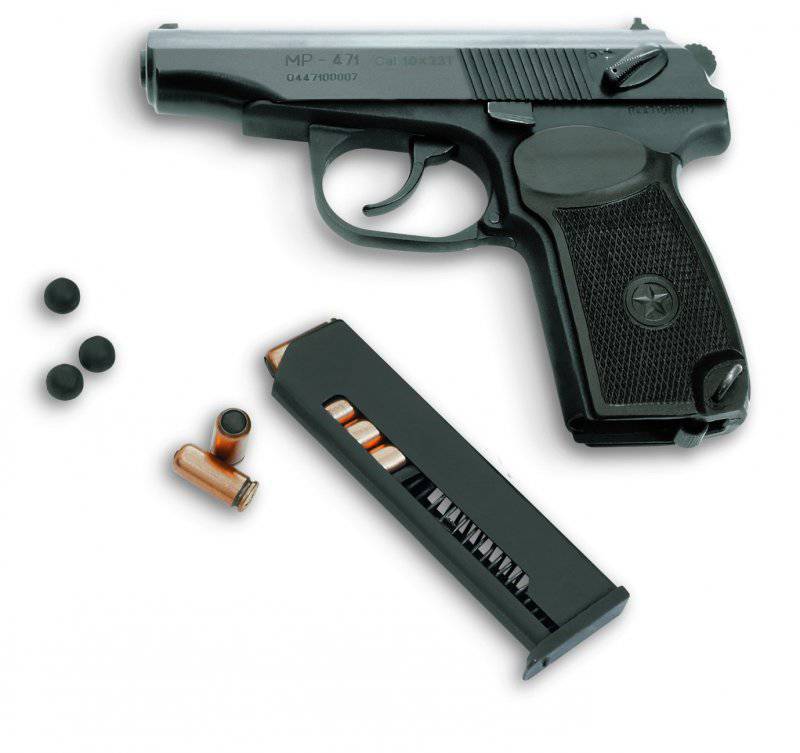 The products of Izhevsk Mechanical Plant, part of the Kalashnikov Concern, will be presented at demonstration firing to be held on September 26-28 as part of the RAE-2013 exhibition in Nizhny Tagil.
From 26 to 28, September, pistols of IMZ, part of the Kalashnikov Concern, will be presented at demonstration firing from a manual rifle
weapons
, which will be held at the shooting complex in the framework of RAE-2013.
Fans of small arms will be able to experience the following innovations and products of Izhevsk Mechanical Plant:
- Yarygin pistol, equipped with a loading accelerator, 30-charging magazine and attachments;
- PB - 9-mm self-loading pistol for silent and flameless firing, designed to arm the special forces of Russian law enforcement agencies
- PMM - Makarov pistol modernized with increased magazine capacity and ergonomic handle;
- MP-471 - service pistol for traumatic cartridge 10х23Т, designed for security and security forces;
- MP-155 (new) - a self-loading rifle that retains the best qualities of the MP-153 and complemented by a cut-off mechanism.
The company presents weapons at RAE shooting for the second exhibition in a row.
Attention! In a number of media outlets there was inaccurate information that the Izhevsk Mechanical Plant presented the mobile robotic complex ISCs. This complex is a development of the Izhevsk radio plant. Read more at www.irz.ru
The Kalashnikov Concern is an association of the largest state-owned enterprises of the Russian rifle industry that are members of Rostec. The concern is formed on the basis of Izhevsk weapons enterprises NPO "Izhmash" and OJSC "Izhevsk Mechanical Plant", in the future it will include Vyatsko-Polyansky machine-building plant "Molot", KBAL them. L.N. Koshkin (Klimovsk) and NITI Progress (Izhevsk).
Izhevsk Mechanical Plant (IMZ) is the largest Russian manufacturer of sporting and hunting weapons, a wide range of pistols, and also consumer goods: power tools, medical equipment, and packaging equipment. The plant was founded in 1942. IMZ products are shipped to more than 70 countries.
Rostekhnologii State Corporation (Rostec) is a Russian corporation established in 2007 to promote the development, production and export of high-tech industrial products for civil and military use. It includes 663 organizations, of which 8 holding companies in the defense industry complex and 5 - in civilian industries are currently formed. Rostec organizations are located on the territory of 60 subjects of the Russian Federation and supply products to the markets of more than 70 countries. Rostec's revenue in 2012 amounted to 931 billion rubles, net profit - 38,5 billion rubles. Tax deductions to budgets of all levels exceeded 109 billion rubles.