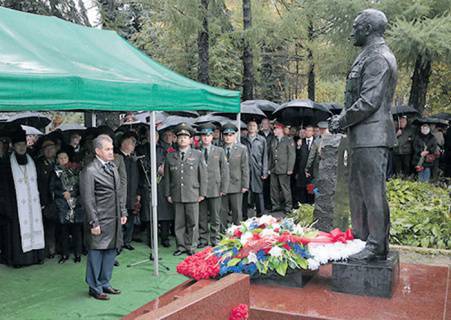 On Tuesday, at the Novodevichy Cemetery in Moscow, the head of the military department, Army General Sergei Shoigu, unveiled a monument to Russia's First Minister of Defense, Hero of the Soviet Union, Army General Pavel Grachev, who died suddenly on September 9, 23. The creation of a bronze sculpture on the grave of Pavel Sergeevich is a joint project of the Russian Union of Veterans of Afghanistan (RSVA) and the Ministry of Defense of the Russian Federation. At the request of Lyubov Alekseevna's widow, Alexei Ignatov, sculptor, performed the figure of General Grachev in full growth.
"The monument to Army General Pavel Grachev is a tribute to our respect for the combat officer, fearless paratrooper and patriot of Russia. Most of his life was devoted to the army, "Defense Minister Sergei Shoigu said in his speech. He emphasized the purposefulness and high organizational skills of Pavel Grachev. "The hero of the Afghan war, Pavel Grachev, was remembered not only by successful military operations, but also by careful attitude to the personnel. In the book of irretrievable losses of the 103 airborne division during his command in Afghanistan, the dead were the least, "said the minister and noted that Pavel Grachev had led the military department in the most difficult period of the formation of the new Russia and its Armed Forces.
In turn, the commander of the Airborne Forces, Colonel-General Vladimir Shamanov, stressed that Grachev is "a graduate and a son of the Airborne Forces."