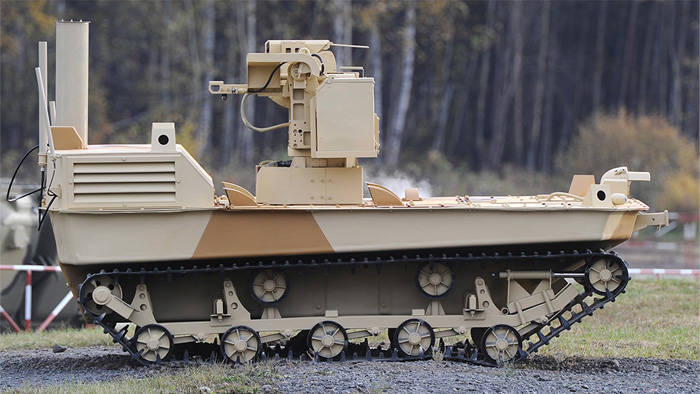 Izhevsk Radio Plant participates in the exhibition of arms Russia ArmExpo 2013, presenting an innovative development - a mobile robotic complex (IRC).
The mobile robotic complex of the Izhevsk Radio Plant is a remotely controlled unmanned off-road caterpillar combat unit designed to detect and destroy stationary and mobile targets, fire support and troop reconnaissance, maneuvering tasks.
MRK, equipped with 12,7 mm caliber machine gun Kord, takes part in demonstration shows during all four days of the exhibition. Yesterday, 25 September, the quality of the ISCs were successfully demonstrated to the Deputy Prime Minister Dmitry Rogozin.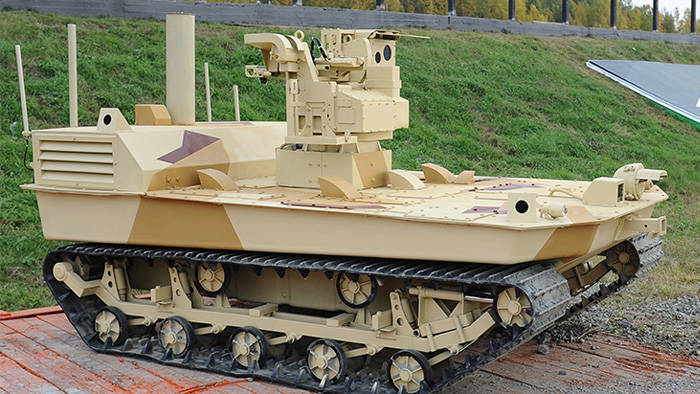 "At the exhibition we are presenting, we present our development - a mobile robotic complex - together with OAO NPK UralVagonZavod. The firing of our mobile robotic complex is limited by demonstration demonstration regulations, "comments Alexey Slugin, Deputy General Director of Izhevsk Radio Works OJSC. "But the firing capabilities of the complex were confirmed by the results of firing as part of the demonstration of promising robotic complexes at the Defense Ministry's training ground in July of this year."
"The experience and potential of our enterprise and UralVagonZavod corporation allow us to create innovative equipment capable of ensuring the fulfillment of the tasks of the Development Concept of robotic complexes in the interests of the Russian Ministry of Defense," said Alexey Slugin.
Representatives of Izhevsk Radio Plant also ask media representatives to be more correct with submitting information about the developers and manufacturers of the mobile robotic complex. The initiative for the development and production of a prototype belongs to OAO Izhevsk Radio Plant.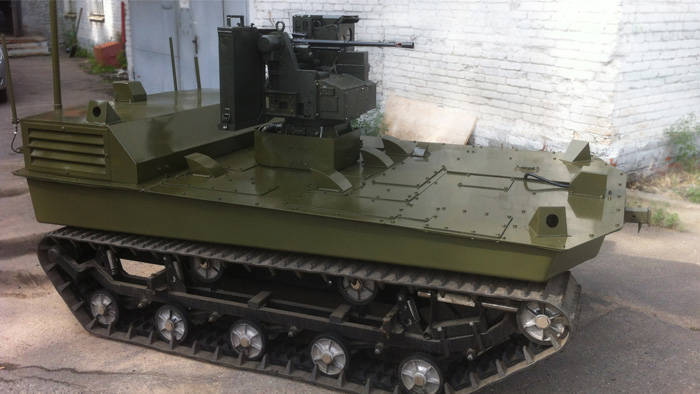 Background
The RTO of the Izhevsk Radio Plant is controlled by radio at a distance of up to 5 kilometers; protected from enemy electronic warfare. In addition to the 12,7 mm caliber machine gun Kord, an MRK can also be equipped with
tank
Kalashnikov machine gun (FCT) 7,62 mm or 30 mm machine-gun automatic grenade launcher AG-17A or AG-30/29. Special equipment: laser rangefinder, gyrostabilizers
armory
platforms, a thermal imager and a ballistic computer - provide firing accuracy, as well as the ability to operate the complex in difficult topographic and meteorological conditions at any time of the day. The robotic complex has the function of automatic capture and the ability to conduct up to ten targets in motion. The target is held while moving the turntable 360 ​​degrees. Backup power allows the complex to work autonomously up to 10 hours on the move (in "sleep mode" for up to seven days). Cruising range - 250 km. Operating temperature range - from minus 40 to + 40C.