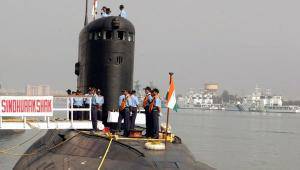 Repair and modernization of four Indian Kilo class submarines will be carried out in the same volumes as it was on the Sindurakshak; the cost of work will be from 150 to 200 million dollars for each submarine, reported 26 September RIA
News
Yevgeny Shustikov, deputy general director of the Zvezdochka Ship Repair Center, at the first NAMEXPO-2013 naval salon.
On the eve of Shustikov told RIA Novosti that India expects to repair and upgrade four diesel-electric submarines, similar to the sunken Sindurakshak at the end of August. According to him, work on two of these submarines is planned to be held in Russia.
"The cost of the work will be the same as at Sindurakshak," Shustikov told RIA Novosti, adding that this is a sum from 150 to 200 million dollars for repair and modernization works of each of the submarines. for the repair of two other submarines in India.The agency interlocutor stressed that for a more accurate assessment, it is necessary to first check the status of each of the submarines.
"Today, the Indian partners are interested in the necessary repairs and upgrades to be carried out in the same volumes as it was done on Sindurakshak," the deputy head of Zvezdochka noted. According to him, this is, in particular, the replacement of the battery and sonar complex, the replacement of the same weapons in the plans of New Delhi is not included.
"Thoughts on the possible equipping of Brahmos missiles with these submarines, the Indian side has, but so far only informal conversations. If necessary, we'll do it, our capabilities allow it," Shustikov assured.