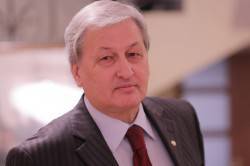 - Leonid Petrovich, many of the employees of the institution you head are the authors of the Century. These are Azhdar Kurtov, Vladimir Kozin, Eduard Popov, Nikita Bondarev ... Well-known experts, a number of them can be continued. Yes, you yourself have repeatedly appeared on the pages of our newspaper. Meanwhile, information in the media about the Russian Institute for Strategic Studies itself appears infrequently. What could you say to the readers of the Century, representing your institution?
- Recently, the CSTO conference was held in Yerevan, and two representatives of our institute participated in its work. CSTO General Secretary Nikolai Bordyuzha said in his speech: it turns out that there is an institute in Russia, where besides the director and his wife, there are still a large number of competent experts and employees. Albeit in a somewhat playful form, but this is how the work of the Russian Institute for Strategic Studies was assessed. Directly on the staff of RISI is 207 people, of whom 120 – 125 are engaged in analytical work, the rest are in the service departments - publishing, printing, etc.
According to the charter, the founder of the institute is the president of the Russian Federation. Our curator is Assistant to the President Yury Ushakov.
The task of the institute is to analyze open sources and prepare works primarily on foreign policy aspects and international policy processes, which takes up to 80% of our activity. Usually they are rapid analyzes, brief analytical notes on actual problems. We are preparing materials for the political-forming bodies of the Russian Federation, but the bulk of the documents, of course, are for the presidential administration. The amplitude of the themes is very wide: from the situation in NATO, EU policies to interethnic and interfaith relations ...
- But it seems the rod. This, apparently, is the problem of security, internal and external, of our country.
- First of all - external. Of course, we devote part of our work to internal issues, it is impossible to separate one from the other rigidly. Say, any domestic economic problems are otherwise related to global processes. Over the past year and a half or two, this has already become a trend: while dealing with external problems - this is how an institution is oriented - one cannot but deal with internal ones. In RISI are concentrated experts in the CIS countries, Europe, America, Asia.
- Leonid Petrovich, if I may, such a question - is your voice heard? Is the result visible?
- Analytical materials, of course, come to the presidential administration not only from RISI, but also from other departments, organizations, first of all, from special services, the Ministry of Foreign Affairs, those small groups that we call institutions, etc. that is, the flow of information is large.
I will say this: each of our work is evaluated, there is a two-way communication, which is very important for the institute. As a rule, conclusions about our work come in writing, sometimes, of course, are limited to telephone conversations. Judging by the reviews, many of our materials are taken into account. Clearly, there are also critical assessments, but mostly positive.
I want to say that the institute as a whole and our experts occupy a state-wide position. Although we have specialists with different views, we constantly have disputes and discussions. We are in favor of Russia carrying its mission, its role of great power, which it was and remains. By the way, when we say "great, powerful Russia", they often mean only military power, but this is a whole complex: from ideology to the life of the people, from the economy to defense policy - and so on.
Russia has its own interests, tasks, its own vision, its own mission in the world. I often quote Jacques Chirac, who in 2005, in an interview with one of our leaders, remarked: I read all the time that you have discussions about whether Russia should be with the West or with the East. What, Chirac said, you do not understand that you are a separate civilization? You have everything - natural resources, land, water, industrious, intelligent people, heroic
история
...
- You have been heading the institute for more than four years. Staff for this time has changed?
- When I got a lot of new employees, now there are about half of them.
- RISS began in these years and voluminous publishing program. Among them are the works of famous historians A. Bokhanov "The Russian Empire. Image and Meaning "and P. Multatuli" Foreign Policy of Emperor Nicholas II ", two-volume book by P. Tsvetkov" Islamism "and others.
- Our book publishing program is known so far mainly through book series. Several of our employees, professional historians of high level, are working on them; you named some of them. But our institute is still political science, and we, first of all, have begun to produce relevant literature. And in paperback, and in hard.
We have our own, very interesting specialization: we publish reference books in all regions of the world, for example, in China, in Arab countries, etc. By the way, we have an extensive directory of non-profit organizations. Circulations are small, but we can always reprint. We have our own magazine, Vakovsky, it is published six times a year, now we will make it an electronic version. RISI website is updated daily. Since September, Internet television has begun work at the institute.
- There are institutions like RISI in different countries. In the US, a lot of them. Is your institute comparable to, say, the famous American strategic research center — the Rand Corporation?
- By character, by goals, "Rand Corporation" you pretty accurately called. We even studied how this center works. I can say that if we financed at least 1 / 5 from how financed by the Rand Corporation, this would greatly facilitate our work. But with such money, as they say, everyone can ...
Although we sin to complain. In the state budget we go as a separate line. I think the federal authorities pay for the work of our employees.
My last position before coming here was the Head of the Information and Analytical Department of the Foreign Intelligence Service. The work is hard. When I went to RISI, I thought: well, maybe I will rest ... Where there! Tension is felt here. When some specialists who are "on free bread" call for work (and the salary seems to be good), they often refuse for one reason - they have to work every day. The experts, however, have one library day a week, but they have to work from morning to evening, and even after the evening ...
Every day we have to work through and sign the 3-4 document, each about 40 pages. There are also regular notes with express analysis, these are 5-6 pages. According to the most relevant processes occurring in the world and in Russia. And all documents are issued with one signature - the director.
- For example, analyze the situation in Syria, see the trends?
- Yes, and our ability to influence the situation. This is a classic. Very hard work ... Otherwise, the price is nothing for us, if we only describe what has already happened.
- In RISI, several regional centers have been created - from Kaliningrad to Vladivostok.
- These centers in Russia - now there are seven of them, the eighth in the stage of formation - we have created in order to "draw" us the scientific potential of our regions. It is necessary to give scientists and analysts in the field the opportunity to express their thoughts and suggestions. Two or three people in these regional centers, four in Kaliningrad, they work, they write, but their most important task is to look for new authors. Because Moscow experts (no offense will be said) are spoiled, many already simply "work out" their name. And in the regions there are serious specialists for whom the matter is more important than their own image. And we, I believe, have such a group of authors already formed. We pay for their work, however, we have small grants - not to compare with Western ones. We, by the way, are sometimes late, because in some regions both the West and the East have already worked, they have allocated money. There are people who are "overseen" who both work for American and Japanese grants for both 10 and 15 for years ... They are trying to be objective, but all the same, a habit has already formed.
- In fact, they do not work for Russia.
- Exactly. Such a person knows the consumer of his product and works for him, the orientation to the sponsor, of course, interferes with the objective view. But there are, I repeat, many experts, scholars - of both the younger and older generations - whom we must "pull" on us. We are interested in their thoughts, ideas. This is a big potential. Of course, you noticed that our centers go along the southern border and the Volga region.
- Is it connected with the spread of Islamism in Russia?
- Of course. The Islamists know where to strike and aim at where they can achieve certain results aimed at splitting the country. We are sometimes misunderstood by local leaders: we are with you, we support you. But we are not trying to compromise them at all. We are trying to strengthen our federal core. With them.
- I would also like to hear your assessments of external threats.
- We must, first of all, keep in mind that we are in constant rivalry with the United States of America and its allies. There is an objective reality: America is not interested in what kind of a system we have — monarchical, communist, or capitalist — the main thing is that Russia should not be strong. This is not because they do not like Russians. Simply, in their opinion, the whole world is a business project. In this business there is an economy, there is an ideology, but a competitor is not needed. Weak Russia is good. A divided Russia is even better. Here we were "cut off" after the 1991 of the year — remarkably, but nevertheless, again, the Russians somehow behave not like that — they are trying to play the role of great power ...
If we do not take all this seriously, we may be divided several more times.
- Military threat, above all, is NATO?
- Of course. Remember how many conversations that NATO would be transformed into some kind of military-political organization would not expand to the east? But almost nothing has changed. And the pro-idea? This is the most real threat today.
"In the press, gloomy warnings of experts appear — the American missile defense system is turning from defensive to offensive, into an instrument of the first crushing blow. This is done secretly even from NATO allies. And the situation, according to some experts, is worse than in 1941 ...
- In any case, speaking in favor of a dialogue with the United States and its allies, we must always keep in mind: they are interested in Russia weakening. And if it also splits into several parts, for example, the republic of Siberia, the Volga region, etc., then this is generally beautiful. You will be fine, they say ...
- Leonid Petrovich, when the Warsaw Pact was, NATO would never attack. Do you agree with this?
- Yes.
- Now Russia in comparison with NATO is much weaker. What is holding back the alliance? Our nuclear shield?
- Of course. We have it, and in very good condition.
"But they stubbornly want to force us to reduce our nuclear forces."
- And at the same time again they assure us that "it will be good". Moreover, some Russian political scientists are telling tales about how we will "make peace" with the Americans and how it will be good for us. They do not want to understand or do not want to admit that, I repeat once again, we, as a great force, are in constant competition and rivalry with the United States. And at a certain point it can turn into an armed confrontation. Therefore, any attempt to reduce our nuclear power is very dangerous.
Now Defense Minister Sergei Shoigu is energetically restoring and enhancing the defense capability of the Armed Forces. Dmitry Rogozin also performs this task with all his might. And he and the other see the prospect.
- They say that Rogozin is still not an expert in the defense industry, he is a politician, diplomat, Ph.D.
- There are many specialists, the main thing is that the "motor" is. I myself am the director of the institute, but an expert in only two or three areas. Rogozin is such a "motor". Huge sums are allocated for raising the military-industrial complex, they must be implemented.
- Do we have time?
- There is time. Nuclear forces allow us to carry out upgrades.
- What about China? Your foreign intelligence colleague, well-known expert Nikolai Sergeyevich Leonov believes that China has turned its back to us, and not its face. And he does not represent the threat that some liberal specialists, even the military, are trying to "draw". Do you agree with this statement?
- Completely. The main interests of Beijing are still in the south and southeast. It is difficult to foresee how this great country will develop, but now, I say this with full responsibility, the Chinese are tolerant and ethical in all their actions that affect Russia. They are really our partners. We can do many things together: economic, military and military-political.
- Is BRICS a powerful enough, viable structure?
- Well, it is difficult to call it a structure. This is still a "union of interest." But a very promising, although the world crisis, of course, decently "knocked down" the members of the BRICS. Those who are our competitors also see the BRICS perspective - for themselves, of course, unprofitable - and work with individual countries, hinder some of our integration efforts. Now BRICS is at such a stage that it can turn from an "interest association" into an organization of interacting countries-subjects.
- Leonid Petrovich, there are all sorts of geopolitical theories, the meaning of which is in full planetary integration, in the transition from a plurality of states, peoples, nations and cultures to a uniform world (OneWorld). According to these theories, ultimately, and Russia, they say, should disappear. New nothing in this regard has not appeared, everything is as before?
- You correctly say - there are many theories, but the essence is old and the goal is the same: the weakening of Russia. What else is significant. I now join the Scientific Council under the Minister of Foreign Affairs, the Scientific Council under the Security Council of the Russian Federation, the Public Council of the Ministry of Defense and, surprisingly, even here are colleagues who often say - I would like to emphasize this - that no one is with Russia Russia is no longer considered a great power, and not even a regional power. And they just want to accustom us to the idea that we are weak, none, beggars ... Recently, at a meeting of one of the councils, I could not stand it and said that, on the contrary, everyone wants to talk with Russia, everyone takes into account the factor of Russia, and this will continue. Moreover, there are forces in the world, even in Europe, who want to further strengthen Russia.
- The fifth economy in the world, besides.
- And take Syria. If Russia had not taken a principled position, then the Americans would now clean up Tehran. Russia said, "Stop, car!", And for two years they can do nothing.
- But the Syrian question is not going anywhere ... The situation is complicated.
- This is the result of outside intervention. Especially American, and in the Middle East, and in the North of Africa. There is a crisis of Islamic civilization, secular forces have arisen, striving for the consumer society of the West (in the capitals, in any case), and at the same time Islam is going through hard times. And the Westerners climbed into these "wasp nests" with their fingers. They thought: weaken one country, the second. We will manage. And there, instead of the democratic opposition, there is only Al-Qaida. They only increase the chaos. They hoped to weaken Turkey. We also organize demonstrations there, and Erdogan was very busy. Turkey is an ally of the United States, but it began to behave too independently. And let's "squeeze her tail"! Demonstrations began in Istanbul, which united anarchists, communists and homosexuals. All rallied: let's overthrow the Islamic regime. I am not in defense of some regime, but speaking about how such geopolitics is being done.
The situation in the world is very complicated, and Russia now, as we see, plays a stabilizing role.
- Anyway, the Fukuyama's "end of history" is not working yet?
- Fukuyama himself, as is known, refused the "end" described by him. Why? And I saw that China rose, and Russia did not die. We do not think much about why Fukuyama wrote this way. He saw in Russia what we are talking about: Russian civilization is an alternative. There is no alternative - there is no history.
We, Russians, must finally understand: apart from the alternative, we have no other role.
- In addition to the above, what else do you see in the world influential centers?
- There are one or two backstage centers of some kind that are not very clearly visible, but they are present.
- "World government"?
- In a sense.
- Apparently, it is under the pressure of these backstage centers that the United States sometimes pursues a policy that is unprofitable for itself, as a state?
- Yes, and with the closest ally - the UK.
- That is, there is some kind of supranational world structure?
- It is, although I strongly disagree with the statement that it rules the world. But you are right - it works. She advises, in particular, who to elect the presidency of the United States ...
By the way, Germany has every chance of becoming a world center of influence if it overcomes its national breakdown.
- The third economy in the world, by the way.
- Economy - yes, but the breakdown remains - this is the result of defeat in the Second World War.
- Germany, as is well known, signed the "Chancelaract" with Washington back in 1949, and the Americans do not give a word to them. Under this secret agreement, each new German Chancellor, up to 2099, is obliged to sign a so-called censure contract with the US President, which stipulates the internal and foreign policy of Germany. Even control over the German media from the United States.
"If the Germans manage to overcome these and other consequences of a defeat in the past war, then they will be able with the help of Russia to become another powerful center." It is profitable for us. It is difficult for us to compete alone with America, Great Britain and someone else secret, hidden ...
- And Latin America has, in your opinion, a chance to become a world center? Or is she doomed to be on the sidelines?
- In Soviet times, hoped that Latin America would rise, but it does not work. In world geopolitics, Latin American countries will play a prominent role, but to become a center is unlikely ... However, there were significantly fewer puppets there than in the recent past.
- Recent initiatives, speeches on Syria, our president again forced to talk about him, about an independent, alternative position of Russia.
- I want to say quite frankly: there are no politicians like Putin in the world at all. Chinese do not take - they are difficult to understand. There is no such political figure now in Europe or in America. Many modern "plastic" policies, sometimes like showmen, are ridiculous. And they are afraid of him. Afraid to talk to him. I can say: when I worked in the SVR, I had to see the activities of the president more closely. Such a person, who is so convincing, clearly and at the same time subtly defending the interests of his country — and I worked under Brezhnev, Andropov, and Chernenko — there is no such thing. The same Obama reminds me of some kind of "neo-Bolshevik", which broadcasts ideological clichés. "Democracy", "human rights" ... And nothing more. And in Europe, who is? The last valid leader of the nation was Jacques Chirac. Intellectual, knew languages, Pushkin read in the original.
- Probably, Putin is also strong because he has gone through an intelligence school - no one can fully understand him. Some are attributed to him, others to others, and he, as the philosophers say, remains a "thing in itself".
- It is necessary to carefully read Putin. He makes sometimes strong statements that must be developed. Us. But we do not really develop them ...
It is necessary to understand that our society, unfortunately, has decayed greatly, and starting not from 1991, but much earlier. Putin received the heaviest legacy.
I do not want to say that our president is an ideal, but this is the strongest state politician at the moment in the modern world. This is my strong opinion. And then ... When a strong man cries - I believe such men. When in moments of strong emotional upsurge, a surge, associated with either mercy or patriotism, you see moist eyes, it means that his heart works. I am ready to give my head to the cutoff, that our president also has a heart, not just a head.
How to cope with this large object - Russia? The country has got into a very big mess since 1917 ...
- Leonid Petrovich, you set out your view on the history of our country, on its mission in the recently published book "Return to Russia. The third way, or dead ends of hopelessness. " The titles of the three chapters of the book concisely tell about the content and essence of the book: "Holy Russia: our home we left", "Breaking down the Russian national code in 1917 year" and "Dead ends of hopelessness: Stalinism, liberalism, nationalism". You write that Russia fully fulfilled its mission until February 1917, before the collapse of the Orthodox empire ...
- Yes, we were an alternative civilization. Then there was a break. Both for internal and external reasons. The external factor also worked: it was necessary to eliminate our civilization - it is a competitor, it is not needed. West is already summer of 1918 of the year - and I am ready to prove it! - I decided to bet not on the whites, but on the red ones. Why? They knew that the Reds would conduct some kind of barbaric experiment, and Russia should disappear in this experiment. But they did not take into account one thing - they never take this into account - the people. In this experiment, the people built, created, in the end, created the Soviet state ...
We gradually created a new alternative, although I believe that it was a pseudo-civilizational alternative. I here especially appreciate the work of Valentin Grigorievich Rasputin, he strongly influenced me with his works. He very well said once that the Russian people had digested communism ... Communism, which Lenin, Trotsky, Sverdlov, Dzerzhinsky and others wanted, did not work out. We just got poisoned, and then, after the poisoning, we digested it all. Stalin said that Lenin was his teacher, but had to fold more than once on the path that our people subconsciously dragged on.
And now we face a strategic task - to return to the mission that the Russian people have. I, as a believer, will say that this is a divine mission, for this we received such a huge territory. We do not live in Africa, where its attitude to work. We do not live in Bulgaria with its mild climate. We do not live in the United States. We live in difficult conditions, in a five-month winter. In the face of constant hard hostile pressure from the outside. But it brought up our people. Very fond of some figures like Andron Konchalovsky to kick the Russian people. To say that he is so and so, underdeveloped. And he is just very powerful and strong. Yes, there are in some situations and bad features, like every nation. But we must return to what is given to us from above. 1000 years we have developed so, until we believed our western enemies, that you can change everything and it will be even better ...
- Well, in 1991, did we have, according to you, any other development options, such as Chinese, for example? Was there at least some creative moment? Without a fall and a crash, the second in the XX century?
- I had great teachers in intelligence - generals Nikolai Sergeevich Leonov, Leonid Vladimirovich Shebarshin. They and others, whose names I cannot yet disclose, as early as the beginning of 80, understood very well that the Union was over. Warned the leadership of a country that did not listen to them.
By the way, then Shebarshin sent me on a business trip abroad, already knowing that everything was going to such an end, and also knowing what positions I was taking.
- What were your positions then?
- The same as now: the system was non-reformable.
- And there was no way to save the country? No frames at the top, no ideas?
- The system was military-mobilization: it could function in conditions when the situation is critical. Or when such a situation is specifically created, and people mobilize to overcome problems.
"But Alexander Zinoviev, our famous philosopher, spoke already after the collapse of the USSR and his return to Russia: The Soviet Union experienced a crisis, but everybody experienced a crisis from time to time, it was possible to survive this crisis if it were not for the betrayal of the upper strata. And what do you think?
"But the crisis did not come in the 91 year." Our system was in crisis all the time ... We somehow kept to the middle of 1970's. We not only economically lagged behind, we were ideologically disarmed. When I was asked by a foreign politician in 1982, how long the communist power in the USSR would last, I replied: for ten years ... What am I, one such? I saw that there were no communists. I worked at the embassy in Belgrade, I was elected a member of the party bureau, so you will not gather anyone, you will not organize ... But there are no Communists - there is no communist system either.
I always give this example. When autocratic Russia fell, Vasily Vasilyevich Rozanov wrote then: faded away in three days ... This is not true: an open civil war lasted until December 1922 of the year. Then lurking hidden, latent. And the rebellion yet. All dragged on for decades ...
And look: when the Soviet power fell in 1991, there was not even a single demonstration. Only members of the Writers' Union of Russia barricaded themselves and did not give up their building on Komsomolsky Prospect, which they were trying to take away. Nobody defended anything, does it mean something? Yes, that Russia, of course, decomposed too, but there were still living forces that resisted. Someone was against Nicholas II, but for the monarchy. Someone for the republic, someone for a constitutional monarchy. They were still in favor of Russia. Here is complete frustration.
So I already in the second half of 80-x had the same views that are outlined in the book. The head of our intelligence, Leonid Vladimirovich Shebarshin was my soul mate. He, by the way, was a reserved person, he tried not to speak out publicly. But he was a Russian patriot. I remember when, for the first time in 1990, in the magazine "Our Contemporary" were published under the title "The Spirit of the People", the chapter of the book of Ivan Solonevich "The People's Monarchy" - this was an event. I am the head of the department in management. Shebarshin himself calls me on operative communication: Leonid, did you read it? I say: yes. - That's what we need. Do you understand?
- So, there were no creative forces in the party leaders of the late USSR.
- Did not have.
- Yes, that system uprooted the roots. And in 1970, when, perhaps, Russia's paths were once again defined, it was the "Russianists" who were the head of the KGB Andropov, who welcomed the liberals, in his secret memorandums for the Politburo almost the main threat to the Soviet state.
- It was at the insistence of Andropov in 1980 that almost all the events celebrating the 600 anniversary of the Kulikovo battle were annihilated. The authorities did not need a surge of Russian national identity.
The pro-Western dissidents, as we remember, were put on 3-4 of the year ... Or - on the plane and sent to the West. A Russian Ogurtsov, Borodin on - 15-17 years. Do you remember the work of Igor Shafarevich "Two roads - to one precipice", 1989 year? Great job, reread. Only two are disastrous roads, and the third was not given.
Today they say a lot: Stalin, Stalin, Stalin ... Here, they say, the right way. I ask: men, you want to try again? And, okay, I have a negative attitude towards Stalin, but I can admit that then there were underground fighters, revolutionaries, fans of ideas, sacrificed their lives. They could build that system. And now you are shouting "Stalin" - who will do this? What are the underground workers? Where are the revolutionaries? Then there were frames - I am ideological opponent of them, but I understand that they were also ideological. They built what they wanted to build. Yes, then quarreled, fought, as it usually happens. And now what are you offering? Do you want Putin to become Stalin? And who will you rely on?
- Putin can not be Stalin a priori.
- Well, I say, you want Stalin, but he grew out of the appropriate environment. Lenin, too, how did he write about the Bolsheviks? Battle squad. And Stalin wrote: "Battle Order." And now what to talk about?
- You write: Nikolai II is the nerve of 17 disaster of the year. Perhaps we can say that Stalin is the nerve of the Soviet catastrophe. The writer Rasputin said that Russia digested communism, but to some extent, obviously, it "digested" Stalin. He became in many ways different, especially during the war. The Patriarch of the Georgian Orthodox Church Kallistrat recalled the meeting of Stalin with the clergy, which struck him, the leader seemed to him a man who was tormented by feelings of guilt ... Yes, and in the party all 70 years went a certain opposition of the national Bolsheviks with the fanatics of the world revolution.
In your book you placed his photo next to Trotsky and Radek - "They destroyed Russia". Still, isn't this a bust?
- No, not a bust - because they did one thing. All of them, and Lenin, and Trotsky, and Radek, and Dzerzhinsky, and Stalin destroyed historical Russia. I recently read a documentary book on collectivization prepared for publication, I was shocked, although I knew a lot. You read these letters, these resolutions of Stalin, and you think - we destroyed the Russian people, the whole way of their life! All 20s, 30s. Stalin expelled Trotsky from the country, but the Trotskyist economic program was implemented for a long time. As for the inner-party struggle, at the end of 40, after the Victory, as you know, the "Leningrad Affair" followed - this is the destruction of the Russians in the party elite. Now we are publishing a book about the "Leningrad case" - exclusively Russian, at least 30 000 repressed.
- Yes, it was not necessary to betray the Tsar from the very beginning, after which the destruction of decapitated Russia began. Is Stalin alone to blame? The future Marshal Zhukov, also in 1921, was chopping down Russian Antonov peasants, being a squadron commander. This is the logic of civil war. Then the sobering-up began, and for someone repentance ...
"Whatever you may say, but the end justifies the means — this is Stalin's ideology until the last days." In Nicholas II, the goal did not justify the means. What ideology should we take? The destruction of the people? For what? For the sake of the state, the Stalinists answer. Why then such a state? The people not only perish, but at the same time degrade.
I would not like to discuss now who of the Bolshevik leadership is to blame more, who less. Was Stalin so or so. I believe that such discussions bypass the essence of the problem. For me, the main thing is that the system that was forcibly shedding seas of blood, causing incredible suffering to millions of ordinary people, was imposed on the people, turned out to be unviable. She lasted the entire 73 year, that is, one human life. Moreover, to keep it afloat used the most severe means and methods. Stalin, as a person, is certainly uncommon, becoming at the end of 20's. the sole ruler of the USSR, every year he understood that the system was doomed and for the sake of its salvation, for the sake of extending the life of its artificially built empire, was ready to borrow some elements from the Russian empire, in the destruction of which he also took an active part. And what does neostalinism offer us today? Stalin can not be resurrected, it means to revive the system? With gulags, barracks, barbed wire, black funnels? Do we want this for ourselves and our children? Constant imposing on our society an endless discussion about the personality of Stalin, we take our people away from a true understanding of what happened to us and where we should go.
I write in my book that the danger of the mythologized Stalin, the "red king", is that only his image can be used by the enemies of Russia with some hope of success in the struggle with the idea of ​​Holy Russia, the White Tsar. And we have to get on our own, the third path of Russia, on which we walked up to the 17 of the year. That was our way. Of course, he is not strewn with roses. It was not right everywhere, but it was our development path in the Russian direction.
- Leonid Petrovich, thanks for the interesting conversation. Although, of course, in one conversation it is impossible to grasp the immensity ... Tell me, do you sometimes even drop in our Century? Are you reading
- Of course. In your opinion, you have a very successful, in some ways even a unique newspaper. You managed to create a publication that addresses many of the most pressing problems. You do not limit yourself to the problematic and, although designed for a wide readership, at the same time keep the intellectual level. This is the best that is among such publications. Abroad know the "Centenary". In any case, where I often go, in Serbia, Bulgaria, the Czech Republic. About publications "Centuries" say.
- And yet, in the comments of our readers a lot of pessimism. Sometimes, looking at everything that happens in the country and in the world, an alarm is really overcome. In Russia, are we no longer seeing a decline than a revival?
- Here, listen. On Sunday I go to church. I see young girls with guys in the morning drinking beer, smoking, cursing. Well, I think everything - Russia died ... I come to a temple full of people. What a face! How many children, young people! .. Oh, no, no - everything is ahead. I leave, some homeless people are terrible looking, again black thoughts ... Therefore, sometimes it is very difficult to say which is more.
My spiritual mentor, Archbishop of Kostroma and Galichsky Alexy says: "Not the enemy is strong, but we are weak." Were weak in their unconsciousness, in their unwillingness to work spiritually, to set higher goals for themselves than "so that everything was enough".
But still, I see - and according to our theoretical developments, research, and travel, live communication with people - Russia has a significant minority, the core of the people. Clean, uncomplicated, powerful. I think it is at least ten million people. This is a huge resource! And behind him and the rest will be pulled. No, Russia is still ahead.
The conversation was conducted by Valery Panov and Alexei Timofeev