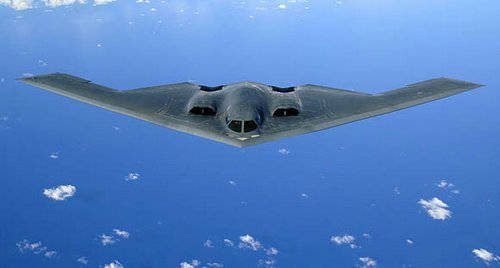 China is developing a new strategic bomber, in appearance similar to the American B-2 (pictured), Japanese media reported, writes mil.sohu.com September 24.
But under this program there is no clarity, it is known that China is upgrading its H-6 (Tu-16) bombers, and is also interested in buying Russian Tu-22М and Su-34 bomber.
However, opinions are being expressed that China does not need a new strategic bomber; moreover, there have not yet been any official reports from Beijing about the existence of such a program. Nevertheless, the "flying wing" scheme is the most optimal for developing such an aircraft, since it allows one to have a large internal volume and excellent stealth characteristics.
In the Chinese blogosphere, there is no shortage of fantasies about what a new bomber should be. It is reported that since the middle of 1990-ies, the Siansky Design Institute and the Siansky Aviation Plant have been developing the H-7 project with four Taihan engines (replacing the ALDXNXX turbofan engines). Combat load of the aircraft "with conventional aerodynamic configuration" 31 t (option - 18 cruise missiles "Red Bird-12" with a launch range of 3 km, each equipped with a nuclear warhead with a capacity of 3000 kt), at least 350 km with refueling capability in the air. A bomber, taking off from a base in Heilujiang, is capable of striking throughout North America. When asked why the bomber was developed according to the normal scheme, it is said that at that time China had only the experience of upgrading the H-1,4 bomber, did not have knowledge of new aerodynamic schemes and tried to create an aircraft based on a well-studied design (the experience of creating a JH fighter-bomber was used -10000A).
The development of a more ambitious model, the H-9 hypersonic aerospace bomber, is also reported. This aircraft must be equipped with four TRDDF and two ramjet engines. TRDDFs are used for "normal" flights with a speed of 2-3М, when reaching a height of more than 15000 m, direct-flow engines are activated, which allow the aircraft to reach a height of about 100 km and reach speeds of 8М. Such a bomber will be able to hit targets at any point on Earth in 2-3 hours.