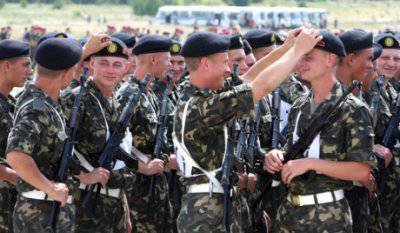 Ukraine is switching to NATO standards. Experts doubt the political and economic feasibility of such a step.
The transition to new standards is written in the Annual National Ukraine-NATO Cooperation Program. She was sent for approval to the ministries and departments. A number of experts believe that this will be the case. Igor Shishkin, Deputy Director of the Institute of CIS Countries, says:
"I think it makes no sense to attach great importance to this document. It is an old
история
. Ukraine has accepted quite a few documents on cooperation with NATO under Kuchma. Then, under Yushchenko, there was an attempt to join the NATO Membership Action Plan. The current document is exactly along the same lines. But he does not mean that the current leadership seeks to join NATO. This is the usual line of advance to the West. All those who chose the strategy of Western development, moved there through NATO. And Ukraine will not be able to avoid this, if it wants to finally break with Russia.
But I strongly doubt that it will work out. A good example is the story of Yushchenko. He accepted this line. It was supported by the overwhelming majority of the population of Ukraine. And she failed. If the new leadership decides to play the same games, Yushchenko's fate will await him. Any country that is beginning to change standards of armaments, should prepare for huge costs. "
Where Ukraine will take the money for this, nobody knows. But they almost certainly do not think about it in Kiev. This is rhetoric before the NATO summit in Vilnius. But if the Ukrainian authorities speak seriously, they will have to do a lot of work without much practical meaning.
It must be said that certain stereotypes have developed around the term "NATO standards". As an example, usually given the difference in the calibers of small
weapons
. Although in reality the 5,56-mm American automatic weapons are similar in caliber to the Soviet-Russian 5,45-mm AK-74 machine gun. It's all about the measurement technique.
But it's not even in calibers. It is not so much that the Ukrainian armed forces will be forced to buy only weapons and equipment of the "NATO" type. The problem is that the standardization of NATO covers almost all areas of the military component of the block - from standards for helmets and ammunition, weapons, communications, to staff procedures and guidelines, operational activities and even training for work in multinational headquarters.
Achieving compliance with all these diverse requirements is the most difficult. In particular, the Ukrainians will have a global replacement of equipment in the management structures at all levels, the transition (at least in the field of communications) from Soviet analog systems to digital ones.
The problem extends to the provision of modern technology according to NATO standards, not only of the central management structures, but also of lower military units. When purchasing a new technology, the orientation on standards is obligatory. Since 1989, in the framework of standardization and planning in the field of armaments in NATO, the Conventional Armaments Planning Systems (CAPS) system has been in operation, designed to guide member countries in choosing weapons programs. And here Kiev has to find a balance between NATO norms and the interests of the Ukrainian military industrial complex.
As for the future military-industrial complex of Ukraine in case of transition to NATO standards, there are two mutually exclusive opinions. Ukraine inherited from the USSR more than 2 thousand enterprises engaged in the production of weapons. Not all of them release the final product. In Ukraine, for example, engines for ballistic missiles, fighters and helicopters are produced,
aviation
missiles, gas turbines for warships and radar systems. Today, Ukrainian industry, using years of established contacts, is actively cooperating with the Russian defense industry.
Pessimists believe that breaking bilateral military-industrial ties will mean its collapse. "It's not just that this requires investments measured in tens of billions of dollars. NATO is simply not interested in the existence of the military-industrial complex of Ukraine. Transitions to NATO standards means simply closing the military-industrial complex, since NATO has its own developed military-industrial complex. And the wreckage of the post-Soviet military-industrial complex of NATO simply does not need ", - said political scientist Stanislav Belkovsky. "No one will give tens of billions of dollars where it is easier to close," the expert believes.
Optimists, meanwhile, remind us that NATO (so far, in any case) does not require either a reduction, or a rearmament of the Ukrainian Armed Forces, or an obligatory refusal from military-technical cooperation with Russia. A prerequisite is interoperability with the armed forces of NATO member countries. That is, the ability to act together during operations, and not the requirement to be armed with the same guns of the same caliber as in other countries.
An example of this can be the former socialist countries that are now members of NATO. They are still in service with Soviet-made equipment and weapons. In general, up to 40% of arsenals of new members of NATO from Central and Eastern Europe consist of weapons and products of Soviet and Russian production. So many experts do not see the relationship between problems in the Ukrainian military industrial complex and the transition to NATO standards.
The military-technical cooperation of Ukraine with Russia will not suffer at all, says Ivan Konovalov, director of the Center for Strategic Conjuncture:
"Our military-technical cooperation is based on the principles of mutual benefit. We, for example, need engines for helicopters. And we get them in Ukraine. We have cooperation on a missile program. We have serious cooperation on aviation programs. True, here we cannot finally agree on a whole range of aircraft due to the political component. In general, the fate of various Russian-Ukrainian programs of military-technical cooperation depends too much on the political factor. But the transition to NATO standards Mouths will not affect this cooperation.
This will not affect the Ukrainian military-industrial complex in any way. He has his own development path. For example, in
tank
Ukraine Ukraine cooperates with many countries. Another thing is that a lot has to be changed. "
There is an opinion that this would be beneficial for the Ukrainian military industrial complex. After all, the transition to NATO standards in the field of armaments can significantly expand the opportunities and markets for Ukrainian military equipment and weapons.
If business was limited only to commercial reasons, there would be nothing to fuss. But in a broad sense, NATO's requirements for uniformity are not only a register of technical requirements and names for weapons systems and military equipment, operational planning and management structures, and other military concepts. Standards include the legal framework. According to them, the internal legislation of Ukraine should be compatible with the basic provisions and mechanisms adopted in the Alliance. For example, according to the NATO legislative standard, the upper boundary of defense spending is 2% of GDP. How far the Ukrainian economy can meet these requirements is a big question.
In general, the transition to NATO standards is not a military-technical, but an economic and political problem. We, in fact, are talking about the historical choice of Ukraine, since standardization with the Alliance is a transition to the Western sphere of influence. In this case, all the talk about preserving the non-aligned status of the country is a simple shaking of the air.
World experience shows that neutrality is politically and economically unprofitable today. Its provision requires significant financial resources. Ukraine is not in a position to maintain neutrality. It is either here or there, without any intermediate provisions. The fundamental importance of the choice is so high that it is in itself capable of stopping the drift of the country towards the West.
Says Ivan Konovalov, Director of the Center for Strategic Conjuncture:
"Certain tendencies, of course, exist. Ukraine has never concealed a potential readiness to join NATO. But I would not say that the adoption of NATO standards indicates that Ukraine intends to join the bloc. This is rather a declaration of intent. Moreover I can hardly believe that the government and parliament of Ukraine will be able to agree on this issue. "
In general, you can switch to NATO calibers, have different types of weapons and military equipment, including from the Alliance's arsenals, armed with your army. You can wear a uniform tailored according to the NATO model, but the main thing is different.
The country's armed forces remain as long as an instrument of state policy, as long as they are led by the national command using their own command and control system. As soon as this function is transferred to supranational structures, sovereignty can only be dreamed of. This should be remembered by those Ukrainian politicians who are pushing their country onto the path of standardization with NATO: "The claw is stuck - the whole bird is gone."