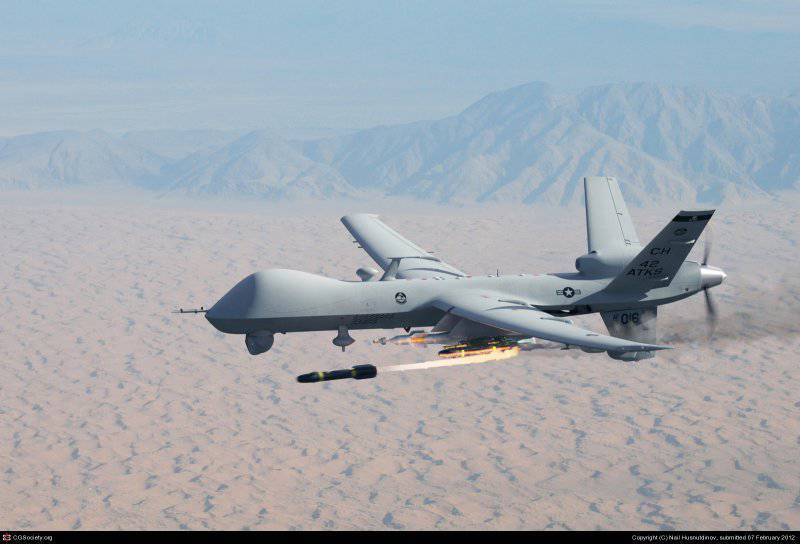 US drones used to fight terrorists are unsuitable for performing virtually all other tasks related to the conduct of hostilities, said the head of the combat aviation command of the US Air Force, General Mike Hostage, at a conference of the Air Force Association.
According to him, the MQ-1 Predator and MQ-9 Reaper fleet is no match for airplanes that fly higher and faster, and are used to perform air defense missions around the world.
"Predator and Reaper are useless in a combat environment," said Hostage, ITAR-TASS reports citing Foreign Policy.
"Today ... I could not have sent the Predator or the Reaper to the Strait of Hormuz without an escort plane necessary to protect it," he added.
The US Air Force last week released information that at the beginning of the year the F-22 fighter intercepted a fleet of Iranian F-4, approaching the American Predator UAV over this strait. At the end of 2012 of the year, Iranian planes attacked the Predator and missed in the Strait of Hormuz.
The Ministry of Defense has previously ordered up to 65 MQ-1 and MQ-9 vehicles, which, as planned for 2013, will conduct combat duty around the world in combat air patrol groups of four UAVs each. However, the Air Force is skeptical about this requirement due to the low combat capability of the devices in question.
According to Khostadzh, the leadership of the Air Force is trying to convince the service of the Minister of Defense that these 65 UAVs are not the structure that is required by the country or which the country can put up in situations where enemy aircraft come into conflict with American aircraft.
The host has admitted that in the long run, the UAVs will be used for monitoring targets, but the US military planning bodies "want to see it in a combat environment, and we cannot do that at the present time."
Another Sun official supported Hostage, stating that he would like to see the air force replace the Predator and Reaper with smarter vehicles outside Afghanistan, where UAVs can easily move in US-controlled airspace.
"My argument is that we cannot afford to store and contain all this potential, and will face the need to reduce it," said the chief of intelligence of the Air Force, Lieutenant General Bob Otto. And he would like to invest the released funds in unmanned systems with improved capabilities to combat well-protected targets.
The host also noted that by the beginning of the 2020s of the Air Force, new reconnaissance aircraft would be needed in order to keep up with competitors - China and Russia - which create and, probably, export promising low-profile aircraft.