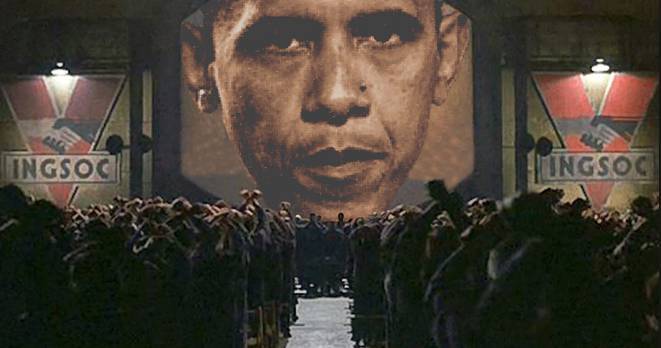 American politicians argue fiercely with each other on many issues, but in one they can always agree: America is such an exceptional and distinguished country that there are no equal to it and never will be. And therefore, no matter what it does, for all other nations, America is a model of wisdom and integrity, and this pattern is destined by fate itself to point the rest to the right ways.
In this sense, the President of the United States, who declared in his message on Syria that the American nation is "exceptional" in the spirit of the concept of its "manifest destiny", is no different from its predecessors. With all the assurances of Obama that he conducts "respectful to others" foreign policy, he is not able to abandon this "sacred cow" of the political class of the United States. Obama does not want to see that this idea is one of the main reasons for instability in the world, when Washington seeks to impose its line on everyone and everywhere. It is American pressure that ultimately causes the majority of modern-day conflicts.
Few printed material has attracted so much attention in America lately, like Vladimir Putin's article "Russia calls for caution" in The New York Times. Especially its place in which he entered into a controversy with Obama, stating that he considers "very dangerous to lay in people's heads the idea of ​​their exclusivity, whatever the reason."
Representatives of both parties on Capitol Hill, this absolutely fair and correct remark simply infuriated. Their response was thoroughly irrational, and at times obscene. Speaker of the House of Representatives John Boner said he was offended by these words of the Russian president. Democratic senator Bob Menendez, who holds the post of chairman of the Senate Committee on Foreign Relations, said that when he read the article, he was "almost sick". And the praise of America overcame all bounds of common sense. Marco Rubio, a GOP senator, wrote in the National Review: "
History
teaches us that strong America is the source of good in the world. No country has freed more people and has done so much to raise the standard of living throughout the world ... like the United States. We remain a beacon of hope for people all over the world. " Peggy Noonan insisted in the Wall Street Journal that "America is exceptional not because it has long been trying to be the force of good in the world. She is trying to be a force of good because of her exclusivity. "
Senator John McCain, Barack Obama's rival in the 2008 presidential election of the year, felt that the Russian president's column was "an insult to the mental abilities of every American." And then he demonstrated by his own example these same abilities in a reciprocal address to the Russian people. Having lost his way in time, for some reason, McCain considered that the "Truth" is still the main information mouthpiece in Russia. His article, posted on the Internet resource with this title, is exactly in line with the canons of "Pravdist" journalism during the Cold War. McCain does not even try to prove anything, but only denounces, threatens and unexpectedly declares himself a pro-Russian politician. It looks like this: the interests of the Russian people, McCain broadcasts, are to follow the interests of the American, already reached unprecedented heights of civilization. Here is such a "pro-Russian". He sees no independent interests in Russia, since its people, they say, are held captive by one person, Vladimir Putin, whom McCain draws with absolute universal evil. After all, only shaped monsters can doubt American exclusivity. What is, for example, McCain's passage that "people in Russia no less than the Americans are endowed by our Creator with the inalienable" rights to life, liberty and the pursuit of happiness, "but" President Putin and his associates do not believe in these values ​​" . And after all this nonsense is pronounced by a politician known and influential in America! In an interview with CNN, McCain already spoke directly about what really concerns him most: "This whole comedy of mistakes (around Syria) has greatly weakened us. Putin opened the way to the Middle East, where there have been no Russians since 1973. "
Rare voices, recognizing excessive American self-confidence as a hindrance to soberly and objectively assessing the rapid changes in the world, are drowning in a sea of ​​indignant protests. American elites have little simple exclusivity. They argue that this is "exceptional exceptional". New York Post columnist Rich Lauri contrasts, for example, the "good" democratic American exclusivity with the "bad" autocratic Russian, calling it a curse. At the same time, he was unaware that the refusal to recognize the equal rights of other countries compared to America is a sign of autocracy. Dana Milbenk, a Washington Post columnist, in a commentary on the article "The Answer of the American People to Putin," noted that the Russian president's arguments about the "exclusivity" of Americans do not affect them: "When you question American exclusivity, you will find some support among all of us - Liberals and conservatives, Democrats and Republicans, pigeons and hawks. "
Of the thinking minority, few can be mentioned. So, Jill Dougherty, a correspondent for CNN on international issues, tried in one of the reports to translate the conversation into a more serious plane, noting that she had heard such statements from US citizens: "But who is this Russian president to read the United States notations about international law?" and diplomacy? "However, in fact, as she points out, Putin wants to convey a simple idea: Russian foreign policy is based on the principle of state sovereignty, and the United States cannot decide for the rest of the world, and such organizations As the United Nations is crucial. "And these thoughts ... really cause a response in some countries. For example, in China, which agrees with Russia that the US should not tell others what to do. This is their argument. And that the United States should not try to overthrow regimes. Now Russian foreign policy attaches great importance to this. "
American political telecoms writer John Stewart openly laughs at the fact that the American channels see in the development of events in Syria around only a loss of prestige. He, for example, responds as follows to the words of Fox News columnist Stuart Varney: "President Obama led us to a humiliating defeat."
"To defeat ?! Who do we lose ?! Common sense? This round is yours, rational thinking. "
Analyzing American claims for exclusivity, Stephen M. Walt, a Foreign Policy columnist, a professor at the Department of International Relations at the Kennedy School of Government at Harvard University, points out five main myths well established in this field.
Myth one.
In American exclusivity there is something exceptional in itself. But for the great powers to consider themselves "special" - this is the rule. Americans have not invented anything new in this sense.
The second myth.
The United States behaves better than other countries.
However, the fact remains: faced with an external threat, American leaders have always done what they considered necessary, without thinking about moral principles. The idea of ​​a unique "nobility" of the United States, perhaps, hurts the pride of Americans, but, alas, does not correspond to reality.
The third myth.
The successes of the United States are due to a special "American genius."
America owes its past successes to a successful confluence of historical and geographical circumstances no less than to any unique qualities of a national character. The young country was lucky that the continent is generously endowed with natural resources and a large number of navigable rivers. She was lucky in that it was located at a distance from other great powers, and the indigenous people of North America were at a lower stage of development and did not have immunity against European diseases.
Myth Four.
The world is changing for the better mainly because of the United States.
The Americans ascribe to themselves excessive merits in ensuring progress around the world and are not ready to admit their guilt in cases where the United States makes mistakes. Americans do not notice their own flaws, and so much so that it is already dangerous. Remember how the Pentagon staff officers thought that in Baghdad, American troops would be greeted with flowers? In fact, American soldiers are "given" mostly RPG grenades and improvised explosive devices.
The fifth myth.
God with us.
Ronald Reagan told fellow citizens that America appeared in the world according to "God's Providence" and once quoted the words of Pope Pius XII: "The Lord gave America the fate of long-suffering humanity." However, Americans would also have to listen to the warning of Abraham Lincoln, who said: "We should be most concerned about the question:" Are we on God's side? "It is appropriate to recall the aphorism attributed to Bismarck:" God helps fools, drunkards and the United States of America ".
"If Americans really want to be an exception to the rule," writes Stephen M. Walt, "they should start with a much more skeptical look at the very idea of" American exclusivity. "
Irrational, not based on anything, belief in its exclusivity prevents Americans from realizing why others can reject US hegemony, why Washington's policy so often provokes outrage in different parts of the world and is perceived as hypocrisy, whether it is a question of respecting international law or a United States tendency to condemn the actions of others, turning a blind eye to the blunders and flaws of their policies, the vices of their society or the crimes of their servicemen ...